Bed and Breakfast in the San Gimignano countryside
---
The B&B accommodations at il Casolare di Libbiano offers 9 spacious rooms & suites in a typical country decor for your holidays in Tuscany. The owners have created an enchanting holiday retreat less than 10 km from San Gimignano where you will find a beautiful and colorful garden, swimming pool and lovely panoramic views.
Ideal for families, couples and friends exploring the beauty of Tuscany, the bed and breakfast features private balconies, patios and living room areas within the suites. Though WiFi is available for all guests, you will find that the bedrooms are techno-free havens for a relaxing are tranquil stay.
The kitchen at Casolare di Libbiano promises a savoury selection of hand made dishes using the local fresh products, veggies, cheese and wines. Arrange for an evening candlelit dinner or an afternoon learning how to cook like a Tuscan. Positioned well, it is easy to include day trips to Florence, Siena or program a day of trekking in the countryside.
Top 3 reasons you'll love Casolare di Libbiano
ROMANTIC SETTING
The B&B is small and intimate, with many nooks and corners to relax in & enjoy a holiday with your loved one.
GREAT BASE
In the countryside near San Gimignano, just a short distance from all of the main sights to visit in Tuscany.
DELICIOUS FOOD
Guests can enjoy great cuisine prepared with local, fresh ingredients and participate in a cooking class at the B&B.
Warm & Inviting Welcome
The owner's of Casolare di Libbiano are dedicated to creating a tranquil holiday retreat for couples on a romantic vacation or a family on an adventure to discover the beauty of Tuscany. They offer double bedrooms or family size suites including both a bedroom and a living room with sofa beds. The garden includes chairs and tables, loungers and an enticing pool in a large grassy yard where you can enjoy the fresh Tuscan air. Located in a central position, guest at this bed and breakfast lends itself to reaching all of the major monuments, attractive small towns and vineyards.
Couples and Families
The accommodations are divided into 6 double rooms with and three suites with a living room area. Besides the lovely original architecture, Casolare di Libbiano has several special features including WiFi in all the common areas, ceiling fans in the bedrooms, and screens on the windows. In the gardens surrounding the rooms, there is a lovely sun terrace with tables, chairs and umbrellas for a nice place to enjoy a snack, a book or breakfast. The pool, with a lush green lawn, is the perfect place to catch some warm Tuscan sun while taking a quick nap.
There are three large suites with living room areas that include sofa beds for families with children or friends travelling together and require extra privacy. The "Studio" room boasts a private patio surrounded by the fragrant plants natural to the Tuscan landscape. The family suite "Alba" will accommodate up to 5 persons, with a separate large living room and a beautiful balcony.
The four double bedrooms with their romantic, Tuscan decor is perfect for couples on a anniversary trip, honeymoon or a special getaway. All rooms enjoy a spectacular view of the surrounding Tuscan countryside, have been furnished with typical rural antiques and decorated with original paintings by local artists.
The B&B and some of its services
The bed and breakfast's common areas include the sitting rooms and terraces where guests enjoy meals and can relax reading, listening to music or chatting with newfound friends, as well as the outdoor swimming pool with solarium for enjoying the surrounding landscape of the Natural Reserve of Castelvecchio, where the bed and breakfast is situated. The village of "Libbiano" is located, in fact, on the top of the "Monte Castagno". Originally a monastery, it was then transformed into a wine and olive oil farm, which the Casolare is just a tiny part of. Free WI-Fi connection is available in the common areas.
Outdoor activities in the area
Considering that the B&B is immersed in a landscape rich in art, history and nature, one of the most interesting things to do is hiking around the farm for discovering the old village of Libbiano and the Natural Reserve of Castelvecchio. Mountain bikes are at free disposal for anyone wishing to explore the area on two wheels, while the most important Tuscan cities of art are at easy distance from the B&B.
Tuscan cooking: restaurant and classes
Berta has a real passion for cooking and preparing typical Tuscan homemade dishes to her guests, using fresh local ingredients only. On requests, people may take vantage of cooking courses organized by Berta and their chef to learn the secrets of local recipes and taste a delicious Tuscan meal.
Just outside of San Gimignano
The Bed and Breakfast is located in an amazing position, at a stone's throw from the precious city of San Gimignano and within striking distance from Siena, Florence and all the main tourist destinations of Tuscany.
The area is surrounded by woods, with paths for both walking and biking.
There is a golf course about 15 km from the bed and breakfast and horseback riding stables and tennis courts within 10 km from the property.
More privacy and space in an apartment
If you love the idea and location of Casolare di Libbiano but want your own space and garden, Berta and Andrea have an apartment nearby that offers the perfect base for up to 4 guests in 2 bedrooms, your own kitchen and living area and an outdoor patio and swimming pool (the pool is shared with other homes). Take a look at Apartment La Roccaia just in case it works for you!
Meet Berta and Andrea, your hosts at Casolare di Libbiano
---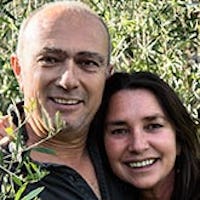 We have been hosting guests from all over the world for over 20 years, one of the first ones in the area. With time many of our guests have become return guests and friends! We love the work we do and hope to welcome you soon to our home.
- Berta & Andrea