Historic Family Home within walking distance of Arezzo
---
Villa Rossi-Mattei, located only 1 km from the lovely Tuscan town of Arezzo, is ideally positioned for a holiday vacation. The vacation villa is equipped with a 10 hectare park which is an inviting place to relax, refresh and enjoy the scenery of the skyline of the cathedral and historic palazzos in the town below. There are 7 apartments which can be rented individually or together for a total of 32 people - the perfect setting for a destination wedding, family reunion or group celebration of any kind. Completely furnished with the most up to date of amenities, you can rely on Liliana and Dante to assist you with any questions, itineraries or special requests you may have. This is their family home, which they have painstaking restored to its original design and they look forward to sharing its traditions and stories with you on your holiday in Tuscany.
Top 3 reasons you'll love Villa Rossi Mattei
DAY TRIPS ARE CONVENIENT
Arezzo is located near major roads & train station for travelling to all corners of Tuscany, Florence, Siena & Chianti
DESTINATION WEDDINGS & EVENTS
Liliana and Dante have just the experience you need to assist in making plans for your meetings & parties
WITHIN WALKING DISTANCE OF TOWN
The active city of Arezzo will offer you delicious restaurants, great shopping & a lovely setting for your holidays
An Ex Monastary from the 1600's
Villa Rossi-Mattei has a distinguished personality which makes it a truly one of a kind adventure for your vacation experience in Tuscany. The history starts as a convent, in an area which is well known for its ties to the Etruscans from over 2500 years ago. The Relais Villa Rossi-Mattei has been totally restored, maintaining its very distinct architectural exterior, garden areas and fountain while carefully inserting a refreshing panoramic pool and terrace areas for parties and gatherings under the stars. There are 7 comfortable apartments, each with a full kitchen including: washing machine, dishwasher, oven, microwave, coffee makers and toaster. You will find everything you need to make the perfect meal after enjoying a morning roaming one of the street markets in Arezzo or touring the Tuscan countryside for wine, cheese and other culinary specialties.
Space for Large Groups or Family Apartments
The apartment Doppio Arco, named after the brick arches which date back to the 17th century monastery, is a two bedroom, two bathroom rental which can also serve as the common room when the entire villa is rented as one. The apartment La Terrazza is named such because of its access to the beautiful garden area and the private terrace area. This two bedroom/two bathroom rental is spacious enough to accommodate an extra bed upon request. Il Boschetto, with its corner fireplace and proximity to the pool, makes this a special holiday relax. There are two double bedrooms and one large bathroom with shower.
The apartment named Blue is ideal for a single person, a couple or with an extra bed it will easily and comfortably accommodate up to three persons. There is one bedroom and one bathroom, the extra bed is only upon request. La Limonaia is named after the greenhouse looked next door to it, and is every luminous with a private outdoor garden area, one bedroom and one bathroom. The last of the apartments is Il Gelsomino, which is located on the second floor and is the largest at Villa Rossi-Mattei, there are two full double bedrooms and three bathrooms. The apartment is large enough to accommodate extra beds upon request.
Plan your Wedding in Tuscany
The Liliano and Dante also have restructured La Casina Rossa for parties and events, with enough space for 150 persons plus a band. The garden and pool area are well furnished with a BBQ, tables, chairs and loungers to enjoy the panorama, a meal outside and fresh breezes that flow in the area. They have extensive experience in setting up for weddings & events and can offer you all the assistance you need in planning meals, music, photos and flowers. The owners are very familiar with the area and all the special secret corners, and they are always available to answer your questions about itinerary suggestions, museums, vineyards and more in the area.
Travelling all of Tuscany
The ideal position, located between Florence, Montepulciano, Chianti, Siena as well as Casentino and Cortona, makes visiting all of Tuscany easy and convenient. Take the train, the bus or drive where ever you want to go with with panoramic secondary roads or the closeby major highways. After a day of touring, you can arrange to have a traditional meal cooked for you at the villa or visit one of the many restaurants in town ranging from a quick happy hour, to a traditional Tuscan meal or even something a bit more fancy. There are many quality vineyards closeby on the Strada di Vino for Arezzo. Or you can choose to fully appreciate the Italian styled garden with its flowers and roses and simply plan a day by the pool at Villa Rossi-Mattei.
Meet Liliana & Dante, the Owner of Villa Rossi-Mattei
---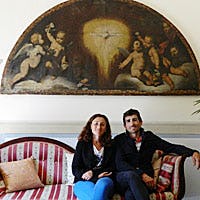 I am Liliana and together with my brother Dante we have been managaing the villa for more than 10 years. We love what we do; sharing the traditions from our family, along with the history and the culture of Arezzo & Tuscany.
We are always available and we are prepared to assist our guests with information in the area and helping them feel at home!