Chianti Apartments in Country Villa
---
The Villa Le Torri is surrounded by an ample garden area, olive and fruit trees, a sparking swimming pool and hosts nine self catering vacation rental apartments at Villa Le Torri is an excellent start to your holidays in Tuscany. This medieval villa and home to the Cantini Family is made from near by stone and handmade red brick and has been part of the scenery since the 1300's with its antique wood burning oven and wine cantina.
Join the Cantini Family as you discover Tuscany from this idyllic position only 20 km from the city center of Florence. The family distinguishes themselves in Tuscan hospitality with comfortable and spacious one and two bedroom apartments with full kitchen, a rich green garden and an extra special welcome buffet.
Top 3 reasons you'll love Villa Le Torri
HOSPITALITY
Family owned & managed, guests will enjoy personal attention and attentive hospitality from the Cantini family in comfortable apartments
IDEAL LOCATION
Just 25 minutes from Florence in Chianti with panoramic views of countryside dotted with castles, vineyards, olive trees
WELCOME BUFFET
From April to October, guests will enjoy a free welcome buffet on arrival to start off their week in Tuscany right!
Le Torri is an ancient Chianti farmhouse dating back to the 1300s which belonged for many years to Count Guicciardini di Lucignano, a Tuscan family of landowners. The Cantini family purchased the property in the 1980s and renovated the farmhouse to bring it to its original beauty and transforming it into an authentic Tuscan villa with apartments where guests can enjoy an enjoyable vacation in the Chianti countryside. Maintaining the original name and beauty of the building, Gabriele and his family have four vacation rental apartments with two bedrooms for a total of 4 persons and five one bedroom holiday apartments each for 2 persons each. The apartments are divided on the three floors of the oldest part of the villa and share a well maintained green garden area.
Your Apartment in a Chianti Villa
Each of the comfortable apartments has full access to the many secluded and sunny garden areas, tables and chairs, BBQ area and pool. As of this year, they have added a new panoramic area to the property where you can enjoy the Tuscan sunsets, the scenic vista over the nearby olive groves and if you are curious you can follow Paolo into the vegetable garden to pick tomatoes, zucchini and lettuce. The apartments reflect a distinct traditional decor with terracotta floors, exposed beams and rustic furnishings while assuring the guest of many modern amenities. The extra comforts include a fully-equipped kitchen, dishwasher, and wireless Internet access throughout the entire property, as well as a shared washer and dryer.
Exceptional Tuscan Hospitality
These family-run Chianti vacation rental apartments are managed with passion and dedication by Gabriele and his parents, who provide for their guests during their stay at the villa. At Le Torri vacation home, you will find all the kindness and warmth of a large family. The villa is open all year long and they look forward to your return visit in every season. From April to September Maria Pia works magic with the local fresh vegetables, meats, cheese and recipes to prepare a table laden with 20 different pastas, pizzas, main courses, side dishes...and of course dessert, wine and water. This signature welcome buffet is the perfect opportunity to ask questions, make itineraries and meet your neighbors.
The Mediterranean Garden
The villa is surrounded by a beautiful Mediterranean garden with olive trees and fruit trees, handcrafted terracotta pottery which have are made locally, filled with flowers and grass lawn. The garden includes a large swimming pool, with a section suitable for children. You will find ample tables, chairs and sunbeds for relaxing in the sun by the pool.
In the barbecue area, guests can also cook and enjoy a tasty Tuscan barbecue while sipping a glass of good Chianti wine. There are several private areas for families to picnic outside enjoying the sounds of nature and the fresh Tuscan air.
In the hills of Chianti 20 km from Florence
Le Torri is situated within walking distance of the small town San Quirico in Collina, among the enchanting Chianti hills. The holiday home is about 20 km from Florence, which is easily reached by car or public transportation to spend an amazing day visiting its famous museums or just walking around the historical center.
San Gimignano, Siena, the medieval villages of Chianti, Lucca and Pisa are all nearby destinations you can explore during the days of your Tuscan vacation, returning to your comfortable apartment at Le Torri in the evening. Those who prefer a few relaxing days, the villa's wide open spaces and garden are perfect for enjoying the sun by the pool or reading a good book surrounded by the flowers in the garden.
Meet the Cantini Family
---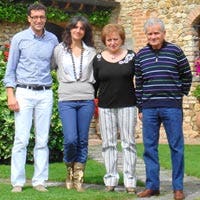 Le Torri is completely family-run by the Cantini family. I, Gabriele, my wife Emanuela and my parents, Maria Pia and Paolo, work very hard and with great passion to be the best hosts we can be and take care of our guests' needs.
Between April and October, Saturdays offer a delicious welcome buffet with Chianti wine which can be quiet "explosive" and lots of fun; many want to take my mother home at the end of their stay but that's just not possible!
Enjoy the best holiday you will ever have, enjoy your home away from home in Tuscany at Villa Le Torri!
~ Gabriele