Lovely villa with pool, just outside Florence
---
Villa la Dogana is a beautiful villa with swimming pool just a few kilometers outside of Florence.
Surrounded by the gentle sloping hills of the Mugello, the villa is rented as a whole and can sleep up to 18 or 20 guests. Spread out over 3 levels, the Villa la Dogana has a wide fenced garden where guests can sunbathe and relax by and freshen up in the outdoor pool.
The villa, rented entirely to a single group, is also the perfect location for wedding receptions and other special events.
The villa itself is actually an ancient frontier castle that belonged to the Gran duke of Tuscany and which has been very attentively restored to maintain its splendor.
Spread out over 650 sq.m. (7000 square feet), the villa has 2 master bedrooms and 7 double rooms, a modern kitchen, a large sitting room with fireplace, large dining room and more comfortable rooms on the 3 floors.
The villa is at the center of a beautiful garden which is completely fenced in to provide additional privacy. Here guests can relax in complete tranquility, sunbathing on lounge chairs by the swimming pool.
A castle in the Mugello valley
The villa is in the Tuscan countryside in the gently sloping green hills of the Mugello valley. Here the woods and fields are home to hare, phesants, deer and wild boar.
Villa La Dogana is just 8 km from Barberino di Mugello, where you'll find all of the major stores and supermarkets and just 35km from Florence.
Main services
Villa guests have a large outdoor swimming pool (from May and September) at their disposal within an ample and well cared garden.
Just 500 meters from the villa, guests can dine at the Fattoria La Dogana restaurant that offers typical Tuscan and Mugello dishes.
What to do: nearby activities
There are numerous activities for sport lovers in the Mugello. For one, the area is covered with CAI trails that are perfect for hiking and mountain biking. Then the Lake of Bilancio offers lots of possibilities, from windsurfing, canoeing and sailboating. You can take lessons there as well if it is the first time you attempt these activities. In both Galliano and Borgo San Lorenzo, recreational flying schools also offer the possibility to try gliding and more.
The golf club Poggio dei Medici and the International Mugello race track in Scarperia offer additional possibilities of spending time outdoors during your holiday, relaxing and enjoying a sport you like.
General conditions
During high season, the villa is only rented by the week while it is possible to rent it for shorter periods the rest of the year.
Meet Donata Mazzini, the Owner of Villa La Dogana
---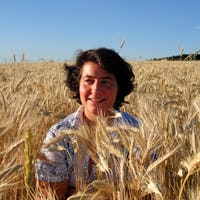 My name is Donata, the youngest of four siblings, born and raised in Florence.
I spent many summers with my family at Villa La Dogana, the beloved country home that first belonged to my grandfather and then passed on to my father. Here, I played with friends, built forts on trees with my brothers and ran in the fields chasing after animals. I love the simple things in life, and enjoy time spent in the kitchen.
I studied architecture, graduating in 2000. I consider myself very fortunate to live in Tuscany: I am used to seeing and coming into contact with beautiful things every day. I travel a lot both for work as well as for leisure, and love exploring new corners of the world.
But I always come back to La Dogana when I need to rest and reconnect to nature. I come back here when I need to make peace with myself and the world.
I look forward to sharing the magic of Villa La Dogana with you, see you soon!
~ Donata