Charm & Luxury in the Hills of Chianti & Tavernelle
---
Villa Fillinelle, a deluxe accommodations located in the heart of Tuscany among the panoramic hills of Chianti, is a special medieval home from the 1200's which has been elegantly transformed into a prestigiou Relais.
The features 4 rooms which are categorized as two suites and two spacious rooms. The decor and services are organized so that Villa Fillinelle can be rented entirely to one group or the suites and rooms can be used in a B&B style.
Surrounded by a spectacular garden and easy access to the many beautiful destinations in Tuscany, the villa lends itself to a holiday experience of relax and exploration. Discover the charm of Tuscany while residing in an authentic piece of history.
Top 3 reasons you'll love Villa Fillinelle
HISTORIC RESIDENCE FROM THE 1200's
An authentic piece of Tuscan history, completely restored with an eye for beauty & comfort
EXCEPTIONAL HOSPITALITY
Over & beyond the normal warm welcome from Tuscany, the owner is available to assist you in every way possible
SPACIOUS ROOMS & KITCHEN OPTIONS
Charming rooms dedicated to relax & B&B guests have full use of the kitchen
Deluxe Accommodations: You Choose
Designed to accommodate groups, couples, small families or friends travelling together, Villa Fillinelle is extremely versatile in its choice of lodgings. It all depends on what you need while on vacation, you can choose between suites, standard bedrooms or opt for the entire villa. There are two suites, two bedrooms or the entire villa for up to 12 to 15 persons.
Suite Naldini, located on the ground floor, this was originally the main bedroom of the villa. It is situated on two floors and has a private bathroom and inviting living room perfect for finishing that special book or spending some quiet time with your travelling partner. Upon arrival you will find a basket with fresh seasonal fruit in all of the rooms.
Suite Sernigi has a private bathroom and living room with sofa bed. Situated on the first and second floor, this spacious suite is suitable for up to 4 persons. There is a private terrace that overlooks the spectacular Chianti landscape and the suite filled with natural light, accenting the elegant decor. Each one of the rooms has an electric kettle and a selection of fruit teas.
The bedroom Camera del Riccio is on the first floor and is decorated in pleasing shades of blue for 2 persons. There is a private bath, abundant natural light and as in all the rooms, there is a Sat TV and Wi-Fi access. The last room is called the Loft Rondinelli for those looking for a more independent solution for the holiday rentals. There are two bedrooms, one with two single beds and one with a double bed. The loft features AC, like all of the rooms in the villa as well as private parking. This room also has private access to the gardens and its own kitchen with a living room for those looking for a bit more privacy.
Upon request, for longer stays of at least 7 days, it is possible to rent the entire villa for your holiday in Tuscany. This option gives you full access to all the rooms, the kitchens, garden and pool area. As well as a Concierge service and private parking are all included in the service.
Lots of Space for Everyone
Whether you choose to rent the entire villa for small groups or decide to enjoy the luxury of an elegant B&B accommodation, the Villa Fillinelle comes with lots of special extras. There is a fully equipped kitchen, with service pantry where you play around with the new flavors, perfumes and recipes. In addition to the two separate dining areas, there is a spacious private study where one can settle down with a good book, or good glass of wine and some new friends. The decor is accented with quality linens, soft colors and many times genuine antiques that add a special flavor to the ambiance.
Enjoy the Special Services
In addition to the deluxe setting, the owner of Villa Fillinelle, offers a wide range special services to make your holiday vacation even more memorable. For those who want to travel with their favorite 4 legged companion, both cats and dogs are allowed at the villa. There is private parking and a valet who will take care of putting your car up at the end of your travels. Upon request, Villa Fillinelle will provide picnic lunches that you can take with you as your explore the Tuscan countryside. While staying at the B&B, not only is the kitchen open for you to experiment with the new flavors but Rosanna is happy to prepare a selection of typical Italian dishes for you to sample in the comfort of the relais for a relaxing evening at "home".
For those who opt for the B&B style, they will have a delicious breakfast buffet with a selection of home made sweet and savoury choices.
An Enchanting Garden
Not only is the villa completely restored, but also the garden offers a inviting corners where you can sit at strategically placed tables and chairs for a quiet and relaxing pause during your holiday travels. With approximately 7000 mq of greenery, you are sure to find the perfect little nook just for you. There is a sparkling clear pool only 15 meters from the villa where you can cool off after a day of touring the nearby sites and small towns. And don't miss the opportunity at least once while on holiday, to savor your homemade breakfast in the garden or pool side.
What's close by?
Situated in the heart of Chianti, Villa Fillinelle is in an ideal position to visit everything big and small in Tuscany. Between the historic cities of art and the small quaint towns filled with the genuine essence of the Tuscan landscape, everything is easy to add to your itinerary. Florence and Siena with their monumental cathedrals, cobblestone streets and boutique shopping are both only 40 minutes away. Cities like those of Pisa and Arezzo which both offer truly unique views of classical architecture, art and culinary specialties are both just 75 minutes in either direction. Or you could venture to the small town of San Gimignano and Tavernelle to get a true feel of the quaint vias and special landscapes.
We present the Masoero Family
---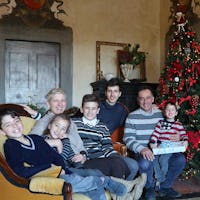 Villa Fillinelle is a dream come true. A dream after decades of experience in the world of hospitality along the Ligurian coast and that now in the Tuscan hills. A dream that became reality for all those who seek not only a place to sleep, but a sensory experience of authentic serenity and boundless beauty.
Here the warmth of domestic intimacy fits perfectly with high-level services to give those who stay with them as well as their accommodations, events and receptions a bit of elegance and experience how time seems to stop specifically for them.