Vacation Apartments in the center of Montepulciano
---
The top two floors of the historic building promise panoramic views of the stunning Montepulciano landscape! These 4 self-catering holiday rental apartments in the city center of town are spacious, with lots of natural light, great views and easy parking. Choose to stay in the middle of an active Tuscany town and enjoy the small boutiques, the local restaurants, a morning at the cafè or an afternoon at the wineshops sampling wines. The Stuart Apartments, with its newly refurbished one and two bedroom apartments, makes it easy to create an itinerary exploring Tuscany because of its prime position and proximity to major roads and towns.
Top 3 reasons you'll love Stuart Apartments
CENTRAL POSITION
Sitting atop the town of Montepulciano, with shops & restaurants nearby, easy to reach by car with free parking nearby.
SELF-CATERING WITH VIEWS
Overlooking the surrounding valley, the apartments offer fullyequipped kitchens to dine in with exceptional views of vineyardcovered hills.
COMFORT & STYLE
Guests can enjoy the peaceful views every morning in the stylish accommodations, then set out to explore wine country and the historical city.
Idyllic Position in the City Center of Montepulciano
Each of the four self-catering apartments combines a unique privileged location in the city center with great panoramic views.
The apartments are creatively named after the Scottish owner's passion for tea: "Black Tea", "Jasmine Tea" and "Mint Tea" each have a double bedroom while the "White Tea'' apartment has two bedrooms and two bathrooms. Every one of them has a fully-equipped kitchen to practice your culinary skills with great local market products and a comfortable living room with ChromeCast TV to watch or listen to your favorite shows and tunes. You can take advantage of other amenities such as washing machine, dishwasher, iron, hair dryer and free wifi access.
The apartments are located in an important historic area by the ancient Medici Fortress and one of the apartments has a private terraced garden while another has a balcony and the other two views of the vineyard-covered hills from most of their windows. The combination of restaurants, shops and wine cellars within walking distance plus easy parking and a lush green area where you can retreat makes the Stuart Apartments truly a one of a kind home base while holidaying in Tuscany.
Choose Your Cup of Tea
Find your accommodations according to views! Perfect for up to 2 guests, Black Tea has a full bedroom with a queen size bed and a private bathroom all on the top floor of the palazzo. Jasmine Tea has valley views from all of its windows, a double bed room, a living room, kitchen, bathroom and extra studio room, while Mint Tea has a balcony with views of the gardens and fortress in addition to the double bedroom, living room and kitchen.
White Tea is the largest of the four apartments, ideal for 2-4 guests with two bedrooms and two bathrooms. Especially nice is the panoramic balcony with a full view of the landscape surrounding Montepulciano, its own secluded backyard garden and separate entrance.
Just Ask the Owner
When making your reservations, let Giacomo the owner know what you are looking for and he will best be able to guide you to the perfect apartment. Guests often appreciate his availability during their stay to answer any questions about moving around in Montepulciano or planning day trips to one of the many closeby areas for wine tasting, outlet shopping and sightseeing.
Wherever You Want to Go
Montepulciano is a delightful place to base your holiday, a lively town with several important points of interest... not the least of which are the delicious restaurants, cozy cafés, artesanal shops, local delicatessen and, of course, wines from Montepulciano and Val d'Orcia!
Take time to visit the beauties nearby like Pienza, with its spectacular views and yummy pecorino cheese or heading over towards Cortona, another hilltop town - but with a completely different perspective of Tuscany. Visit the town, the boutiques, the Etruscan museum and find your favorite gelato shop. This area is rich in its diversity in wine and every little town will have several cantinas for you to explore and savour.
Plan on a few day trips with the convenient autostrada (main north south highway 20 km) and take in the sites at Siena, with its massive Duomo and particular town square. Enjoy one of its many restaurants and don't forget to taste some of the home baked desserts known to Siena. A drive to Arezzo, with its antique shops and Medici Fortress, will have you enjoying a genuine and authentic Tuscan town filled with artists and a Roman amphitheater. Florence is a must see for any itinerary to Tuscany, the cradle of the Renaissance will have you marvelling at the beauty and elegance in the architecture, artwork and artisans.
Meet Giacomo, the owner of Stuart Apartments
---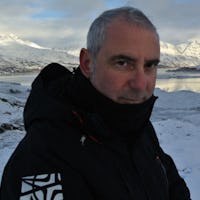 Giacomo Stuart, your host, was born and raised in Montepulciano and Tuscany yet his family roots go back to Scotland. The palazzo where the apartments are located have belonged to his family for generations. He studied and worked abroad across European cities in the field of international law, feeding his passion for travel, good food and wine. His love for Tuscany makes him return to share his passion and love for the area with his guests. He will be the perfect host during your stay in Montepulciano.