Rustic Apartments with pool and restaurant in Chianti
---
The Romitorio di Serelle vacation rental apartments are located close to Barberino Val d'Elsa, in the heart of the Chianti region. It offers apartments of different sizes, all with their own independent entrance, furnished in rustic Tuscan style with real wood beam ceilings and terracotta floors.
The property features a spacious and charming garden where guests can enjoy views of the picturesque Tuscany landscape. There is a large swimming pool not only for moments of relaxation but also a fun cool down during the warm weather months. Reserved your space at the delicious and exclusive restaurant with a mix of local and innovate recipes.
Centrally located, guests will be able to live Tuscany as their home while on holidays. Close to major sites like Florence and Siena, Romitorio di Serelle is also conveniently situated within easy driving distance of many small and intriguing towns.
Top 3 reasons you'll love Romitorio di Serelle
LOCATION
Panoramic views on the hills of Chianti wine country with its vineyards as well as the proximity to the main tourist destinations in Tuscany
FRIENDLY WELCOME
The cozy ambiance and comfortable atmosphere will make guests feel at home
CUISINE
The restaurant serves local dishes prepared according to traditional local recipes authentic Tuscan cuisine at its best!
Ideal for Couples or Groups
Romitorio di Serelle holiday rentals and restaurant is an ancient structure dating back to Medieval times and today is completely surrounded by Chianti vineyards. The whole property was meticulously restored, maintaining many of the original characteristics of the traditional rural buildings.
There are a total of 15 self catering apartments spread throughout the panoramic property, assuring the guest of privacy yet the possibility to make new acquaintances while on holidays.
Romitorio di Serelle is your Vacation Home
Romitorio di Serelle, offers more than just a place to sleep, here guests will find many areas dedicated to their relax, comfort and … maybe just a bit of spoiling in the process. Sit out under the new additions, the scenic covered gazebo, and sip an espresso or toast with a glass of prosecco. The restaurant which caters a wide range of options from specialty meals, vegan and vegetarian to grilled Tuscan meats and tasty cheeses, not to mention candle light romance and kid-friendly menus.
Children will love the shady corners, the grassy yards, the playground for the youngsters and the bikes, hikes and trails for those just a little older and sporty. Parents will fall in love with the immense beauty of the perfectly aligned vineyards, the common room & reading corner, and free WiFi.
Holiday Comfort at Romitorio
Each of the 15 independent vacation rentals feature a classical Tuscan country-style decor, highlighting the amazing architecture and original design of the hamlet, which once served as a hermitage before becoming a military fortress. All apartments have their own heating units, kitchenette, satellite TV and in-room telephone.
The apartments are divided into three main categories, accommodating from 2 to 9 persons. There a nine apartments with one double bedroom and bathroom, all apartments have access to free WiFi. The four apartments that cater to groups of 4 to 7 persons, with two double bedrooms each and addition single beds and sofa beds. These apartments feature two bathrooms and a fully equipped kitchenette for light meals.
Each one of the apartments has its own special space outdoors, a private area for dinner, drinks and a lot of relaxation. The panoramic views varying from corner to corner in this private oasis among the vineyards but from whatever direction you look at they are always spectacular. There are two apartments with three bedrooms each, two are double bedrooms and one is a double with a single bed. The living room is furnished with a full size sofa bed. There are three bathrooms each with a shower.
Quality Restaurant and Services
The team at Romitorio di Serelle work to keep the atmosphere at the vacation rental apartments lively yet tranquil. There are several terrace areas, where families, couples or even a guest on their own can relax with a glass of fruit juice, a coke or a bottle of chilled prosecco. The onsite restaurant, exclusive to the guests, serves up breakfast and dinner upon request.
The main fare follows the traditional recipes of the Chianti area and uses local products, served with an exclusive selection of local wines from the nearby farms. Once a week, guests may also enjoy wine and balsamic vinegar tasting on the large panoramic terrace of the farmhouse. The Chef can offer a vegan, vegetarian, or kid's menu, as well as accommodate other special requests.
Meet Chianti & Tuscany
The farmhouse Romitorio di Serelle is located in the heart of Chianti, close to Castellina in Chianti and Poggibonsi. a strategic position for anyone wishing to visit Florence, Siena and the small villages in the area, such as San Gimignano and Monteriggioni, the ancient romanic churches and the renowned local wine roads.
The owners, however, will be at guests' disposal for any itinerary suggestions, tips and destinations not to miss.
To welcome you to Romitorio di Serelle
---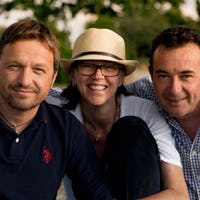 In their reviews, our guests talk about the "passion" we put in our job, in every language and with different words. We are very happy because we think that words such as "welcome", "care", and "attention" are not just an advertisement.
We very much like to hear our guest's requests and try to transform them into experiences to remember. We also respect the privacy of people who are simply looking for a place to relax.
So here we are, waiting to welcome you to "your Tuscan home".
~ Marco, Lorella and Roberto