Apartments in the hills of Impruneta, near Florence
---
Le Sante Marie is located near the hilltop town of Impruneta, locally well-known for its production of terracotta vases and garden accessories as well as wine. Surrounded by vineyards, olive groves and a partially shaded garden, the two apartments offer a peaceful, cool place in which to relax on your holidays in Tuscany. Their central location near Florence but in Chianti wine area makes Le Sante Marie ideal as a base to explore all of Tuscany.
Top 3 reasons you'll love Residenza Le Sante Marie
CHIANTI CLASSICO
The residence is close to several estates where you can do wine tastings, cellar tours and guided visits of the estate castles
PEACEFUL NATURE
You will enjoy tranquility, charming landscapes & woods perfect for leisurely walks with perfect temps even in summer
CENTRALLY LOCATED
Close enough to Florence, the A1 and road between Florence & Siena makes it easy to move about all of Tuscany and see all of the main sights
The house in which the two apartments, Sole and Luna, now exist used to be part of the wine estate Podere Santa Maria which produced excellent Chianti wine. The two apartments offer a great place to relax at the end of a busy day sightseeing in Tuscany. The two apartments can host up to 5 and 4 guests, respectively, or can be rented together to have the entire house to yourselves, hosting up to a max of 9 guests upon request (a single bed can be added for kids).
Each of the two apartments have their own living area with satellite TV, kitchen and dining room and a bathroom. The Sole apartment has a fireplace where you can relax and enjoy the warmth on cool autumn and winter nights.
The Luna apartment is spread out over the ground floor, with a large living area with sofa bed, dining area with kitchen, and a double bedroom and bathroom to each side. It is ideal for a couple, or for up to 4 people with the use of the sofa bed. The apartment can be used by anyone with a physical handicap or wheelchair.
The Sole apartment is spread out over 2 floors, with its living area with fireplace and kitchen/dining area on the groud floor, then upstairs 2 bedrooms ( a double and one with 2 single beds) and a bathroom. The apartment is ideal for 4 guests, but can host an extra person in a single bed set up in the living area. Renting both apartments together would offer maximum privacy and space.
The property offers guests a beautiful partially shaded garden in which to relax in, with a barbecue grill and accessories. The sunny part of the garden is also perfect for enjoying the warmth of the sun, particularly in spring and fall. A small service building houses a laundry room and accessories such as iron and ironing board, vacuum cleaner and drying rack. The entire garden is enclosed, making it perfect for families with small kids as well as for anyone traveling with pets (to be requested on booking).
Please note that the apartments are rented for a minimum of 3 nights.
At the entrance into Chianti, perfect for enjoying the outdoors
The property is surrounded by and offers wonderful views of the vineyards of the Chianti wine region, olive groves and pine and oak woods. It is ideal for anyone wishing to enjoy the silence and quiet of the countryside.
The two apartments in the Sante Marie farm are immersed in nature yet close enough to Florence to make it easy to visit the city and return to the countryside to relax at the end of a busy day of sightseeing. If you wanted to take a hike through nature, you could follow trails in the woods to reach Florence in about an hour. It is a great base from which to visit Chianti and its wineries, as well as other towns in Tuscany including Pisa, San Gimignano and Siena.
Ideal for families & those wishing to relax
The Sante Marie residence welcomes small pets and can add extra beds in the apartments that easily accommodate children. The apartments offer satellite television, air conditioning, a fully-equipped kitchen with microwave, coffee pot and toaster. Each of the apartments has its own parking space available at the entrance to the home. High chairs and crib are available for families with small children.
Additional services offered to guests include organizing cooking classes and help in setting up tastings of local foods and winery visits, guided tours in Chianti and most of Tuscany.
Chianti and all of Tuscany is easy to reach
Aside from visiting Impruneta's historical center, its basilica and Renaissance-era villas, the Sante Marie apartments are at the start of the Chianti wine region which makes it easy to organize wine tastings at local wineries and day trips to the small medieval towns that dot the Chianti landscape including Greve in Chianti, Panzano, Castellina and Radda.
Florence is just 12km away, and the main roadway that connects Florence and Siena is minutes away which makes it easy to reach San Gimignano, Monteriggioni and Siena.
In the area, one should visit the Castello del Gabbiano, Castello di Vicchiomaggio and the town of San Andrea in Percussina, hometown of Niccolo' Machiavelli, well-known philospher who wrote "The Prince".
Meet Riccardo, owner of Le Sante Marie
---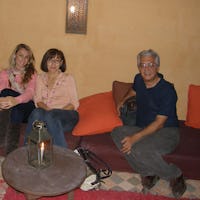 My name is Riccardo and together with my family, we have been welcoming guests to our family vacation home in Tuscany since 2001. I love living in the countryside and I produce one of the best sweet wines in the region called "vinsanto" as a hobby which I'd love to have you taste during your stay. A friendly border collie by the name of Brenda keeps me company, especially while writing a book on the history of the area around Le Sante Marie.
Look forward to meeting you soon!
~ Riccardo