Colorful accommodations for a vacation of discovery
---
Set upon a panoramic hill, looking towards San Gimignano and its territory, you will find Macinella Apartments with their warm and welcoming decor. There are 6 self catering apartments for small families, couples, groups and friends traveling and experiencing the beauty of the Tuscan countryside.
Macinella holiday rental apartments are more than just a place to lay your head, they are a full immersion in the tranquility, serenity and uniqueness of Tuscany and its stupendous landscape. The vacation rentals, furnished with modern conveniences including free WiFI access, are also the ideal base for an interior exploration using art, food, and nature as your guide.
Top 3 reasons you'll love Macinella
JOIN THE FAMILY
Both Gloria & Stelio enjoy opening their home to their guests. They are available to help you create the perfect experience
NOT JUST A HOLIDAY
With its tranquility, vibrant colors & unique scenery, Macinella is more than a vacation in Tuscany but an exploration of yourself
LOOKING FOR THE UNUSUAL
The agriturismo fosters an environment perfect for creating great memories, art & experimenting with new ideas & concepts
Wonderful Surprises Await You
The property of Macinella covers 10 hectares of olive groves, cypress trees, grassy fields and shady forest, the ideal setting for long strolls full of fresh air and soothing scenery. The estate, set above the one of a kind San Gimignano scenery, comprises a medieval tower from the XI century, a place full of historical and cultural importance. Your time at Macinella Sunflower Apartments, will give you the possibility to slow down your holiday vacation and allow you to truly bask in the local warmth and beauty of Tuscany and all it has to offer. From hiking to wine tastings, a massage or a art lesson with Gloria, visiting the memories of a time gone by at the "Torre del Colombaio" or making new memories in the treetop terrace built especially for capturing the scenic vistas of San Gimignano, you will find something that whispers to you at Macinella Apartments.
Large Apartments & Large Gardens
The 6 self catering holiday apartments can be rented individually for couples and groups of up to 9 persons or the entire structure can be rented for a group of 20+8 persons. There are several connecting apartments and the semi-covered terrace in apartment Sunflower 1 is large enough to accommodate everyone for meals, activities and parties. The largest apartment (Sunflower 1) boasts of more than 110 square meters divided into 3 double bedrooms and three bathrooms. The living room has a classical Tuscan fireplace, plus a sofa bed for an extra 2 persons. This apartment, when rented on its own has a marvelous terrace of over 100 square meters.
The use of color, design and the natural architectural beauty of the farmhouse enhance the relaxing and serene atmosphere. Sunflower 2 and 3 will each accommodate up to 4 persons. The apartments all come with their own private garden space, a personalized decor with artistic furnishings and the restructuring emphasizes the original rustic beauty of the farmhouse. Sunflower 4 is suitable for a couple, with the possibility of adding a baby cot upon request, and enjoys the delightful fragrance of roses from the "pergola" outside.
The apartments offer a fully equipped modern kitchen with a stove, oven, refrigerator with freezer as well as the necessary utensils for preparing a delicious Tuscan meal. Sunflower 5 has three bedrooms with double beds and en suite bathrooms, two of which can comfortably accommodate an extra single bed for a total of 8 persons. All apartments have screened windows, allowing for lots of fresh air and you will find easy access to the free Wifi service. The two bedroom apartment Sunflower 6 has one double bedroom with en suite bathroom and one single bedroom. Upon request, it is possible to furnish a baby cot for young children and maybe beds are interchangable with a double or two singles.
Expect the Unusual
Looking for new and different experiences? Macinella will tease your sense of exploration and discovery! The large treetop fort, the possibility to experiment cooking with the power of the sun, picking fresh vegetables from our private garden, artistic displays and a laboratory for delving into your artistic expression are just a few of the opportunities available to the guests at Mancinella. For those who prefer a more adventurous endeavour there is a soccer field, ping pong and the possibility to camp just like the knights of old, in a tent using the same instruments and tools that they did while on crusades. There is also a freshwater pool, with lounge chairs and umbrellas where one can cool down after a morning of touring Tuscany or an afternoon of improving your tan.
Adventures in Tuscany
The Macinella Sunflower Apartments offer not only a view of San Gimignano, but it is close enough to enjoy an evening stroll or a dinner at one of the many restaurants in this small Tuscan hamlet. There are several nearby towns, each with an intriguing history, cobbled stone roads, delicious restaurants and cafes. Poggiobonsi, which played an import role during the medieval times, is only a short drive and not only will you find access to public transport to Florence and Siena but also the Poggio Imperiale and some enchanting archeological digs. Explore the vineyards of Chianti and the alabaster artwork of Volterra, following the country roads through the rolling hills of Tuscan covered with grain and sunflowers.
The exciting museums of Florence, Siena and Pisa are all within a short distance of the vacation rental apartments and promise hours of being amazed by the artistic patrimony that was left behind by the greats like Michelangelo and Leonardo. The award winning sandy beaches of the Tuscan coast, with its clear waters are perfect for SCUBA, snorkeling and even just soaking up the sun. Follow the ancient paths of the via Francigena, as did the pilgrims from the north and explore the unique scenery of Val d'Orcia and the great wines of Montalcino and Montepulciano.
Meet Gloria Forti & Stelio Sardelli, the Owners of Macinella
---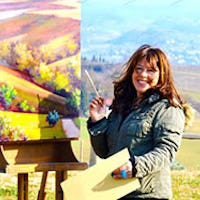 My name is Gloria Forti and I was born in Roma, and for the last 10 years that I live in Tuscany: totally enchanted by its charm. Together with Stelio Sardelli, who was born nearby and whose family reaches as far back as the 1300's, we share a love for nature, a search for harmony, and a distinct pleasure in meeting others exchanging ideas and experiences.. Our goal is to work together to create a pleasurable and interesting backdrop for your holiday adventures. I am passionate about art and creativity, and I use Macinella surrounded by the olive groves to express through my art, sharing whenever possible with our guests. We welcome you to our world!