Near the Tuscany Coast for great beaches & wine
---
Only a short distance from some of the most famous wines and unforgettable Tuscany landscapes, La Villa con gli Archi is an independent private villa rental for families and groups of 8 to 12 persons.
The interiors are a graceful mix of antique accents and modern decor which blend together to create a comfortable and inviting environment were friends and family can relax and enjoy their time in Tuscany.
The position within an age-old park, just minutes from characteristic small towns, delicious vineyards and award-winning beaches, permits the villa rental to offer its guest the option to enjoy staying home or venture forth to explore the beauty of the region.
Top 3 reasons you'll love La Villa con gli Archi
FAMILY EXPERIENCE
The spacious rooms & common areas encourage large groups & family reunions spending quality time together
COOK WITH THE OWNER
Special local recipes, using the typical flavors & goodness of Tuscany. You won't forget a meal shared with the owners
BANDIERA BLU BEACHES
Grab your lotion & your beach towel, this villa rental is only a short drive for some the best beaches along the Tuscan coast awarded the
The villa rental features a fabulous position, where the property is flanked by a lovely landscape comprised of sunflowers fields, rolling hills, historic villages and natural hot springs. With over 6000 sqm of land surrounding the accommodations, guests are sure to find a quiet corner for a bit of holiday relax and restoration.
Set on three floors, the villa promises ample room for groups and large families looking to spend their vacation with fun activities and quality time together, be it cooking in the fully equipped kitchen or simply sharing a sunset from the garden. There are also several modern extras which make the vacation experience all the more comfortable including AC, washing machine and covered parking spots.
ELEGANCE and COMFORT
The stunning decor mirrors the elegance of Italian design mixing colors and furnishings in a pleasing manner. Yet, as the owners restored the farmhouse, they concentrated on creating a comfortable atmosphere where everyone could feel at home. The large living room is divided into three different areas, accommodating groups with diverse interests and areas where everyone can spread out and relax. Besides the WiFi, there are also traditional board games, a piano and SAT TV for entertainment.
The kitchen is a dream come true for those who like the idea of experimenting with the local flavors. Extra spacious and organized for everyone to lend a helping hand with the island console, double refrigerator, dishwasher, microwave and a wonderful antique wood dining table for up to 20 guests.
In addition to the guest bathroom located on the ground floor with WC and sink, there is also a sitting room. This area opens to the covered terrace and gazebo outdoor zones next to the saltwater swimming pool. Here guests can enjoy the dining en plein air, using the BBQ for an authentic "grigliata", or sunning poolside on one the loungers. There is also an outdoor bathroom and shower.
PRIVACY and CONVENIENCE
The main villa is comprised of 4 double bedrooms all with en-suite bathrooms designed to assure that each guest feels at home while on holidays. The minimum stay is 5 nights. The super-sized rooms are divided into a suite, two double bedrooms and a bedroom with two single beds. The largest is the Sunflower suite, furnished with lovely antiques including a canopy bed finished in gold leaf, a small sitting room, and large wardrobe. The bathroom includes a double sink in white Carrara marble, a whirlpool tub with a garden view, and a shower. Upon request, it is possible to add 2 extra beds for children.
The two double bedrooms and one twin bedroom Wisteria, Lavender and Ginestra all include an en-suite bathroom and boast excellent views of the gardens. Next to the main villa is a cottage with a loft area dedicated to the 5th bedroom and two single sofa beds on the ground floor for a total of 4 persons. The cottage can be rented separately from the main villa during the months October to May. While from June to September the cottage is rented only to the villa's guest (on request in addition to the villa).
A LOCATION FOR RELAXATION
Set along the southern coastal region of Tuscany, La Villa con gli Archi provides a wonderful opportunity to explore various areas ranging from popular tourists sites to small isolated villages, from the green landscapes with rolling hills and hot water springs to the sandy beaches and crystal blue of the Mediterranean waters. The villa, available for a minimum 5 or more nights, is nestled in a green park filled with pines, and fragrant blossoms guaranteeing you a tranquil and serene home environment.
Yet, it is within easy driving distance to almost everywhere. There are many historic and cultural sites and monuments to visit including archeological ruins, museums, nature reserves. In addition to the ever-changing Tuscan landscape, guests can make the most of the many small towns with weekly local markets, food festivals, as well as delicious restaurants, feature traditional menus and beautiful artisan-made products.
More about your Host Family at La Villa con gli Archi
---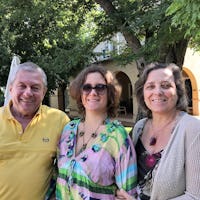 We saw this country house about thirty years ago and we immediately fell in love with it. We lived in Florence and this would become the home for our family. Along renovation brought the villa back to life as we can live and appreciate it today. Life then took us elsewhere, but over the years the villa with the Arches has always remained "our home of the heart", where we spend the moments of rest and vacation and with great pleasure, we share it with the guests we welcome as our friends. This is our family: Raffaello, engineer and passionate cook, Rosangela, psychiatrist and lover of the spirit of this land, with his daughter Sara, a student in tourism, vegetarian and animal science. And then our Zen animals, 5-year-old black Labrador and two cats living with us in Lucca.