Nestled between Florence & Pisa with a green landscape
---
Located only a short distance from the city center of Florence, on a private tranquil road is the vacation rental home La Masseria. Large enough for a group of up to 13 persons, this independent holiday rental is divided into three connecting apartments.
This arrangement allows for privacy yet a common area to relax, enjoy the holidays and eat meals together. When not rented as a single unit each independent apartment is let separately for small families, friends and couples looking to enjoy the silence and tranquility of the Tuscan countryside.
La Masseria invites large families and groups to plan the holiday get away as well as making smaller families welcome with fresh baskets of seasonal fruits and vegetables.
Top 3 reasons you'll love La Masseria Casa Vacanze
CENTRALLY LOCATED
Easy access to exploring Pisa, Siena, Lucca, Cinque Terre, Florence and Chianti without losing the charm of the countryside
TRANQUIL ENVIRONMENT
Located on a private road, on a panoramic hilltop one can enjoy the views and the silence of Tuscany
FENCED YARD
The garden is equipped with BBQ, hammock and ping pong table as well as plenty of green grass, a pool and shade trees for the kids
Versatile Family Rental in Tuscany
Rental vacation apartment Mulino a Vento (Windmill) has over 50 square meters of space divided into two bedrooms, a full bathroom with shower and a kitchen with a private panoramic terrace. This apartment sleeps 4 people with a double bedroom and a twin bedroom.
The second apartment for 3 persons, is located on the ground floor and is called La Mezzana. This apartment has a little over 45 square meters and has a double bedroom, a single bedroom and a full sized bathroom. Both apartments have a fully equipped kitchen including a refrigerator with freezer, an oven, a kettle and iron with ironing board. Enjoy the luminous decors or sit outside on the beautiful terraces for meals and relax.
The largest apartment La Masseria is for up to 6 persons with 100 square meters. The apartment has three bedrooms and two bathrooms. The kitchen is equipped with all modern appliances such as a refrigerator with freezer, oven, dishwasher, microwave as well as a toaster, an electric kettle, iron and ironing board.
There are two bedrooms with double beds and one bedroom with two twin beds. Each apartment has a sofa bed, which makes it easy to sort sleeping arrangements for large groups. The apartment has a large living room with cosy fireplace and a dining area which will accommodate the entire group when the apartments are let as one large vacation villa.
Extras Make the Holiday Fantastic
The villa boasts a large and green park area which is completely fenced in, perfect for young children looking to run around and play. There is a private pool nestled in the garden surrounded by the lush Tuscan landscape and the hammock and lounge chairs are just the place to escape for a nap under the warm sunshine.
La Masseria provides free WI FI access to all of its guests and upon request can arrange for maid service, cooking classes and babysitting. The owner loves to share her homeland with others, so don't hesitate to ask her about local activities and small towns to visit for the best meals. When available she also likes to provide her guests with fresh seasonal fruits and vegetables grown on the estate.
Local Towns are Entertaining
The Tuscan countryside is at your finger tips while staying at the vacation home rental La Masseria. Beautiful small towns such as Montespertoli, famous not only for its enchanting position but its excellent olive oil and wine, which though are in Chianti actually have they own category. Of course the city center of Empoli beckons with its historic monuments, delicious restaurants and cafes.
See all there is to see in Tuscany
Though the totally fenced in park surround the vacation villa rental is captivating, as is the idea of immersing yourself in the refreshing pool surrounded by the green olive trees, it is possible to enjoy day trips to surrounding cities. San Gimignano, Siena or Lucca, which is less than an hour away invites you to explore not only the city center put the historic Villa Mansi and others that dot the countryside.
You can either train it or drive to Florence where Boboli gardens, which make up one of the two medici gardens on the Unesco World Heritage List, awaits you. Pisa, approximately 50 km, has more other than the famous tower; you can also stroll the Borgo Stretto, a tiny medieval road surrounded by loggias and open galleries with small shops. Among the smallest villages, you can visit also the precious center of Vinci, Certaldo and San Miniato.
Meet Saida Robucci, the owner of La Masseria
---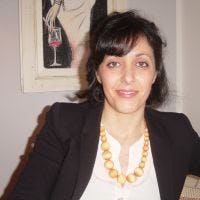 Saida has a degree in languages and modern culture and has always loved meeting new persons and discovering new cultures. Her favorite activites and hobbies include music, home decor, do it yourself projects, gardening, cooking, travelling and discovering the path least followed. She truly believes living in Tuscany is a privilege.