A cozy apartment in the hills of Chianti, perfect for couples & families
---
This Chianti self-catering apartment has views of the vineyards that make Chianti world-famous. With its 2 bedrooms and 2 bathrooms, fully-equipped kitchen and outdoor space to enjoy meals al fresco, it makes a great base for exploring the area and Tuscan region or just staying put to relax and enjoy Chianti life.
Candida's Garden Guest House is a way to offer guests who love Candida's B&B and garden their own space to relax and enjoy Chianti. In fact, right next to the apartment is Candida's home where she has a small 3 bedroom B&B and a spacious garden to enjoy the outdoors. Anyone traveling as a family or friends who would prefer having their own kitchen and outdoor space can do so, while at the same time enjoying either a home-cooked dinner in the evening or joining a cooking class offered by Candida directly in her home.
Top 3 reasons you'll love Candida's Garden Guest House
Views amidst the vineyards
Gardens on one side, vineyards on the other views from the apartment are wonderful any direction you look!
Dining at home
While it's selfcatering, take advantage of Candida's hospitality & enjoy dinner next door when you don't feel like cooking or going out
Centrally located in Chianti
Located just outside San Casciano, the apartment makes a great base from which to explore Chianti & Tuscany
Candida's Garden Guest House is perfect for up to 4 people, which means if you're a family with kids or as two couples you can have your own kitchen and outdoor space. The bedrooms both have air conditioning as well as heating, so guests can stay in the countryside year-round with no concerns as to whether it is too hot or cold.
The apartment with its two bedrooms can also be "divided" to be rented by just a couple having access to just one of the bedrooms and the kitchen.
Best of both worlds
The apartment is self-catering, which means you have a kitchen and can purchase all you need to prepare your breakfast and other meals at your convenience, plus coming and going when you need. Guests will find a dishwasher, a washing machine, an oven and all necessary items in the kitchen to prepare meals, and, as mentioned above, a separate entrance and gate to maintain your complete independence from Candida and her B&B guests next door.
At the same time, you can also take advantage of the vicinity and Candida's hospitality and request the possibility of enjoying a cooking class in her kitchen where you can learn to make pasta and Tuscan dishes or have her prepare a dinner for you to come back to at the end of the day, without having to worry about dinner!
Candida's home is surrounded by a large, spacious garden that guests of her B&B and of her apartment can enjoy. So you can choose to remain in your area or also walk a few steps up to the main house and join other guests for a bit of socializing or enjoy reading under a tree at the back of the garden.
Central Position in Chianti Wine Region
It goes without saying that the location of Candida's home and the Casina delle Rane right outside San Casciano offers the best of the countryside while being close to restaurants, shops and grocery stores in the town of San Casciano Val di Pesa. It is a short distance from Florence and Siena and, of course, by staying right in the Chianti wine region, you can easily drive a short distance to wine estates nearby and visit the hilltop towns of San Donato in Poggio, Panzano in Chianti, Castellina in Chianti and San Gimignano, to name just a few.
Also note that the apartment can be rented by just a couple, with access to the main common area and kitchen and one of the two bedrooms at a lower cost per night. Just contact Candida for a price estimate for your stay. Cleaning fees are included in the nightly rate.
Meet Candida Bing, owner of La Casina delle Rane
---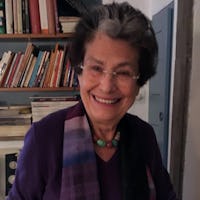 I have lived in this home for over 30 years. It is where I have built my garden by planting every single bulb, every bush and every tree. It is also where I watched my children grow, where I painted and where I collected and sold antique pieces of garden furniture. Now that I am on my own, I love to receive guests and cook for them using my home-grown olive oil, vegetables from my private patch and fruit from my garden which I enjoy making into marmalade and limoncello. I think of my home as a very peaceful place; it is close to several artistic points of interest and surrounded by vineyards with a splendid panorama. I opened up my home to share my oasis with my guests - I look forward to welcoming you to my home soon.
~ Candida