Family atmosphere near Montepulciano with wine & views
---
At il Greppo, the relaxing and healthy lifestyle seeps into your vacation with a panoramic position , good food, delicious wine and well maintained gardens, restaurant and holiday apartments. Even those not staying in one of the 13 vacation rentals and 8 double rooms with shared pool and large garden area can enjoy a tour of the property, the classical Tuscan styled restaurant, wine tasting, cooking classes and art courses. The décor is representative of a traditional Tuscan farm from the Montepulciano area with its red brick construction, terracotta floors, large arched windows and doors and rich wood accents. Il Greppo beckons you to enjoy the soothing panoramic views towards the Valdichiana with a glass of their wine and an authentic bruschetta with their home made olive oil.
Top 3 reasons you'll love Il Greppo
A TRUE AGRITURISM
And they prove it every day with genuine olive oil, honey, cheese and wine produced right there on site
DESTINATION WEDDING VENUE
Parties, business meetings, art classes and more! Lots of space dedicated to catering to groups and events in Tuscany
FAMILY ENVIRONMENT
From their family to yours. These holiday rental apartments invite you to relax and enjoy the warm & welcoming atmosphere
Join the Fun at Il Greppo Family Farm
The family farm is divided into three red brick structures, classically restored in the style from the Montepulciano area. Each building is set on two floors and are comprised of a total of 13 holiday apartments for 2 - 8 persons. There is a well cared for garden area which surrounds the Tuscan homes and melts into the dreamy landscape of southern Tuscany with its soft hills covered in the golden browns of grain and hay. The holiday apartments are decorated with distinctive country styled Tuscan accents and are designed to be a comfortable and fully functional home away from home. The largest of the apartments has 4 bedrooms and 4 bathrooms, a large living room and a kitchen area with refrigerator, stove, oven and cookware. The other 12 apartments come with a kitchen, a stove with 4 burners, a microwave oven and a refrigerator with freezer…to keep some fresh gelato always on hand.
The farm offers also 8 cozy double rooms with bathroom.
The delicious restaurant
But the mantra at Il Greppo is why cook, when there is a delicious restaurant on site? Especially when you can enjoy either the inside seating on cooler nights or the pleasant outdoor porch, perfect for wine and food tastings. The restaurant is open upon request for breakfast, lunch and dinner. Be sure to reserve your place – even if you are not a staying at the family farm you can always be a guest at the restaurant, vineyards, organized cooking and art classes. Breakfast is available, with a wide array of delicious treats from the farm starting with honey, cheese and baked goods. During the month of August it is possible to arrange for half pension.
A perfect place for your wedding
The space and organization at Il Greppo lend themselves to organizing your perfect destination wedding. Not only is there a full restaurant ready to take care of your catering needs but there is also a meeting room and large ample garden space for activities and reunions. In addition, there is an interesting wine cellar on the property that is available to the public. The wine cellar tour is free for all residents in the holiday rentals. Learn about the wine, the olive oil and the other delectable products made right there at the farm.
In the Center of Tuscan Activity
Il Greppo is close to stores, café, public transport and several picturesque towns. The distinguished town of Montepulciano, which holds an antique market on the 2nd Saturday & Sunday of the month is also filled with quaint little stores of local products. Only a short distance away is the famous town of Cortona which legend has it can claim to trace its roots as far back as Noah and the Ark. Along the panoramic curves sits Pienza on a hill top, not only famous for incredible views but also tantalizing cheeses...but not as good as Il Greppo!
Enjoy the Surroundings with Ease
Positioned in an ideal location with easy access to major highways, day trips to visit some of the large cities in Florence is easy. Siena is only 60 km and is a jewel among the cities of Tuscany, it is normally shown with artwork depicting a she-wolf suckling the young twins Romulus and Remus. Arezzo, less than an hour away, is truly a well kept secret, not normally on the tourist map but exceptionally interesting with its Roman amphitheatre and archeological museum. Florence, a bit further away but easy to reach with the main highway, is a destination not to miss with its numerous famous art museums, the impressive Cathedral and markets.
The Parigi Family, the Owners of Il Greppo
---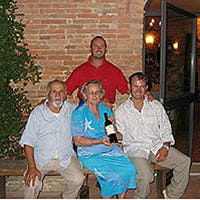 In 1962 Romano and Lia Parigi, together with their sons Paolo and Luigi, created L'Azienda Agraria "Il Greppo" The property is made up of about 60 ectacres of which 15 are dedicated to the vineyards and one to the olive groves. Postioned at approximately 300 meters above sea level in the hills of Montepulciano, the farm faces towards Valdichiana and boasts of a unique view with an ideal orientation for the production of quality grapes . . . not to mention an enchanting landscape.