The traditional Tuscan landscape beckons near Siena
---
The fully restored Siena farmhouse I Pianelli near Murlo, is a beautiful example of a kid friendly agriturismo. There are 6 self catering holiday rentals with an elegant country decor set in an environment loaded with activities and games for all ages. Come with the family, friends or as a couple looking for some romantic moments, Agriturismo i Pianelli has the something for everyone. Use this farmhouse accommodation as your base in Tuscany as you explore the many wonders in Val d'Orcia ranging from vineyards, ancient ruins, hiking and biking and especially the culinary delights that this area is well known for.
Top 3 reasons you'll love I Pianelli
AGRITURISMO EXPERIENCE
Surrounded by olive trees & a rich green landscape, you are immediately immersed in the real Tuscany
FAMILY FRIENDLY ACTIVITIES
Besides the beautiful pool area you will find a soccer field, ping pong, a kids play area and even bike rentals
COUNTRY CHIC DECOR
Wrought iron bedstands, traditional Tuscan furnishings and colorful accents create a beautiful and elegant atmosphere
Family Friendly Accommodations
The decor is romantic and whimsical, but always practical with its well equipped kitchens and garden furnishings for a delicious outdoor meal. The apartments are set on three floors, each with a different perspective of the typical Tuscan landscape that is definitely part of the charm of these vacation rental apartments near Siena. Enjoy the modern comforts of a TV, radio, CD player, security safe and WiFi Access while on holiday. The spacious and luminous bedrooms, living areas and fully functional kitchens will be the perfect base while you plan your itineraries exploring the nearby towns of wine, thermal waters and food festivals. The lush gardens are outfitted with many activities to tempt kids of all ages: ping pong, soccer, forts and games including fussball.
Designed to make your time around the pool and in the countryside relaxing and memorable, Agriturismo i Pianelli have thought of everything. Not only does each apartment have its own dedicated outdoor dining area with table & chairs, you will find that the pool is also very well equipped. Shaded areas, lounge chairs and more surround the swimming pool together with the silver green of the olive groves and the many age-old trees- In addition to your own personal space, there is a shared common area with games and books for everyone. For those needing extra services, such as baby cots or access to the laundry room the owners are there to assist. Ask about using the bikes, and create the perfect adventure for exploring the surrounding landscape.
An Accommodation Made Just For You
The agriturismo experience at I Pianelli starts with one of their 6 beautiful furnished, self catering rental apartments. La Loggia (4 PAX) is on the first floor with approximately 55 square meters, 2 double bedrooms and a bathroom. Gli Archi (4 PAX) is a one bedroom apartment with approximately 45 square meters great for a small family with a double bedroom and a sofa bed for the kids. Il Focolare (5 PAX) the largest of the apartments with 100 square meters is on the ground floor with fireplace in the kitchen and two bedrooms: a double and a triple. Il Gelsomino (4 PAX) on the first floor, with screened windows has a dishwasher and fireplace and two bedrooms: a double and two singles. I Girasoli (6 PAX) boasts the great panoramic views and three double bedrooms with two bathrooms. Studio (3 PAX) is a one bedroom apartment on the ground floor with a sofa bed and a utility room.
Nearby is a Tempting Piece of Tuscany
Between historical sites, culinary treats and great wine, this corner of Tuscany promises that you will never be bored. Start with a visit to Murlo and its archeological finds and castle to give you an idea of the history of this area...reaching back as far as 35,000 years! The town of Buonconvento, with is quiet streets and delicious restaurants (and gelato shops) will be an interesting afternoon. Explore the wine of the region with a visit to the fantastic town of Montalcino, which hasn't changed its cobbled stoned streets in over 400 years. A stay at I Pianelli is also the perfect base for those looking to explore the breathtaking beauty of the Siena hills and the Creti Senese near Asciano.
Venture Forth and Easily Explore Tuscany
Tuscany offers a wide diversity in landscapes, towns and experiences, and they are all within a short distance of I Pianelli. The exhilarating towers of and steep hills of Siena are the perfect day trip, admire the red brick buildings, the oddly shaped square and the marble beauty of the Duomo. Plan a day on the splashing in the waters of Tuscany, and head towards Bagni di Petriolo or even the coast and the sandy beaches of Follonica. A trip to Tuscany wouldn't be complete without a tour through Chianti and it many vineyards. A day trip to Castellina in Chianti or even the tower town of Monteriggioni will put you in a prime area for wine, medieval festivals and even more beautiful landscapes
Meet Mario & Francesco, the owners of Agriturismo i Pianelli
---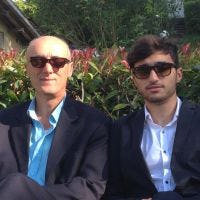 About 20 years ago Mario feel in love with i Pianelli, after with much dedication he turned transformed this farm into a warm and welcoming environment for his guests. Since last year, his son Francesco has joined with the same passion: and with a fresh new enthusiasm, he too, is working to see this adventure succeed and make the traditional Tuscan farmhouse even more beautiful and friendly, highlighting the rich landscapes the enthralling history of the location.
"We like to think that each and every one of our guests return home with beautiful memories of their vacation. We like to consider our guests new found friends and we try to give them all the assistance and our local know-how so that they can truly enjoy Tuscany."