Romantic Setting on the hills outside San Gimignano
---
In a small Tuscan hamlet, surrounded by a breath-taking scenery, Il Corbezzolo offers a special ambiance for a couple on their honeymoon or a small family. Surrounded by the green landscape typical of the San Gimignano hillside, you will find tranquility, relax, privacy and a secret piece of Tuscany.
The one bedroom villa rental was completely restructured using authentic material and simple classical designs. Genuine and rustic in its appeal, it is complete with many modern accessories including WiFi and Air Conditioning.
The spectacular pool will be a constant temptation, but then, so is the unique beauty in the many little towns and vineyards that are only a short distance from the vacation rental.
Top 3 reasons you'll love Il Corbezzolo
BREATHTAKING VIEWS FOR TWO
Overlooking the classical Tuscan landscape, this 2, or even 4, person rental villa is your best romantic getaway
RESTORED WITH CRITERIA
Using the antique stones from the nearby hamlet, the villa has been rebuilt to its original beauty
MODERN COMFORT IN A TIMELESS LANDSCAPE
Choose the relax and tranquility of the gardens and pool at il Corbezzolo for your holiday
Part of the Tuscan Landscape
This small little "borgo" in Tuscany hides a tranquil, relaxing refuge for those looking to recharge their batteries and enjoy the natural beauty of the Tuscan countryside. Located close to everything, yet the independent villa rental is conveniently nestled in the lush green hills between San Gimignano, Florence and Volterra. The owner, a building contractor by trade, took special care to restore the antique barn using only authentic local materials thus creating a warm and welcoming accommodation for his guests.
A vacation in this corner of Tuscany will present you with the natural beauty of the landscape, exposing the deep roots of its role throughout history and of course, introduce youto the delicious culinary delights from cheese, home made pasta to red and white wines. The holiday rental home Il Corbezzolo is an excellent opportunity to truly live the Tuscan countryside and all of its surprises.
At the Table in Tuscany
The fully restructured vacation rental was once the barn for the main villa, and it is just the right size for a couple, a small family or a couple of friends just looking to relax. There is a spacious eat-in kitchen, fully furnished with all the modern accessories - especially all those little extras like a toaster oven, electric kettle, moka coffee pot and dishwasher. There is plenty of space for a Tuscan meal inside, or with the warm weather even a BBQ outside in the private garden is just the right ending to a day of touring the nearby cities.
Bring home all your treats from the local markets, you latest wine tasting and a fun trip to the nearby supermarket and create an Italian feast for your tastebuds. Or you could grab that bottle of wine and a tray of snacks and head over to the panoramic pool for a little happy hour time. The shared infinity pool area is truly a gem on the property with its hydromassage, lounge chairs and umbrellas.
Comfort and Relax are the Objective
The fireplace in the kitchen offers an extra cosy atmosphere in the cooler months and doubles as the perfect indoor BBQ - grill a bistecca fiorentina or maybe some of the fresh veggies from Pietro's garden. The living room, with its terracotta floors and wood accents has a comfortable sofabed for two persons and a TV. The holiday rental has one double bedroom and comes complete with all necessary linens.
There is a full bathroom in neutral shades of beige and tan with a shower. You may be on vacation, but it is always important to stay in touch with the world, and you can do that with the free internet service at il Corbezzolo. The bedroom and villa rental come with Air Conditioning for those warm summer nights, though being in the countryside there are always fresh cool breezes.
Enjoy All of Tuscany
Il Corbezzolo, located close to Gambassi Terme, is ideal for those who are looking for a peaceful base yet want to be close enough to venture out for a few well planned or even spontaneous day trips. There is so much to discover in the area that you only need to drive a short distance in any direction to be amazed and awed by the picturesque scenes.
San Gimignano, to the east, is a great stop with its iconic towers, small cobbled stone streets and lots of great restaurants. Volterra is to the west, where you will find soft rolling hills, sunflowers fields and lovely alabaster artwork. Tuscany invites you to explore the little towns like Certaldo, set on a hilltop that commands far reaching views or over towards Chianti and San Casciano, small town atmosphere with lots of shopping boutiques and cafes.
There is so much to see and it is all so easy to get to from il Corbezzolo! Val d'Orcia with its thermal water baths, rolling hills of grain and of course, all that delicious wine! Siena, which makes up part of the UNESCO World Heritage Sites, invites you to climb to the top of the Tower of Mangia and marvel over the Duomo marble floors.
Looking for something smaller? Maybe an antique market and lot of local color? Then head over towards Arezzo where you will find a Roman amphitheater and more great wines. Il Corbezzolo is even close to the Tuscan Coast and its warm sandy beaches.
Pietro and Melania, Owners of Il Corbezzolo
---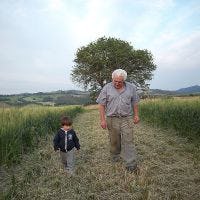 My name is Melania. My father, Pietro, is the owner of "Il Corbezzolo Casa Vacanze." He is a building contractor and had an active role in the restoration of this little hamlet called Borgo Mummialla. I love telling the story of how it all came together. My job is to help him with the guests, checking on the reservations always trying to answer all of your questions fully and quickly. We are both on the property when you arrive to assist you in anyway possible, answering questions about the house and the surrounding area.
We hope you that you feel relaxed and comfortable so you have an unforgettable vacation in Tuscany.