Ghiaia Holiday Villas & Homes














Stay in the splendid countryside just outside Lucca in Tuscany
---
You will find a well maintained gardens & spacious vacation rentals at the Ghiaia Holiday Villas & Homes family-run estate. In addition to the two independent 4 bedroom villas each with their own private pool, there is a characteristic Tuscan hamlet transformed into rental cottages and holiday apartments.
The colorful and detailed decor recalls the traditions of Tuscany, while the kitchen, laundry area and WiFi service bring you the comforts of today. The immense gardens, playground, soccer and volleyball areas and nature trails are the perfect way to relax and restore on holiday.
Close to Lucca, one of the world reknown symbols of Tuscany, the Ghiaia Holiday Villas & Homes vacation accommodations are an ideal base to also see Pisa and Florence as well as the sandy beaches of the Tuscan coast.
Top 3 reasons you'll love Ghiaia Holiday Villas & Homes
FAMILY FUN EXPERIENCE
Fabulous gardens, beach volley & soccer, play areas for kids, trails for hikes and long walks with your family, friends & pets
CHAPEL FOR DESTINATION EVENTS
Ask about the fully restored family chapel, just right for an intimate wedding or vow renewal ceremony & event planning services
PET FRIENDLY ATMOSPHERE
With almost 70 hectares of land, there are lots of open spaces where they too can enjoy a relaxing vacation with the family
The estate offers quality accommodations with charming gardens, an unforgettable setting for a vacation, a wedding or a family reunion.
Spacious Accommodations near Lucca
Distinguished by the remnants of an original olive mill in the living room, Villa Tiglio is a 4 bedroom, 2 bathroom vacation accommodation with private swimminh pool. The subtle blend of tradition with modern accessories such as a large refrigerator, oven, dishwasher and laundry area, will make you feel right at home.
You will fall in love with the open floor plan at Villa Casolare with its 6 bedrooms and 2 bathrooms. The highlight of these accommodations includes the covered pergola - where you will enjoy all of your meals surrounded by the beauty of Tuscany. The 15th century farmhouse has captured the charm of yesteryear with a combination of vibrant colors and traditional furnishings. It also has its own private pool a few meters behind the villa.
Both private villa rentals boast dedicated garden space near their pool, along with umbrellas, deck chairs and an outdoor area for meals amd relaxing.
In the small hamlet on the property of Ghiaia Holiday Villas & Homes, there are two independent cottages, each for up to 4 or 5 persons. La Capannina featuring 2 bedrooms with 2 bathrooms and Il Tirasotto with a double and a triple room highlight the rich wooden beam ceilings and terracotta floors, traditional in a Tuscan farmhouse. These cottages share a pool with Gemelle I & II, two self catering apartments in another farmhouse perfect for up to 4 persons each. Upon request, these can be combined to create a single villa for up to 10 persons.
A Delightful Corner of Tuscany
Conveniently positioned close to Florence and Pisa, the laid back atmosphere of the walled town of Lucca provides an inviting place with its cobbled stone streets, shopping at its small boutique shops and enjoying fine dining. Between the impressive fortress walls, oval shaped piazza where the Roman Amphiteather used to stand and numerous churches and towers, you can easily spend a day exploring close to home.
Only a short distance from Lucca, the villa has easy access to major roads for visiting Florence, Pisa, Cinque Terre and the nearby sandy beaches of Viareggio and the Versilia coast. However, there is no need to travel far to see the beauty and history of the area: royal villas, Roman ruins and the Leaning tower of Pisa are all closeby.
Hi Everyone, my name is Valentina Borselli
---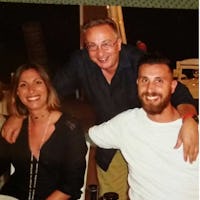 I am the owner and administrator at Ghiaia Holiday Villas & Homes along with my father and brother. We have 17 years of experience receiving guests from all over the world.
My father, Luca, started working in tourism and I picked up on his passion and dedication to meeting, greeting and creating the perfect vacation location.
Our group grows, and with my brother taking over the care of the gardens and structures, I have more time to dedicate to our guests and event planning. We look forward to welcoming you to Ghiaia soon!