The Siena Landscape gives this B&B its extra charm
---
Frances' Lodge is a delight for all of your senses, especially your sense of relaxation. This historic structure has been totally refurbished with criteria, emphasizing not only it's lovely position with the Siena skyline in the background, but also the unique garden, the cool fresh breezes, and the delicious local food.
There are 5 double bedrooms, each with its own distinctive personality, internet access, and AC unit. Set on a dominant hill only a short distance from Siena, this B&B offers a tranquil atmosphere for adults with many complimentary extras that will make your holiday experience memorable.
The owners love their home and truly enjoy sharing it with others, offering assistance in arranging many special activities that will personalize your vacation.
Top 3 reasons you'll love Frances' Lodge Relais
SIENA SKYLINE
The perfect romantic panorama of this incredible city, settle down with a glass of local wine and enjoy the view
SWIMMING POOL & GARDEN
A beautiful creation where you can day dream and relax in the tranquility of the Tuscan countryside
COMPLIMENTARY EXTRAS
Cool drinks, fresh fruit, tantalizing breakfasts, a tea kettle in your room are a few of the welcoming extras offered
Special Atmosphere on Every Level
There are 5 totally unique double bedrooms, each with a theme that is accentuated with the brilliant use of color. Every one of the rooms has a flat screen TV, a private AC unit, full Internet access and panoramic views. Choose from the sunny Yellow room with three panoramic windows or the White room with a cozy patio and a scenic view of Siena.
The furnishings are top quality and were handpicked to ensure beauty and comfort. You can't help but notice the little details that make Frances' B&B Lodge so welcoming. All rooms are non-smoking and children (under 18) are not accepted at the B&B. The crisp cool blues and pioneer accents or the whimsical floral patterns in the Roses' room are just a sample of the owner's creativity. Enjoy the fully equipped en suite bathrooms including a select collection of soaps and toiletry items.
Settle for. . . Doing Nothing
The owners have produced an adults only beautiful retreat far from the tension and stress of everyday life: you will find the opportunity to do everything … or nothing at all. Just ask Frances about arranging a tour of Siena, a driver, a wine tasting or a bike trip - she is always available with helpful information about local activities; she can even assist you with being a part of the famous Siena Palio. And if you are looking for nothing more than a quiet place to prop your feet up, read a good book, sip a glass of Tuscan wine and take a nap in the silence of their well-maintained garden then you won't be disappointed.
Both inside and out, Frances and Franco have created several little corners for you to relax, romance and enjoy the wonders of Tuscany - especially Siena. It is important to note that there is a minimum stay of 2 nights in low season and 3 nights in high season. Every room is supplied with cool juices and fresh fruit, to start your vacation off just right.
There is just the right amount of space for everyone, browse through the 6 independent B&B suites to find a color scheme, an idea, an inspiration for your holidays. The rooms were created using a bit of fantasy, a lot of color and maybe just a bit of intuition of what would make the ideal holiday setting for you.
The Junior Suite, the largest of the six double rooms, is set on two floors and comes with a large living room area and a cosy dining area for a light meal, taste testing goodies you found at the market or opening up a bottle of the local wines with a plate of bread and olive oil.
Extras will Make Your Day
The possibilities of daily activities are endless, and Franco can help you make your choice. Not only can you have your laundry done upon request, lounge by the pool, watch the sunset from one of the wooden decks and of course, take part of their particularly rich and satisfying breakfast. Feast on homemade jams, local cheeses, and try one of Frances' fresh plates of pancakes or French toast, served with her own special recipe for lemon syrup - home grown in her very own garden.
Weather permitting, breakfast is served in the garden and the aroma of just baked goodies mixes with the light fragrance of the blooming flowers ranging from wisteria to blushing roses. On cooler days the tables is laid in the lemon house, where the cosy setting is just perfect for a friendly chat with your fellow travellers, and if you are lucky, you can forget the inclement cloud cover and cooler temps with a taste of their organic olive oil.
Paradise in the Garden
The exciting surroundings extend well beyond the green garden filled with fresh fruit trees, olive groves and a 360° panoramic view of Siena (less than 2 km away) and the world-renowned landscape which has made Val d'Orcia famous. Take a day to travel the local hamlets and vineyards, stopping for photos and memories. The ideal position of the B&B Frances' Lodge provides easy access to roads for day trips to Pienza, Montepulciano and Montalcino.
Explore the convenient and the picturesque country roads of Val d'Orcia, where every curve is another perfect picture spot and where you will savor every aspect of your adventure. Choose to spend a day in the landscape of the movie English Patient in Pienza and bring home a selection of pecorino cheese to enjoy in one of the gazebos in the B&B's garden. Don't forget to pick up a bottle of Vino Nobile while roaming the cobbled streets of Montepulciano.
A Trip into the Past of Italy
Since Siena is well served by major roads, you can also plan on visiting the many corners of Tuscany. Arezzo, a true place of wonder, has a city-wide antique fair the first Sunday of every month. A visit to Florence should include a walk over Ponte Vecchio and a wander through the open-air markets at San Lorenzo. The B&B is also close to many thermal water resorts both private and public, where you can test the healing waters of Saturnia and Petriolo.
Every room is supplied with cool juices and fresh fruit, to start your vacation off just right.
Meet Frances, the owner of Frances' B&B Lodge
---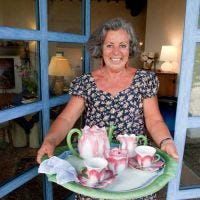 Franco and Frances have carefully restored their home and the "Limonaia", opening their doors to the curious and enthusiastic traveller looking for something unique, friendly, local and relaxing.
Frances is well known, not only for her exceptional hospitality but also her secret recipe for French toast and pancakes...made fresh while you sip on your hot coffee and admire the ambiance at the Bed and Breakfast.