Vacation Rental Apartments near the Charming town of Lucca
---
The holiday rentals Casa Vacanze I Cipressi are an ideal place to spend your holidays in peace and relaxation, immersed in the lush Tuscan hills, but not far from the city centre of Lucca. Offering WiFi, a swimming pool and several accessories like dishwasher and clothes washer, you will find them comfortable and convenient.
There are two independent vacation rental apartments at Casa Vacanze i Cipressi nestled in a lovely green corner just outside of Lucca and they provide a clean, family friendly atmosphere for your holiday in Tuscany. With a modern decor and well equipped kitchens, it is easy to relax and enjoy your holidays.
It is in an ideal position between quaint towns like that of Lucca, the national monuments of Pisa and the sandy beaches located on the Tuscan coast. Whether you are looking for a cozy home atmosphere, easy access to historic sites or small towns for markets, shops and restaurants, Casa Vacanze I Cipressi is close to it all.
Top 3 reasons you'll love Casa Vacanze i Cipressi
GREEN COUNTRYSIDE NEAR LUCCA
Less than 10 minutes and you are walking the enchanting streets in the city or roaming the fantastic vineyards outside of Lucca
PET FRIENDLY
Well mannered pets are always welcome, there is ample room in the fenced property for them have a minivacation too
GREAT FOR FAMILIES WITH KIDS
Enjoy a shared pool, surrounded by a grassy park with chairs, games & shady corners. Includes furniture & special extras for the kids
Between the skyline of hills in varying shades of green and that of the vineyards and olive groves nearby, you will find the two holiday rental apartments at Casa Vacanze i Cipressi. These apartments are normally rented separately, however, when rented together they create a spacious villa for up to 9 persons with full use of the panoramic pool, garden and BBQ. The owner's have a pet friendly policy, and for those four legged companions travelling with the family, there is plenty of space for them to relax as well. Please advise the owner that you will be accompanied by your pet.
Family Comfort in the Hills of Lucca
La Magnolia, with it's two bedrooms, a spacious double and single bedroom, will accommodate up to 3 persons with an additional 2 on the full sized sofabed in the living room. There is a lovely kitchen, fully equipped with stove, oven, fridge and dishwasher. In the garage there is a clotheswasher and a clothesline for a quick dry, an iron and a freezer for gelato! The living room, with a fireplace, features a privacy curtain for couples enjoying the large double sofa bed. Each apartment, with a private entrance and lovely garden area, also has a Wifi, and 2 free rental bikes at their disposition.
Sorgente is designed for up to four persons with two bedrooms, a bathroom with shower, and an eat-in kitchen with a wood buring oven. The kitchen is furnished with a dishwasher, fridge, stove and oven. Both apartments have a microwave, electic kettle and coffee maker. There is a bedroom with a regular sized double bed and a smaller bedroom which features a bunk bed for kids or young adults - this room can not be converted into a double bed. The apartment has a dedicated garden space, gazebo and BBQ for outdoor meals watching the Tuscan sunset.
Where is Casa Vacanze i Cipressi?
It is located in exactly the right place! Only a short distance from the vacation apartments is the amazing town of Lucca with its impressive protective wall, which surrounds the historic center. In less than 15 km from the apartments is the immense garden of Villa Reale di Marlia and it is approximately 25 km to the beaches of Viareggio. The holiday rentals are perfectly placed so that you can enjoy all aspects of Tuscany while on vacation.
Besides being close to one of the most iconic symbols of Tuscany, the Leaning Tower of Pisa and the Square of Miracles, you can also visit the wine area of Montecarlo, the beautiful mountains in the Garfagnana area or head over to the thermal spas at Montecatini. The rental apartments situated only 40 minutes from Pisa, where you will find a busy international airport, with many connecting flights throughout Europe, it is also a central train hub, where you can travel to Florence, Cinque Terre and many other places in Tuscany.
Hi, I am your Hostess, Claudia Pallotini
---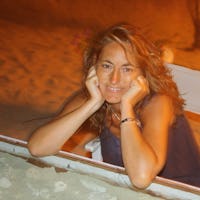 I enjoy taking care of the apartments at Casa Vacanze I Cipressi personally, preparing all the small little details which (hopefully) will transform your holiday into something extraordinary. It is great fun for me to meet people from all over the world, introducing me to new cultures, ways of doing things and customs.