Within Walking distance of Casole d'Elsa
---
For more than 25 years, this family run estate Casa Podere Monti has opened its doors and shared their panoramic views, warm hospitality and friendly atmosphere with guests from all over the world. There are 3 self catering apartments and 3 independent villa rentals set within the vacation property.
The inviting decor was carefully chosen by the family, including the modern and practical bathrooms to guarantee comfort. The large pool, shared by all the guests, looks over the skyline of San Gimignano and Tuscany iconic countryside. The well-maintained garden includes several shady areas and places to relax.
Located in the heart of the Tuscany countryside between Siena, San Gimignano and Volterra, the vacation accommodations are convenient for exploring the culture, nature and wine. Casa Podere Monti is within easy walking distance of Casole d'Elsa where you can truly enjoy the town life.
Top 3 reasons you'll love Casa Podere Monti
FAMILY RUN ESTATE
They will be personally taking care of you from start to finish of your vacation...with the hopes of seeing you again soon
WITHIN WALKING DISTANCE
The charming small town of Casole d'Elsa is only a 10 minute walk from Casa Podere Monti, in a dreamy landscape
PANORAMIC VIEW OF SAN GIMIGNANO & VOLTERRA
In the heart of the Tuscan countryside, these two towns are visible on the skyline
An Invite to Enjoy Tuscany
The welcoming environment is a combination of family run vacation accommodations with apartments and villas that have been designed and decorated for comfort and practical use. The stunning landscape and small conveniences are really wonderful extras. The 3 self catering holiday rentals include fully equipped kitchens with coordinated tableware, utensils and glasses, sufficient cookware to make a full meal and all necessary linens. Each bedroom is color coordinated with fine drapes, sheets and bedcovers as well as sufficient towels. Careful attention was given to creating a setting that would provide a relaxing and inviting haven while exploring Tuscany.
Vacation Apartments between Siena & San Gimignano
Every apartment has its own personality and offers different services; some are complete with all modern accessories including a dishwasher, Sat TV and air conditioning, while others provide fenced yards, private patios and gardens. There is sure to be one that will satisfy your idea of the perfect holiday. When you place your reservation request with Federica, one of the owners, you can let her know your requirements and she will personally assist you in find the apartment or villa that will satisfy your requests.
One of the largest apartments, Ciliegio or Cherry Tree, sits on the ground floor with a modern decor. Set where the stables once stood, you can still see the brick arch accents in bedrooms. Here you will find two bedrooms and a bathroom with shower. There is a double bedroom which will also accommodate a full size single bed and a second bedroom with two twins. The kitchen is fully stocked and comes with a dishwasher, oven and refrigerator with freezer.
The holiday rental apartment Gelso sits in the attic with a fantastic view of the massive wood beams that make up part of the original architecture dating back to the late 1600's. It features two bedrooms, a double and a room with two twins, which can easily become a triple upon request. There is one full bathroom with shower.
Set below the main structure, which includes the independent villa rentals, self catering apartments and also the owners apartments, you will find a large pool exposed to the warm and inviting Tuscan sun. You'll find loungers, tables and a fantastic view of the San Gimignano towers. When you are not lazing by the pool or enjoying the cool breezes in the shade, then you can walk into town and stroll the picturesque streets of the nearby town.
Perfectly Cosy Independent Villa Rentals
The estate features three comfortable independent villa rentals with private gardens and many modern accessories. Each vacation cottage assures privacy, great views and a personalized decor. The small variations between the three rentals allows the guests flexibility in their vacation accommodations to suit their family needs and requirements.
Leccio is named after the shady tree close by and has a furnished outdoor area with table and chairs for relaxing or enjoying a meal in the fresh air. The kitchen is fully equipped with a gas stove, toaster, fridge / freezer, microwave, kettle and Italian mocha. There is a space dedicated to the living room, with a sofa. All the rooms are set on the ground floor, including the double bedroom, the bedroom with two singles - though this can become a double upon request - and the bathroom with shower.
The independent cottage Noce, named after the beautiful walnut tree, boasts its own fenced in yard and stone paved patio that overlooks the enchanting landscape of Devil's Valley. Newly restructured, you will note how the wood like floors add to the spaciousness and accent the brand new kitchen and guest bathroom. This rental also features an oven and dishwasher. The dedicated living room area is furnished with comfortable sofas and a Sat TV. On the second floor you will find both bedrooms, a bathroom with shower and for extra comfort, Air Conditioning when necessary.
The large olive tree in the front on the fully fenced in garden of Olivo, gives it its name. Set on two floors, you will find a fully functional eat-in kitchen which includes an oven and a dishwasher. The living room area includes a modern sofa and a Sat TV. There is a supersized double bedroom with direct access to a private patio and a modern bathroom with shower. On the second floor is another bedroom with either two twin beds, or upon request, a double. This room has an en suite bathroom.
Discovering Tuscany
You don't have to go far to discover the beauty of Tuscany, just 2 km from the gardens of Casa Podere Monti, you will find the charming little town of Casole d'Elsa. You can walk into town after dinner for a delicious gelato, a leisurely coffee or just to watch the town as it comes alive under the stars. The magical Abbazia di San Galgano is a fairytale come alive for kids of all ages; an amazing historic structure plus the legend of the sword in the stone. But there are also many other small towns, Etruscan discoveries and even a day at the beach which are all close day trip.
Though a car is sure to give you freedom to move around, there is limited public transport just outside the front gate, which will take you to many of the major sites.
The position of Casa Podere Monti lends itself to visiting all of the monumental sites in Tuscany while still giving you ample time to enjoy the pleasant gardens and refreshing pool at the estate. The city of Siena, with its spectacular cathedral and town square, is an easy drive. You will also find that the road that leads to San Gimignano and Volterra will provide you with lots of new vistas and scenic surprises.
Welcome to Podere Monti: meet Federica & Family
---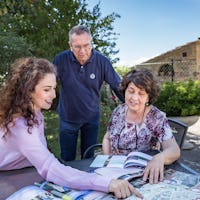 Hi everyone!
I'm Federica and Podere Monti is my home and my passion. I live here with my family and always we are dedicated to our house and a warm & welcoming hospitality service.
Here you can feel the love and passion because hosting is not just a job, but a vocation. We are always available for our guests throughout their stay and if you ask us, we will willingly share our favorites tips for visiting the big cities and the small towns of our region ... without forgetting to add some tastey information about restaurants and wine tastings, because as you know.. in Tuscany, good food is never a problem!
Let yourselves be enthralled by the beauty of the area, from the goodness of food to the warm Tuscan hospitality