Minutes away from the beach, in the heart of the city
---
Casa Laura Follonica is the perfect apartment for your vacation at the beach in Tuscany. With 2 bedrooms and fully-equipped kitchen that can host up to 8 guests, a couple, family or friends traveling together can get to Follonica without a car and then enjoy days at the beach, the lively city night life and catch the train to anywhere you need to go.
Follonica is a fun town lying right across from the island of Elba with some of the best beaches (blue flag) in Tuscany. It has calm waters perfect for families, as well as for diving, sailing and snorkeling as well as fishing.
Top 3 reasons you'll love Casa Laura Follonica
BEACH MINUTES AWAY
The apartment's position here is key the beach is literally a 5 minute walk from the apartment and Laura offers beach equipment for guests!
PERFECT FOR FAMILIES
The second bedroom has bunk beds, a crib and high seat are included, a super playground is right around the corner
EVERYTHING IS WITHIN WALKING DISTANCE
Easy to reach by train and, being right in the center of town, lots of pizzerias, restaurants, shops and other places are all around the apartment
An apartment with everything you need
The bright and spacious apartment in the center of Follonica is just 250 meters away from the beach, facing onto a palm-lined piazza and surrounded by shops and restaurants. The covered city daily market is just a block away where you can go shopping every morning for fresh fish, fruits and produce, bread and everything else you need for eating at home. The best pizzerias and restaurants are minutes away, as are banks, the pharmacy and cafes and newsagents.
The apartment can host up to 8 guests comfortably. It has two bedrooms - the master bedroom has a romantic canopied bed and the second bedroom has a bunk bed with 3 single-size beds. The lowest pull out bed can be raised to create a bigger double bed if necessary.
The sofa bed in the living area can comfortably sleep two more guests with its memory foam mattress, providing a great nights sleep. An extra single size pull out bed is available in the master bedroom, and a baby travel cot is always available for guests under 2.
The apartment is great for families with children - the apartment also has a baby high seat - as well as for couples just wishing to have a spacious apartment while on vacation at the beach. The kitchen is very well-equipped, not only with a full size refrigerator but also with a dishwasher, oven and many small appliances, such as a microwave, kettle, toaster, blender, fryer and steamer, as well as a washing machine, iron and ironing board.
Both the living area and kitchen have a SAT-TV (living area one also has a DVD player) and the entire apartment has air-conditioning (as well as heating for the fall and winter months). Guests can enjoy the free Wifi connection across the whole apartment. The bathroom with crystal shower box is narrow but has everything you need, including a hair dryer and toiletries, towels and bathrobes. The shower has hydro-massage jets, perfect way to both relax and re-energize with your shower!
The small terrace has a tent to offer shade and a small table and chairs where you can enjoy breakfast or before dinner glass of wine with a view over the tree-lined piazza in front of the apartment. Located on the 4th floor, you have the best of being right smack in the city but away from the street noises below.
Great central position in town
Not only is the apartment centrally located, making it easy to reach restaurants on foot, shopping along the city's main Via Roma where many boutiques and stores are located, the apartment is also easy to reach by car or without one!
If you arrive by car, there is paid street parking right below in the piazza on which the apartment faces, but there is also free parking just around the corner (in front of the Church of San Leopoldo). There is an area right in front where you can park temporarily to unload any suitcases before parking.
If you'd love to spend some time at the sea in Tuscany without the need of a car, then Casa Laura is perfect for you! Follonica is easy to reach by train from Rome, Pisa and Florence and the apartment is just a 10 minute walk from the train station.
Follonica and the beach
Casa Laura is perfect for a holiday at the beach in Tuscany, as Laura also provides a large sun umbrella and beach chairs for your comfort (kept in a small storage room on the ground floor, so easy to take out and put back at the end of your day at the beach). While there are paid beaches, there is also a free access area where you can take the beach umbrella and chairs and not have to pay for enjoying the sandy beach or the Blue Flag beach of Follonica.
Follonica is a lively city with lots of entertainment options for everyone: from the beach and water activities, including snorkeling and fishing, to the wide playground area near the apartment to the large water park with slides and large pools minutes away (called AcquaVillage). There are lots of other beautiful beaches nearby, including the famous Cala Violina and the beaches of the Sterpaia and Torremozza on the right side of the bay of Follonica.
Laura has an agriturismo about 10km away in Gavorrano with spacious gardens, 2 swimming pools and a spa area: guests staying at Casa Laura are invited to go to the agriturismo and enjoy themselves there!
We cannot stress enough that for anyone who wants to enjoy the sea without a car, the best solution is Casa Laura! Minutes from the train station, you can easily get to and from Follonica: by train, Rome and Florence are 2 hours away and Pisa just an hour away.
If you do have a car, then you can most definitely head off to explore the area nearby. The Maremma and the Etruscan Coast, as well as Elba island which is just a short ferry ride away, offer lots to see. Both areas to the south and north of Follonica are wine areas with many hilltop villages that merit exploring, especially in the late afternoons after a morning at the beach and for enjoying dinner out.
Meet Laura, owner of Casa Laura in Follonica
---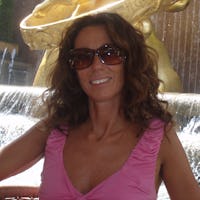 Ciao, I'm Laura! After renovating my apartment with lots of love and attention to details, I decided I had to share it's warm and welcoming atmosphere with all of my guests.
I look forward to meeting you soon!