A countryside haven minutes from the top beaches in Tuscany
---
While many go off and explore Tuscany, a stay at Casa Conti di Sotto might just make you want to stay and enjoy all that it offers. With 9 self-catering apartments and villas of various sizes, anyone can find the right one for their needs, from a couple on a romantic getaway to a family with children to a group of friends traveling together or enjoying a relaxing retreat in the Tuscan countryside.
The 9 holiday rentals all have their own kitchen and living areas, with 2 of the villas set apart from the rest so that anyone wishing a bit more privacy can enjoy that. With 2 swimming pools, indoor and outdoor fitness areas, a wellness center with a sauna, outdoor Kneipp area, hot tubs and an extensive playground area for kids of all sizes, the estate offers lots to keep everyone happily entertained every single day of your stay without the need of leaving!
The estate has added an entire indoor spa and wellness area, perfect for the fall and winter months. The day spa is open to everyone with a day pass, with no need of an overnight stay.
Top 3 reasons you'll love Casa Conti di Sotto
PERFECT FOR FAMILIES AS WELL AS COUPLES
The estate is a paradise surrounded by nature, with the spa areas scattered in between, and extensive play areas keep kids busy outdoors
OUTDOORS LIVING
Those that enjoy being in close contact with nature and silence can enjoy the estate, the beaches, bike trails, hot springs or golf course nearby
FOODIE PARADISE
Many high quality Tuscan restaurants, pizzerias, pastry shops and wineries to visit nearby, including the famous Rocca di Frassinello by Renzo Piano
Perfect location in Upper Maremma by the sea
The Casa Conti di Sotto estate has everything you could want for a fully regenerating vacation in Tuscany. The location is ideal, just minutes from the sea surrounded by the green natural paradise of the Upper Maremma area, with many wineries and restaurants in the area.
It is perfect for anyone that loves being in close contact with nature and all it offers, from the beaches to the land. Those that plan to tour the area on bike, especially with e-bikes, can take advatage of the charging stations for bikes as well as cars. The gulf of Follonica and its beaches are Blue Flags (highest distinction) and the Lake of Accesa nearby is gorgeous and perfect for fishing, with a Green Flag distinction. If you wish to explore, you can head inland toward the splendid Massa Marittima or to the medieval towns of Roccatederighi and Roccastrada or north to the Etruscan Coast and to wine country in Bolgheri. Or south to the Park of Uccellina for walks in nature and to the Monte Argentario for sailing or to head to the island of Giglio. A horseback riding school, golf resort and hot springs nearby offer additional choices of leisure activities.
Ideal accommodation with everything you need to relax
Having said the location is ideal for exploring, it might also become hard to do so once you arrive at Conti di Sotto. Laura and her family spent summers here since the late 1960s and, in the early 1990s, transformed the family estate to welcome guests from all over the world. Over the many years of experience, Laura has been fine-tuning and perfecting all that the property offers to make guests feel pampered and at home. This means that today, the estate has a lot to offer!
First, there are 9 villas and apartments spread out over the estate, each with its own kitchen, living area, reserved outdoor private area and independent entrance. All of the apartments have WiFi access, air conditioning and heating systems, fireplaces, SAT TV with DVD players, mosquito nets on the windows, dishwashers and hair dryers. If you're concerned about sleeping well on sofa beds, Laura has ensured the comfort of her guest's sleep by getting comfortable sofa beds with memory foam mattresses. All that you need to be comfortable has been thought of and is offered. For example, if you're traveling with small children, you often need to travel with lots of accessories. Casa Conti di Sotto provides all you need, from a stroller to a crib, from a high chair for meals to small tubs for baths since the apartments have showers. All included at no extra cost, just make sure to ask for them when booking so that they are ready upon arrival. This means less things to pack up and worry about.
The apartments range in size, some perfect for a couple and others hosting up to 8 guests. They are furnished in rustic Tuscan style, with wooden beam ceilings, terracotta, marble and stone walls and fireplaces. Each has something that makes it different than the other, such as a hydromassage shower (Villa Mirto) or a fireplace in the bedroom (Villa Mimosa)... or a skylight over the bed to stare at the stars right before falling asleep (Villa Mirto).
Two of the villa apartments (Villa La Sugherella and Villa Il Corbezzolo) are right by the large pool for those who want to be in the middle of things, while another 2 are about 200m further away, more exclusive in the "VIP area" which highlights the additional privacy offered. These two villas, Villa Gelsomino and Villa Biancospino, in fact, can be rented together by a large group to host up to 15 guests and have many services exclusive for them: each one has its own outdoor space with a heated whirlpool hot tub right outside their door for exclusive use, as well as a covered gazebo perfect for outdoor meals, a barbecue grill, sun chairs and a small fitness area. Indoors, both of these two VIP apartments offer bathrooms with crystal shower box areas and hydro-massage shower jet showers.
Extensive gardens with wellness and fitness areas and playgrounds
Don't be jealous of the VIP area because the entire property has lots of outdoor fun to offer! The two swimming pools are wonderful for the entire family, the smaller one is heated and reserved for children, separated from the main area to offer families more space to play without disturbing other guests. Nearby, 2 spacious playgrounds have lots to offer to kids of all ages, including a large chess board, ping pong table, table soccer and more. There are outside picnic tables set under trees that provide shade, and nearby barbecue grilling areas which encourage guests to stay in, to cook and grill and enjoy everything the property offers.
Then there are the various wellness areas that Casa Conti has: an outdoor Kneipp area with cold and hot water channels to promote circulation, the sauna and a hot tub/Jacuzzi. On the property, there is La Sorgente, a small natural pool where you can dip your toes while enjoying the surrounding views.
Guests at Casa Conti di Sotto can also enjoy a new indoor wellness and spa area which is also open to guests not staying at the estate overnight. During the winter you can enjoy massages and other services for a day of relaxation and wellness. Here, you will find a sauna as well as a Turkish bath that includes a cold water immersion.
For those that wish to keep in shape while away from home, there is an indoor gym with an elliptical machine and weights while the stationary bikes are outside so you can enjoy the views while being surrounded by nature. If you love to read or play music, there is also a shared reading and music room with full bookcases and comfortable sofas in which to snuggle in and read, as well as a keyboard and other instruments to play.
For those that love cycling, you can rent bikes directly at Casa Conti di Sotto as well as recharge your own electric bike and make any necessary repairs on the dedicated work bench.
The estate is surrounded by olive trees, from which they make the farm's organic extra-virgin olive oil. The property hosts bees and chickens so guests can have "homegrown" honey and fresh eggs and seasonal fruit during their stay. Want to make some roasted potatoes or a barbecue and need fresh herbs? Laura has chosen to plant not only flowers across the property but many herbs and fruit trees that offer the chance to have what you need on hand, all you need is to step out and cut/pick what you need.
The estate is just 1km outside of Gavorrano, where there is a supermarket open 7 days a week and many restaurants, pizzerias, pharmacies and other services. You will be able to enjoy the best of the Tuscan countryside without being far from all basic things you might need. Just note that a car is definitely needed to reach the property and move around this area of Tuscany.
During the summer, the villa apartments are rented by the week but shorter stays are possible, all you need to do is write and ask.
If you are looking for a place to stay to enjoy Tuscany throughout the year, in the countryside but not far from the most incredible beaches in Tuscany, where you can completely relax and have fun, then Casa Conti di Sotto is your place! Contact Laura with the form below to request availability and book your vacation today.
Laura, owner of Casa Conti di Sotto
---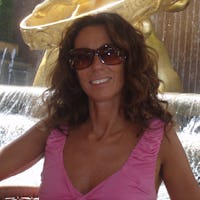 In 1992, I decided to share this corner of paradise in Maremma with guests. Just minutes from the sea, I spent my childhood weekeneds and summers here with my parents, loving being in close touch with nature and its silence.
The love my parents had toward this charming location has guided all I have done at "Casa Conti di Sotto", where every nook and cranny has been attentively and lovingly taken care of. I look forward to welcoming you here, so that you can discover all of it on your own.