Cabbiavoli Holiday Apartments












Farmhouse with swimming pool in ancient Castle in Chianti
---
Cabbiavoli today offers nine apartments in the farmhouses and barns that surround the ancient castle, whose original tower can still be seen.
The castle itself has been transformed into a luxurious villa that is available for holiday rentals for groups of up to 12 people.
The apartments have been renovated to offer modern amenities while still maintaining their traditional Tuscan charm.
Located in Castelfiorentino, this charming holiday accommodation is in the center of Chianti and just 30km from Florence.
Top 3 reasons you'll love Castello di Cabbiavoli
IDEAL FOR FAMILIES & CHILDREN
Something for everyone, from the pool for games and relaxation to the children's playground to the BBQ grill
GREAT BASE FOR DAY TRIPS
Visit the major cities in Tuscany, with the train station less than 3 km for when you don't want to drive
ESTATE WINES
Enjoy the passion of wine making transmitted down the generations with tastings of the farm's quality wines
A stay at Cabbiavoli takes you back in time to Medieval times, back to 1210 when the Count Alberti di Certaldo decided to build his castle and hold court at the present location. The houses and barns surrounded and formed a small village around the castle.
Today, the castle has become a beautiful luxurious villa and the farmhouses and barns around it have been transformed into elegant apartments.
The accommodation
The 9 apartments, located in two farmhouses and two barns, were renovated to include all modern appliances and services while maintaining the traditional charm of Tuscan living. Fireplaces and antique furniture along with independent heating, satellite TV and internet connection are just some of the charactertics of the apartments, some are also air-conditioned. All The apartments share a panoramic swimming pool.
The villa, which has 6 air-conditioned bedrooms and accommodate up to 12 guests, is rented as a whole and has its own separate swimming pool and private parking. The rooms all have their own private bathroom, four with jacuzzi tubs. Internet connection available. The villa's interior rooms are elegant and comfortable, perfect for a large family or group of friends traveling together.
Daily cleaning and continental-style breakfast are included in the price. Upon request, cooking, shopping and butler service are also available.
Services
The Agriturismo's shared facilities include a large swimming pool (6x12 m), a garden, bowling green, table tennis, barbecue, children's playground and access to a shared laundry room (washing machine).
The villa has its separate smaller swimming pool, its own garden area with BBQ grill and a staircase leading to the pool area, which is surrounded by an arcaded loggia (besides a private inner washing machine).
The estate
Cabbiavoli castle is located in Castelfiorentino in the heart of Chianti area, just 30km from Florence, surrounded by charming green rolling hills. The estate include more than a hundred hectars of vineyards, olive trees, grain and sunflowers. Cabbiavoli, in fact, is part of a working farm producing Chianti wine and extra virgin olive oil. Beneath the castle, there is a little wine cellar with an exclusive selection of wines.
The area
Visit the historical center of Castelfiorentino and the medieval villages that dot the landscape. In the immediate area, visits to Montaione, Certaldo and San Gimignano are recommended. Siena is about 50 km far from the farmhouse, while Pisa 60 and Florence only 30.
The closest village is Castelfiorentino, just 3 km far from Cabbiavoli, where guests may find all services like bar, restaurants, markets, shops and the hospital.
General conditions
Deposit of 30% by credit card (Visa or MasterCard), bank transfer, postal order or travel cheque. The deposit is just to secure your reservation, the total payment will be paid on arrival at Cabbiavoli. We accept payment by cash, cheque and credit card (Visa).
Security deposit of €150.00 is payable on arrival.
Check-in on Saturday between 3:00 and 7:00 p.m. and check-out on the following Saturday by 9:30 a.m.
If you are interested in renting the entire villa, please contact Cabbiavoli directly for rates and conditions.
Meet Ginevra Pepere, the Owner of Cabbiavoli
---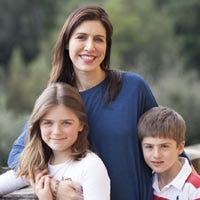 Cabbiavoli has been in our family for various generations, and I've felt a special connection with the estate ever since my childhood. In 1996, our family restructured the various farm houses and barns into apartments in order to be able to share our love for this place and the area with our guests. The love for Cabbiavoli, as well as the success we've found with our guests, also led to the renovation of the main castle over 60 years since the last one carried out by my grandfather.
Year after year, I enjoy hearing the satisfaction and love our guests end up feeling for this estate and their holidays spent at Cabbiavoli. We have the fortune of many of them returning to stay with us, and in the end, becoming friends.
~ Ginevra