Centrally located apartments perfect to enjoy the best of Tuscany
---
Set on a hill along one of the three roads that lead to and from Montaione, Borgo La Casaccia has seen its share of history, being an ancient post station where horses and letters were exchanged. Fully renovated in 2011, today La Casaccia is a complex of 12 apartments that can host from 2 to 7 guests each.
Perfect for couples as well as families or groups of friends traveling together, La Casaccia is surrounded by a large garden with olive and oak trees, rosemary bushes, mimosa and broom where guests can relax by the 2 swimming pools and soak up the sun and enjoy the tranquility of the outdoors.
Borgo La Casaccia is only 1km from the historical center of Montaione, where you can find cafes, shops with local products and restaurants. You will be able to enjoy the Tuscan countryside with many amenities close by, its central position making it perfect for exploring Florence, Siena, Lucca, Pisa and the whole of Chianti.
Top 3 reasons you'll love Borgo La Casaccia
LOCATION
Close to Montaione, with restaurants, shops and markets are close by as well as to most of Tuscany's main destinations
POOLS WITH A VIEW
2 pools with gorgeous views of the surrounding countryside, the shallow one perfect for kids and the other perfect for adults
FAMILY-FRIENDLY ATMOSPHERE
The apartments offer privacy and intimacy for all guests while the owner and family are always on hand to offer assistance, recommendations and smiles
The view that greets you at Borgo La Casaccia will captivate you from the very first moment, set up high over the valley at 350 meters and just 1km from the center of Montaione. Surrounded by 4600 square meters of garden it will be impossible to not fall in love with the beauty of the Tuscan countryside. The 12 vacation rentals which can host up to 7 persons each mean you'll find the right one for your needs, whether you're a couple on your honeymoon or a family with kids.
Countryside with Tuscan Charm
The holiday apartments maintain their country charm with wooden beamed ceilings, Florentine terracotta-tiled floors and country-style furnishings while also being fully equipped with modern services. Each self-catering apartment features a complete kitchen, a double bedroom (or 2 or 3, depending on the size you need), private bathrooms and stupendous views overlooking the Tuscan hillside.
Guests have access to free WiFi and TV in their apartment. The vacation rentals come complete with all necessary bed, bathroom and kitchen linens, which are changed out weekly.
The apartments are ideal for a couple enjoying a romantic getaway and seeking the silence of nature filled with long walks exploring the unique magic that surrounds a country estate. Families will enjoy the large garden areas and the playground area dedicated to younger guests. Groups of friends traveling together can take advantage of each getting their own apartment and privacy while coming together to enjoy the outdoor common areas together.
Guests have 2 swimming pools to enjoy, situated on the side of the hill with both sun and shade from surrounding trees. The larger pool is 25x5 meters and goes from 1 meter to 2.20 meters deep, making it ideal for swimming and dives. The smaller one, 10x5 meters, has been created especially for families in mind: it goes from 50 cm to 1 meter at its deepest to keep babies and young kids safe while having fun.
The well-maintained garden is furnished with a gazebo, tables, chairs, sun umbrellas, a barbecue grill and a playground for children. You can enjoy al fresco dinners, sipping a glass of wine as the sun sets over the pools, hills and valley.
Experience the best of Tuscany
Guesta at La Casaccia can enjoy many experiences without the need of ever stepping foot off the grounds.
Owner Francesco is set on providing the best services to his guests and thus makes it possible to organize wine tastings directly on the estate, as well as cooking classes, Italian language lessons, bike and walking tours in the surroundings and photographic tours. If you're set on doing something particular during your visit to Tuscany, all you need to do is ask since it is likely Francesco can either organize something directly or recommend where to head to.
Perfect base for exploring Tuscany
Borgo La Casaccia is the perfect lodging for anyone wanting to stay in the Tuscan countryside but close to a town with cafes, restaurants and shops. Just 1km from the historic center of Montaione, it makes it easy to buy groceries, get money from the ATM or enjoy a gelato or dinner out.
Florence, Siena, Lucca and Pisa are about 50 kilometers away, while Volterra and San Gimignano are only 20 minutes away. San Miniato, Certaldo and Gambassi Terme, where you can enjoy Spa treatments, are even closer.
Meet Francesco, owner of Borgo La Casaccia
---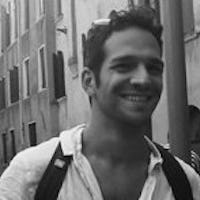 I love meeting people from all over the world. This has been a passion since I was a teenager, first working in restaurants and later on in travel agencies or with tour operators after studying hospitality at university. At the age of 30, I decided to make this world my life by purchasing Borgo La Casaccia and in 2010 my first guests arrived!
This adventure has not been what I expected: the essence of my work was driven home to me when a set of guests commented what an experience it was to be in Tuscany while simply drinking a cup of coffee in the center of Montaione. I realized then what an impact I make in the vacation of every single one of my guests, who often come to Italy for the first time with a different set of expectations than my own, in search of authentic Italy. Their vacation is made up of their accommodation, of course, but also the weather, the waiters one finds at the restaurants, the neighbors in the apartment next to you, the quality of the food, how long the line to enter in a museum is and so on... Not all of these elements can be controlled but a good holiday is a holiday where expectations match reality.
In the end, I offer my guests as complete and accurate information that I can ("to know in advance" is my motto) and the decision to be authentic. Because I'm italian, I'm a Tuscan and the heart of Tuscany beats at Borgo La Casaccia.
Welcome to you all!
Francesco Pellegrini