A nature lovers reprieve in Tuscany north of Florence
---
A vacation within a vacation, the Bed & Breakfast Mugello proposes a unique opportunity to enjoy Tuscany on so many levels.
The position within the Mugello countryside offers an exemplary situation mixing the infamous Tuscan Apennines mountains with their dark green forests, refreshing heights and practically untouched valleys. These 5 double bedrooms at the B&B are the answer to those looking to simply relax while exploring the natural delights of Tuscany. The owners have created a situation where it is possible to absorb the tranquility of the surroundings, visit the local hamlets with their cobble stoned streets and quaint stores or simply enjoy the restorative power of a fine cooked meal with the local & seasonal fruits and vegetables.
Top 3 reasons you'll love Bed & Breakfast Mugello
TRANQUIL SETTING
The owners respect your privacy and have created a sweet haven of relax where one can commune with nature or visit the nearby hamlet
FAMILY STYLED MEALS
Breakfast & dinner are culinary treats highlighting not only the owners love of cooking but the delicious local products
PANORAMIC VISTAS
The owners have left the landscape to speak for itself with scenic terraces in the midst of Tuscany's most suggestive sceneries
Understated Comfort in Mugello
This unpretentious B&B is not about luxury, it is about comfort, tranquility and recharging your batteries by surrounding yourself with the sounds, colors and perfumes of nature. The decor is homey and comfortable, with an accent on practical and inviting. The house is divided into 5 double bedrooms each with its own private bathroom, both modern and clean. A serene combination of modern comforts with typical Tuscan furnishings grace the entire house promising you clean environment. The entire house has been furnished for an environment which is easy to live; a setting where you will feel at home while sitting in front of the fireplace, preparing a picnic lunch in the kitchen or taking a well deserved nap in your room.
It is possible to access WI FI throughout the villa, so it is easy pick up your emails, check your reservations for museums and plan your next day trip in Italy. Though the position practically guarantees refreshing temps even in the heat of summer, the bedrooms are all equipped with air conditioning. It is possible upon request to do laundry for a small fee in a dedicated area, simply ask the owner and they will assist you. There is a full kitchen for you to prepare light meals for eating in the large garden area or to take with you on a hike in the nearby trails. There is also a common area with sofas and a cosy fireplace for an evening of friendship and …. maybe even a bit of romance.
Perfect Inside and Out
Without a doubt the one of the most notable feature of Bed and Breakfast Mugello is the backdrop of the Mugello countryside. Strategically placed throughout the property are several panoramic terraces, seating areas and observation points. This B&B can undoubtedly be described as a nature lovers delight, located in an area where it is easy to see deer, foxes, wild boar as well as many types of birds, butterflies and flowers. Small animals are welcome here, so if you prefer to travel with your favorite four legged companion - bring him along. And while you're packing don't forget your swimsuit, a dip in the scenic pool is just what you need after hiking or biking the country roads. Besides providing a rich and hearty breakfast, the owners look forward to sharing their love for the local culinary delights by preparing delicious dinners.
Outdoor Sports Abound in Mugello
Mugello is rich with outdoor sporting events including hiking, MTB, water sports and the Mugello Circuit for bikes and race cars. Only a short distance from Bed and Breakfast Mugello is Lago Bilancino, a natural lake with over 5 square km of water fun, including windsurfing, sailing and even beach areas with umbrellas and bathing areas. The popular race track with 15 breathtaking and exhilarating turns on a modern track hosting several events including the Mugello Grand Prix. Even with all this activities, Mugello still has a landscape that enchants and delights, with the Via del Latte winding through the historic towns north of Florence exposing the many farms which produce fresh milk and cheese in the area.
If you are looking for the art and culture of Tuscany, a brief train ride will take you to the historic center of Florence where you can pass a leisurely day visiting the museums, admiring the art and absorbing the culture. Following the crest of the Apennines towards the south it is possible to visit the Valley of Casentino and the enormous national park with virgin forests, wolves, bears and even a religious hermitage. Though Mugello has a delicious tradition of wine, cheese and olive oil a day trip into Chianti is sure to be included in your initerary, where you can enjoy taste testing of the infamous Chianti Classico.
Meet Antonella Ceccherini, the owner of B&B Mugello
---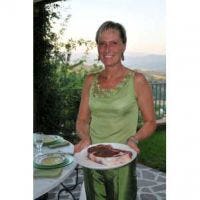 My husband Alessandro and I began this activity in 2007 with the idea and passion of having guests visit our home. Persons who have want to spend their vacation in contact with nature, in a place filled with absolute peace and share our lifestyle, our culture and the delights of the Tuscan kitchen and traditions with them.