Excellent Service & Absolute Tranquility in the hills of Tuscany
---
The atmosphere at B&B Country House Poggio del Drago is a dream come true in the Tuscan countryside, natural, quiet, comfortable and close to many important cities, sites and activities. A hearty and fulfilling breakfast, private garden, panoramic pool are just some of the highlights of this B&B situated between Florence and Arezzo.
There are 5 spacious rooms, comprised of three double bedrooms and two suites with a double and a single bed. Small and welcoming, yet filled with modern conveniences, Poggio del Drago features a tranquil accommodation for your holidays in Tuscany.
Located close to many small towns, points of interest and vineyards, the B&B provides an excellent base for travelling and exploring Tuscany. The exceptional welcome and assistance from your host is sure to be the icing on the cake, providing you with info about the surrounding area, restaurants and more.
Top 3 reasons you'll love B&B Country House Poggio del Drago
THE STARS COME OUT AT NIGHT
Located in the countryside, where you can still find deer, the glitter of fireflies & the stars are brighter than ever
BREAKFAST IS THE MOST IMPORTANT MEAL OF THE DAY
You won't want to miss out on this endless buffet. It is delicious & filled with a genuine cuisine
TAKING CARE OF HIS GUESTS
Your host Emanuele is always on the job making sure you are comfortable & a little spoiled while staying at Poggio il Drago
Tuscany at Your Doorstep
At B&B Poggio del Drago, prefers to think of you as friends who have come to visit instead of clients. Positioned in the center of Tuscnay, you will find yourself within easy reach of not only major cities like Florence, Siena and Cortona but you will also be able to explore areas like Val d'Arno with its outlet shopping, Casentino with its many castles and Val di Chiana with its numerous Etruscan discoveries. This is an excellent starting point for viewing all of Tuscany.
The perfect guest loves to take long relaxing walks in the peaceful and lush gardens, enjoy the crickets at night, and the uncontaminated countryside for star gazing or bird watching. In fact, it is this very reason that the B&B is particularly suited for couples looking for a romantic getaway or families searching for some quality time together - far away from the stress of everyday life.
The bed and breakfast is situated in a renovated house from the 1800's, where great care was taken to preserve the architectural beauty of the home. The interiors are designed to be welcoming, comfortable, spacious with lots of natural light. The decor is a mix of pleasant, modern and friendly...and perhaps sometimes just a bit "sexy". The garden area is spectacular, and proposes an open invitation for strolls to relax, to meditate or to simply inhale the fresh crisp air of the Tuscan countryside.
Cozy & Comfortable, Just Like Home
The accommodations are divided into 5 B&B rooms, each with en suite bathroom, hairdryer, frigo, SAT TV and AC. There are two rooms, which are formed of a private bathrooms, double bed and a single - perfect family style! The suites, as do the double rooms, all feature wood floors and private AC for your comfort. There are three double bedrooms, furnished in a light and airy style that lends itself to a luminous and welcoming atmosphere. Access to the rooms and the property are secure with a magnetic badge.
The bedrooms open up to the common area, called la Mangiatoia, where breakfast is served. This friendly room, beautifully decorated in white with splashes of colors and a smooth stone floor, is a special space for meals. Here you will find the Poggio del Drago's renowned breakfast feast, acclaimed not only for its abundance but for the variety of delicious goodies, both sweet and savory, that await you. It is here that you can enjoy the delicious recipes of Tuscany, learning the secrets of the local cuisine and having fun meeting new friends.
What Makes it So Special?
The warm welcome that you receive from Emanuele definitely ranks as one of the highlights of Poggio del Drago; he enjoys what he does and it shows. Always ready with a helping hand, useful information and thoughtful ideas, you will find that he is one of the reasons why so many guests like to come back time and time again.
Other than the great service, Poggio del Drago boasts a spectacular garden and endless possibilities to enjoy nature at its best. Surrounded by a lovely green space, trails and local wildlife, you will find early morning walks and evening rambles will introduce you to deer, rabbits, local blossoms and absolute tranquility. There is also the private pool for guests, where you will find loungers for perfecting your sun tan and tables for organizing a private happy hour. This is also an excellent place to plan a picnic with all the goodies you have found at the local markets. There is a refrigerator where you can chill a bottle of wine and keep that local cheese fresh and cool.
So Much to Do Close By
With so much to offer at the bed and breakfast, it hardly seems possible that you will have want to leave to explore Tuscany. However, the ideal position between the major sites of the area make Poggio del Drago an excellent base for a bit of Tuscan adventure. You could start by exploring some of the local vineyards which excel in wine, cheese and extra virgin olive oil. Or you could head over to do some shopping at the Val di Chiana Outlets.
There is a local train station with frequent trips to both Arezzo and Florence, so you can avoid traffic, parking, and navigating strange roads. Or for those of you who prefer a bit of excitement, then plan a day visiting the nearby towns. Siena can be reached with a leisurely drive through the stunning landscape of Chianti, and Cortona is not too far off following the winding roads of Val di Chiana.
Introducing Emanuele, Your host at Poggio del Drago
---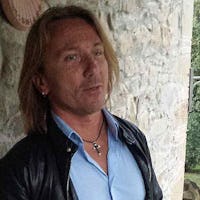 Hi Everyone, I have been doing this job for over 8 years now and I am truly dedicated to what I do. I strive to be prepared and available for the guests, to help them enjoy to the max their holidays. I truly believe this is one of the best jobs in the world!