Tuscan Elegance & Charm from Cortona
---
Using a delightful mix of colors, light and texture the Casa Capanni atmosphere creates a magical setting for your holiday relax. The completely restored 16th century villa is the setting where a group of friends pooled together their creative talent and gave birth to a decidedly romantic & suggestive B and B.
Located in an area well known for its historical importance, Cortona is a cross roads for those looking to explore the wonders of Tuscany. Florence, Siena, Chianti and Casentino are all within a short day trip from the comfort of Casa Capanni. However, it is possible to never go further than the garden of Casa Capanni to experience the enchanting wonder of Tuscany with its lovely green garden, inviting pool and the inviting perfume of good, fresh food prepared to perfection.
Top 3 reasons you'll love B&B Casa Capanni
ROMANTIC DECOR
Inspiring combination of a soft neutral backdrop with classic Tuscan furnishing creates a relaxing environment
SUGGESTIVE PANORAMA
Between the historic town of Cortona, the luxurious green garden, crystal clear pool & the tantalizing scenery
DELICIOUS CULINARY TREATS
A playful yet tantalizing mix of cultures & innovate use of wholesome Tuscany ingredients will delight you at every meal
Casa Capanni has set a high standard for all of its rooms, including a luminous atmosphere, with carefully selected furniture and private bathrooms. Besides the bedrooms there is also a common room which the guests can use at their leisure with a TV, DVD and a varied collection of books. The villa has a total of 8 rooms divided into 4 vacation rental categories: Classic, Superior, Family and Honeymoon. The Classic Suites with a little more than 16 square meters each and include a private bathroom. The Superior Rooms all boast of approximately 20 square meters of floor space, a king size bed and a large private bathroom. It is possible to request a Family Suite, which consists of two connecting rooms and two private bathrooms. All rooms have private central air conditioning.
The most romantic option is the Honeymoon Suite, with a huge king size bed, a super sized private bathroom and a decidedly dreamy four poster bed. The bedrooms, which have been named after famous Italian artists, are characterized by their neutral colors which highlight the natural light and complement the historic setting. Free Wi-Fi access is available for all guests as is the beautiful private swimming pool in the green garden. The unique ownership of this B&B lends itself to catering to an international guest who yearns to explore Tuscany and its culture yet loves to spoil themselves in a luxury environment with an avant garde decor and an international flair for beauty.
There is always something to discover
Discovery begins in the kitchen at Casa Capanni. Starting with a well rounded international breakfast including fresh local products, cheeses, cold cuts and lovely seasonal fruit. The home made cakes and delicacies vary from week to week and reflect the natural wholesome environment that the owners feel so deeply in love with while they were vacationing … under the Tuscan sun. It is even possible to enjoy lunch, snacks and drinks on the premises, made available by your hosts.
Plan your wedding here at Casa Capanni! Ask about their a custom made, all-inclusive wedding package and celebrate your special moment surrounded by the beauty of Tuscany.
The owner's also offer weekly dinner menus with select 'prodotti tipici' and these typical products will tantalize and delight. They propose a fixed menu with a starter, main course and dessert which regularly consists of Tiramisu - a favorite among the guests. But the secrets to discover don't stop here within the walls of Casa Capanni! The entire villa is nestled in what could be compared to a secret garden - filled with bright colorful flowers, shady trees and lots of hidden nooks for an afternoon nap.
Travel into the Authentic Landscape of Tuscany
The location of B&B Casa Capanni beckons to those who are looking for a slow paced vacation including special landscape with hilltop towns, local farmer markets and winding back roads. It is positioned close enough to main roads to make day trips to Florence, Siena and Assisi easy and comfortable. However, the exploration of Tuscany from Cortona opens up so many wonderful unexpected surprises. Lucignano is only a short distance away and this hilltop town will take your breath away with its circular pattern and quaint cobblestone alleys. From Cortona one can also head towards Anghiari, a pearl among pearls with its city walls and panoramic views. Of course, it goes without saying that Cortona is the highlight of the trip boasting several shops with local artist and craftsmen, coffee bars with tempting pastries …. and don't forth the gelato!
Meet the Owners of Casa Capanni
---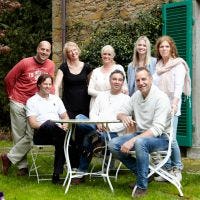 We are a group of 17 friends and family from the Netherlands and we have had the privilege to enjoy the special quality of Casa Cappani during our summer vacations for years. At the end of each holiday we were always reluctant to leave, so much so that in 2011 we decided to stay right here in Cortona. Never were we so happy as when we made this decision. We now enjoy sharing this special privilege with others coming to Italy and Tuscany.