A family run bed and breakfast near Greve in Chianti
---
Where comfort and relax mix with the traditions and beauty of Tuscany, in Greve in Chianti at the Ancora del Chianti B&B. This family run bed and breakfast located just 5 km outside of Greve is not just a warm and friendly vacation accommodation but, a decision to choose an eco-friendly environment that respects your desires and that of the lush countryside that surrounds it.
The 8 bedrooms with private bathrooms are located in the restructured farmhouse and guarantee not only a prime position for admiring the classical Tuscan landscape, its vineyards and olive groves but also for enjoying the tranquil and romantic setting for some special time together. Enjoy the mornings with a leisurely breakfast, the afternoons touring around Tuscany and the evenings make use of the fully equipped kitchen to prepare a light meal eaten with a perfect view of the Chianti sunset.
Top 3 reasons you'll love Ancora del Chianti B&B
ECO-FRIENDLY ACCOMMODATIONS
Taking full advantage of the wholesome goodness that surrounds Ancora del Chianti B&B, they commune with nature
RELAX & EXPLORE YOUR CREAT
Come here to find a reprieve from everyday stress & noise while enjoying painting classes, cooking classes, wine and oil
ONLY 5KM FROM GREVE IN CHIANTI
Nestled in the countryside but only a short distance from the active town of Greve, markets, shops, restaurants & more
Enjoy a True Tuscan Experience
The owners of Ancora del Chianti made a decision to create an environment that not only was the picture of Tuscany with its traditional stone farmhouse, panoramic views and warm hospitality but they also decided to make it all eco-friendly, giving back to their surroundings with natural heat, organic gardening and many other initiatives.
Embracing nature and its beauties makes it all the more special when you choose to vacation with Laura and Filippo at their bed and breakfast located between Florence and Siena. With easy access to restaurants, shops, local markets and characteristic enotecas and wine shops, the accommodations at Ancora del Chianti B&B has you in the middle of it all while still enjoying the calm, sweet sounds of nature and a glorious colorful sunset.
Bed & Breakfast Rooms in all Sizes
The 8 bedrooms are a mix of double rooms, a triple with private bath, single bedrooms and upon request even a family size suite can be arranged with two bedrooms combined for 3 - 6 persons. The versatile nature of the rooms makes it ideal not only for families with children but also for those looking to organize events and small courses that can take advantage of the scenery, the silence and the peace.
There is a luminous and spacious sala dedicated to yoga or light exercise, which makes the perfect setting for small groups looking to explore the meditation, stretching and more with a trained teacher. Or you can arrange to explore the creative side of your personality with a "mini" art class capture the beauty of Chianti in your own special way.
The bedrooms are decorated to express the practical yet romantic side of Tuscany with its country style decor. The use of light colored woods, recuperating stylized doors, wrought iron accents and the soft pastel accents creates an inviting atmosphere for families, romantic getaways and those just looking to enjoy the simple pleasures of rural Tuscany. Take advantage of the many garden areas, hammocks and panoramic vistas while reading a book, taking a nap or just spending some quiet time with nature.
Extra special are the homemade breakfast cakes and the local organic selection at breakfast. Laura and Filippo also have a fully equipped kitchen for your to use - so have fun experimenting the the flavours and ingredients you found while visiting Siena, the market in Greve or the enotecas and wine stores in San Gimignano. They will also help you fill your days with fun and new adventures, like a bike trip, setting up a wine tasting excursion or finding a new hill top town to add to your itinerary.
Visit all of Tuscany from one Base
Other than Greve, which is practically at your doorstep, the active town of Impruneta is just a short distance away and it always has a busy summer calendar with festivals, markets and delicious restaurants - not to mention all the antique terracotta kilns. If you head just a bit south of Greve in Chianti, you can explore the three towns that made up the League of Chianti - Radda, Gaiole and Castellina - not only for their excellent wines and breathtaking views but also for some great shopping for local artisan products, artwork, ceramics and clothing.
With the use of the public transport in Greve, you can park your car in one of the many free parking lots and hop the bus to visit Florence and its art museums. You can definitely take a short drive towards the coast of Tuscany and visit several towns along the way for example Pisa and Lucca with its enchanting city walls. A day trip winding through the roads of will take you on a fabulous adventure to Val d'Orcia with is famous wine production, thermal water spas and characteristic hills of grain, sunflowers and cypress trees.
Welcome to Ancora del Chianti!
---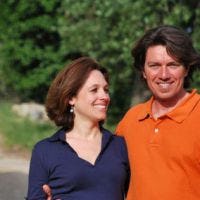 My name is Laura, and I am the heart & soul of our B&B. Not only do I take care of our guests during their holiday but I also am dedicated to my artwork, which you will find decoratin the walls of the bed and breakfast as well as many of the bedrooms. My latests passion is "creative sewing".
My husband Filippo takes care of the olive grows and the vineyards and enjoys playing the trumpet at the local band in Panzano.
Our adventure started in the year 2000 when we moved from the city to Chiante and fell in love with this farmhouse on the top of a hill surround by silence, vineyards and olive groves ... not to mention the spectacular view.
Here at Ancora del Chianti we have created for ourselves and for our guests a simple, yet well maintained, atmosphere which resides in harmony with nature, where things slow down from the frenetic pace outside to a calm and relaxing rythm. Our life style attempts to minimize our impact on the environment.
We look forward to sharing this passion with you!