Staffed Villa near Siena with Heated Pool
---
The lovely San Fabiano villa is immersed in the fabulous Crete Senesi, just south of Siena and close to the quaint little town of Monteroni d'Arbia, reachable by train from Siena. The fully-staffed villa can host up to 18 guests with its 9 bedrooms, 6 bathrooms, a large hall with a long dining table, kitchen, and various common areas, while the gorgeous open Loggia has a long dining table, a large living area and a wooden oven. The staffed villa is rented as a whole, providing the perfect location for family reunions and vacations or for destination weddings in Tuscany.
The villa has a heated pool and lots of outdoor games spread out over the gardens of the estate make it perfect for families with kids. There are mountain bikes for guests to use and the wood oven is perfect for making pizzas in company.
Positioned only a short distance from several small towns where you can enjoy local dining, coffee bars and shops, San Fabiano is also just 20 minutes from the treasures in Siena. The countryside villa provides a carefree and relaxing environment for everyone on vacation, whether you're traveling with friends or hosting a family reunion or wedding or other special event.
Top 3 reasons you'll love Agriturismo San Fabiano
WITHIN WALKING DISTANCE
Though set in the amazing landscape of the Creti & Siena, the villa is located just 500 meters from a small town with cafés, restaurants & shops
FAMILY FRIENDLY
Kids will find themselves at home with a heated pool, mountain bikes, badminton, soccer, ping pong, bows & arrows
TRADITIONAL TUSCAN VILLA
The decor makes use of the wonderful natural colors of the landscape with an elegant yet cozy selection of furnishings
Villa San Fabiano, located only 12 kilometers from Siena, is a perfect mix between the traditional and elegant style of Tuscany with all comforts taken care of. Guests are welcomed by the generous hospitality of the owners, the Conti Fiorentini family, and the villa staff.
The property of 40,000 square meters is fully organic with sunflowers and a natural reserve where white truffles grow (in the fall, join in on a truffle hunt!) and is surrounded by the green valleys of the Val d'Arbia. San Fabiano is ideal for visiting the main destinations in the Val d'Orcia including local favorites such as Montalcino, Pienza and Montepulciano as well as Chianti and San Gimignano.
At guests' disposal, the estate has a fabulous heated swimming pool (open from April through the end of October) and the wide garden area has a playground for children, including a trampoline! San Fabiano, it is possible to vacation with your pets, just make sure to indicate this when booking.
Cozy & Charming Accommodations
The villa offers 9 bedrooms that combine the historical 17th century style with modern amenities. The interiors highlight the rich wooden beams and the classical terracotta accents used across Tuscany.
The villa has two floors: on the ground floor, there is a wide salon with fireplace with a long dining table and a fully-equipped kitchen. You'll also find a lovely bedroom with vaulted ceiling and double-size bed, with its own bathroom with shower, a living room with sofas and a private entrance from the courtyard. Then there is another large family-suite with a double-bed bedroom with beamed ceiling, a twin bedroom with vaulted ceiling which has access to the courtyard patio. The suite has a bathroom with shower.
Heading upstairs, you'll find the rest of the rooms. There are two large family suites, each with a double-bed size bedroom with beamed ceiling and stunning views of the countryside from the window. Each suite also has an adjoining twin bedroom and each pair of rooms share a bathroom with shower and jacuzzi tub combination. There are two additional bedrooms with double-sized beds, each with their own bathroom, one has a shower and the other a hot tub plus a separate shower.
It is important to highlight that the entire villa has both air-conditioning and heating across all of the rooms, so it can be rented year-round and you'll always have a pleasant indoor temperature.
Dinners and other meals can be arranged and added on to your vacation at the villa, all you need to do is request them at the time you book your vacation.
The villa is rented weekly year-round.
The Conti Fiorentini Family
The owners of this historical villa add a delightful ingredient to your holiday in Val d'Arbia with their useful information on the territory and interesting tips about local history, suggestions for enjoying your stay and their cooking and drawing courses.
Upon request, Kosher dinners are available and the villa can be equipped with kosher pans, dishes, plates for Shabat and other things you may need to make your stay fully Kosher.
Sport, nature and obviously food!
During your holiday at San Fabiano, you'll have the chance not only to visit some of the most renowned cities of art in Tuscany but also to take part in all the activities that the owners organize for their guests. Besides the games, bikes, trampoline and heated swimming pool, you can find lots of ways to fill your holidays with family fun.
Upon request, the family organizes drawing and ceramics classes, perfect for those who love exploring nature and recreating it on canvas or with clay. For all those who enjoy wonderful Tuscan favorites, there are the cooking courses.
You can also inquire about the special wine and food tastings organized directly at the villa that allows guests to appreciate local specialties and the world-renown wines of the Tuscan region.
To all sports lovers, there are plenty of activities to do directly at the farmhouse or in its proximity, including horseback and bike riding, tennis, golf and football.
In the autumn, the owners propose truffle hunting of white truffles to their guests directly on the natural reserve found on the estate.
Position and setting for a fun vacation
Located in the countryside just 12 kilometers from Siena where the famous Palio takes place, you can enjoy the sites, art and monuments within the city walls on a day trip. Villa San Fabiano is close to many favorites like San Gimignano, Pienza and Montalcino where you can enjoy the views as well as the prized local wines, Pecorino cheese and other local specialties of the Val d'Orcia.
Welcome to the Fiorentini family estate
---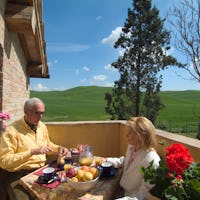 Count Filippo and Countess Rachel were successful international managers who became fascinated by Tuscany, and in the Crete Senesi in particular. They restored the abandoned XVII century farmhouse, trasforming it into a successful top-rated villa on Tripadvisor.