Renovated farmhouse luxury apartments near San Gimignano & Certaldo
---
Agriturismo Pancolina sits in the small village of Pancole, just a few kilometres from the medieval Tuscan towns of San Gimignano and Certaldo. From its panoramic position, guests at Pancolina can enjoy the gorgeous views of the soft rolling hills, vineyards and olive groves of the Tuscan countryside. The property, originally a farmer's home built in the 1600s, has been restored with great care and attention by owner Pia to create five unique luxury accommodations which include four apartments and a large double room.
All of the accommodations have their own private entrance and external garden areas, each offering enticing views of the beautiful surroundings of the area. The property offers guests a pool set among the property's olive grove offering panoramic views of the area. The ample spaces of the garden offer many spots that entice guests to relax and enjoy the serenity of extraordinary Tuscany.
Top 3 reasons you'll love Agriturismo Pancolina
PANORAMIC LOCATION
Location is ideal as a base for exploring Tuscany, with its hilltop position & stunning views on San Gimignano a major plus
COMFORTABLE APARTMENTS
Apartments with both modern amenities and Tuscan rustic furnishings offer a relaxing vacation in luxurious style
PEACE & QUIET
Independent accommodations, large outdoor spaces and a panoramic swimming pool for a relaxing holiday in complete tranquility.
Agriturismo Pancolina's location and amenities make it an ideal setting in which to enjoy all that Tuscany has to offer. Settled on the hills between San Gimignano and Certaldo, the farm estate producing extra-virgin olive oil offers guests great views of all of its surroundings while enjoying modern amenities in the luxurious double room and apartment accommodations in the main house.
The apartments offer large wooden beams, terracotta floors, travertine linings, exposed stone walls and several have open fireplaces. All of them are furnished in an elegant, classic Tuscan style mixed in with modern touches, creating a stylish and luxurious yet highly welcoming atmosphere. All have their own private garden areas to enjoy dining outdoors.
Couples can choose either the double bedroom with large bathroom called Sole which has a small fridge and coffee machine but no kitchen or Luna, an apartment on the first floor with a double bedroom, kitchen, living area with a sofa bed that can accommodate two extra guests and bathroom. Being on the first floor, the outdoor eating area for Luna is at the bottom of the stairs that lead up to the apartment to enjoy in the warm months and, once inside, you will find a gorgeous open fireplace in the living area that will entice you to stay indoors when the weather is cooler.
Families with kids or two couples can choose Capanne, ideal for 4-5 guests with its two double bedrooms and bathrooms, or Stella which can host up to 6 guests. Both have spacious living rooms and kitchens with Stella also having a gorgeous corner fireplace in the living room. Stella has 3 separate double bedrooms, each with its own bathroom, each richly and tastefully furnished to welcome you to relax at the end of every day you are off exploring the cultural and historical riches of the territory. The last apartment, Fienile, sits in a separate building in what used to be the farm's hayloft, in a privileged position next to the pool. It is perfect for 4 people with its two double bedrooms, two bathrooms, kitchen, living area and private pergola.
Families with small children can request cots and high chairs for any of the apartments.
If you choose to spend large parts of your days at Pancolina, you can relax by the pool and enjoy the panoramic views that surround the estate and enjoy the many areas of the spacious garden that invite you to relax and enjoy the warm Tuscan sun. You can also create delicious outdoors meals in the barbecue areas or enjoy a glass of fresh Vernaccia in the shadow of the Pancolina loggia.
A shared laundry facility is at your disposal to refresh travel clothes and free WIFI can be used in all of the apartments and across the property. Guests have a private parking area and a recharge station for electric cars on the estate as we highly recommend you have your own car to move around the area.
Pancolina's team is at your service to make your time in Tuscany a unique experience, assisting with any advice and recommendations to local restaurants and places to explore, including wine estates for local wine tastings. Pancolina directly organizes yoga sessions, cooking classes and relaxing massages directly on the property or nearby for you, and offers tastings of its own Pancolina extra virgin olive oil to guests. If you arrive during the olive harvest from the middle of October, guests can choose to participate in the olive harvest.
What else can you do at Pancolina? Guests at Pancolina can enjoy lounging by the pool under the sun or under the parasols (pool towels are provided) or go off on a nature walk in the olive grove or surrounding countryside. In the area, guests can enjoy more than just wine tastings: there are thermal hot springs and Spa nearby, tennis courts, stables that offer horseback riding, a golf course, or how about seeing the area from above on a hot air balloon? On request, Pancolina can also arrange bike or e-bike rentals as well as Vespa tours or transfers to and from Pancolina.
Its location between San Gimignano and Certaldo means Pancolina is very central in the Chianti wine region. You can head in any direction to enjoy the treasures of Chianti, including visiting wine estates, or head to Florence or Siena for a day spent immersed in history and culture at its many museums and attractions. Head west toward Pisa or Lucca to enjoy those smaller Tuscan gems or the Tuscan seaside or further south to the enchanting medieval hilltop town of Volterra. Wherever you choose to head off each day, you can easily return back "home" to your base at Pancolina at the end of your day to relax and enjoy the best Tuscany has to offer.
Ready to start planning your time in Tuscany at Pancolina? Go ahead and contact them through the form below to request further information or availability.
Meet Pia & Petra
---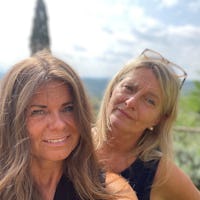 Pia, a Danish designer and owner of Agriturismo Pancolina, made her dream come true when she discovered this amazing farmhouse in Pancole. After many months of careful and attentive restoration, charming and chic Pancolina with its 5 luxury accommodations was ready. Whenever it is possible for Pia, she stays in Pancolina and enjoys her small Tuscan "oasis". At any other time, you will find manager Petra, a dear family friend, who will welcome you and ensure you enjoy not only the hospitality of Pancolina but all that Tuscany has to offer.