Vacation apartments near Volterra, between beaches & medieval towns
---
Set on a genuine Tuscan farm, Agriturismo Le Selvole offers a truly wonderful opportunity to explore Italy and enjoy a relaxing stay while based in the famed natural goodness of Tuscany.
The main building is divided into 4 completely independent spacious apartments, each with two bedrooms and its own dedicated garden area. The special position between the coast of Tuscany and the sloping hills of Chianti is a guarantee that you will find just the right mix of history, nature and delicious food.
Create new memories at the vacation rentals just outside of Volterra including hiking the natural reserves, playing on the sandy beaches, visiting medieval hilltop towns and relaxing in a tranquil and comfortable environment.
Top 3 reasons you'll love Agriturismo Le Selvole
CLOSE TO TUSCANY'S BEACHES
Includes a fantastic mix of the classical Tuscan countryside & the sandy beaches near Cecina
WARM WELCOMING ATMOSPHERE
Immerse yourself in silence & tranquility. The owners have created many common areas for holiday fun & relax
OWNERS LIVE ON THE PROPERTY
A fully functional farm with fresh fruit, wine, olive oil & grains. Enjoy the wholesome home grown goodness of Tuscany
Perfect Setting for a Family Vacation
This family run farmhouse offers many options, one can either rent the holiday apartments separately, 4 in total or, for larger groups up to 20 people, the entire structure can be used as a vacation villa. The apartments are classified as immense! Divided with two on the ground floor and two on the first floor, each has its own private dedicated garden area for picnics.
The distinctly country decor - with typical Tuscan furniture which include wrought iron accents, brick and stone highlights, and terracotta floors - gives the vacation apartments a comfortable and cozy feel. Together with the personalized and warm welcome you receive upon arrival, you will immediately feel the pleasure of a vacation in Tuscany.
Each apartment has two bedrooms: one bedroom has a double bed and one bedroom with two single beds. There is a bathroom with shower and a fully-equipped kitchen. For extra comfort, the windows all have mosquito nets and all throughout the villa there is WI-FI access. The villa also boasts a large indoor common area with full kitchen and bathroom so that large groups can eat meals together.
A Real Tuscan Experience
It is easy to enjoy the panoramic views while lounging by the pool, surrounded by the farm's vineyards or grill up local specialities at the BBQ. In addition to outdoor games like ping pong, billiards and other items especially for young children, it is possible to use mountain bikes and explore the trails located on the property.
The farm is situated on approximately 70 hectacres and offers the ideal opportunity to visit the farm activities and animals: chickens, rabbits, goats and pigs including the possibility to buy some of their own products.
Upon request, you can arrange for breakfast which highlights local specialities or even a tasting of the natural wholesome foods that abound in this area including olive oil and wine. The owners have thought of everything, in fact, you will find a convenient laundry area with a washing machine and ironing. Among the many extras, Le Selvole has covered parking.
Green Paradise Near the Coast
The house is surrounded by the family vineyards, fruit trees and a well-cared garden where the swimming pool is located (7 x 12 mt). Here you will find garden furniture, bright blossoms and an area suited to catch those famous Tuscan rays or simply an afternoon nap in the shade. Families with kids will find games to entertain them during the day. Those who prefer to travel with their four legged friend will find lots of space for their pets.
Many Alternatives for your Holiday Experience
Located immediately around the farmhouse are many options such as exploring the great outdoors at Monterufoli with trails for hiking near an old mining establishment and several old bridges spanning the river Ritasso. However, if history captures your attention, go no further than Volterra, an amazing hilltop town featuring a history rich with Etruscans, Romans and Florentine influence. If you are just looking to relax, then you can hop over to Cecina, a popular tourist resort with enticing sandy beaches for getting sun in the day and an nightlife for dancing, music and restaurants is the perfect stop.
With a short drive through the wonderful Tuscan landscape one can plan several day trips. Go beyond the Leaning Tower of Pisa and explore the city built on the same Arno river that crosses Florence. Stop at Pistoia, a small town which is truly worth the visit with its lovely churches, peaceful city streets and shops, as you make your way around. An all time favorite is Cinque Terre, along the coast of Italy, a day trip with the use of the major nearby highways.
More organized activities:
Tastings: the possibility to participate in tastings of typical Tuscan dishes prepared with genuine products from the company and using only Tuscan products which are locally produced, invoking the traditions of classic Italian recipes. Wine and oil tastings are also available. It is possible to purchase some of these items.
Life in the Countryside: the opportunity to have an agritourism experience (harvest of the grain, harvest of the grapes, etc.) as well as meet the animals of the farm (chickens, rabbits, goats and pigs). Especially fun for the children.
Horseback: for large and small, a horseback ride with our partners at "Centro Ippico Santa Barbara" at Pomarance (7km). Programmed lessons on a horse or pony, horseback riding and a week of activities for the kids.
Cooking Lessons with Dinner: another activity which is great for the young and old. Short lessons on the preparation of typical Tuscan dishes with the help of a professional cook. Dine on the end results.
Italian Language Lessons: with a one week stay, participate in Italian language lessons held by professional university teachers, qualified to teach Italian to non native speakers.
Spa Treatments: with an appointment, indulge in a spa treatment by a professional beauty care giver (massages, peelings, etc.) or head to Bagni di Pisa where you can receive discounts for being Selvole's guests.
The Nature Reserves of the Alta Val di Cecina: Guided tours and hiking events from March to November each year.
Discover Geothermal Energy: In the proximity there is Larderello (15 km) and the natural geothermal manifestations. This is an opportunity to know about the extraordinary history between man and geothermal phenomena, from its use by the Etruscans to Medieval times to industrial development to reach today's challenge of alternative energy.
Lots to do at Selvole, book your stay today!
Meet Vicenzo Marzoli, owner of Agriturismo Le Selvole
---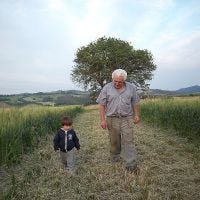 Hello everyone, my name is Vincenzo Marzoli and this is my grandson, Ettore. For the last 15 years, together with my family, I run the Agriturismo Le Selvole. We work together to greet our guests, take care of the farm and raise the farm's animals. We love the life on the farm and love sharing it with our guests. We look forward to opening our home to you while on vacation here in Tuscany.