Panoramic views over vineyards just outside Florence
---
Agriturismo La Tinaia, situated in a panoramic and tranquil position just outside of Florence, offers 5 exceptionally spacious apartments with an abundance of natural light, are the perfect base for exploring both Florence and the rest of Tuscany. While the wine and olive oil estate offers offers these self-catering accommodation with their fully-equipped kitchen, you can also request a delicious breakfast as an add-on and enjoy the restaurant a short walk away for evening meals.
The owners, who live on the property, respect the privacy of their guests, and are also always available to assist in finding a restaurant, reserve tickets at a museum or offer ideas for a day around Tuscany. They particularly enjoy sharing their estate wine and olive oil with their guests.
Only a short drive will take you to many interesting points throughout Tuscany, including Florence, Pisa, San Gimignano and Siena. At the estate, you can enjoy lounging or swimming in the pool, reading in the garden and preparing a BBQ meal - or take a short walk to the nearby restaurant for a Tuscan meal.
Top 3 reasons you'll love Agriturismo La Tinaia
FAMILY-RUN WINE & OIL ESTATE
The husband & wife team pour their heart into making sure their guests are comfortable & feel at home while on holidays
FLORENCE IS CONVENIENTLY CLOSE BY
Less than 5km from the apartments is a tram which leaves frequently to Florence's center, where you'll find museums & many sights
TASTE THEIR ESTATE PRODUCTS
Guests are invited to explore the vineyards & participate in extra virgin olive oil & Chianti DOCG & IGP wine taste tastings
In the green hills surrounding Florence
The family-run agriturismo La Tinaia, situated only 10 km from Florence, features 5 independent apartments perfect for couples, small groups of friends and families of up to 4 persons. The restored Tuscan farmhouse is completely surrounded by spacious gardens, with splashes of roses, fruit trees and aromatic plants. Tina and Franco, your hosts, also maintain an olive grove and vineyard where they produce award winning olive oil and DOCG & IGP wines.
The farm was totally renovated to create not only a home for themselves while making wine and olive oil, but to also offer friendly and welcoming accommodations for guests to Tuscany. Each of the 5 holiday apartments features a kitchen furnished for preparing breakfast or light meals. There is WiFi throughout the property and the apartments all have SAT TV. For those who request it, breakfast can also be provided every morning.
Classic Tuscan Decor
Simply, yet tastefully decorated, the owners chose to compliment the typical Tuscan architecture with a collection of Tuscan furniture from the 1800's. There is a garden area dedicated to each apartment where it is possible to enjoy a leisurely meal. The inviting crystal clear pool is in a panoramic position to capture the warm Tuscan sun all day long.
On the ground floor, there are two independent apartments: Erica and Ginestra, named after flowers that grow wild on the hills of Tuscany. Ginestra is a one room suite with a full bathroom and kitchen. The room is 35 mq and is discreetly divided into two areas with an antique screen. Both apartments feature a shady patio, SAT TV and ceiling fans. The apartment Erica, with one double bedroom, bathroom, full kitchen and a living room with sofa bed, is located next door. These two apartments can be rented together for up to 6 persons.
On the second floor, promising picture perfect views of the Florentine countryside, vineyards and olive groves, you will find the apartments La Vigna, Il Bosco and I Cipressi. The smallest of the three is La Vigna, with a double bedroom on the second floor of the apartment. Il Bosco, the largest of all the apartments, features two bedrooms, one of which is on the mezzanine. There is one bathroom with a shower and a full kitchen. All three of these apartments are equipped with AC. The last apartment, I Cipressi has two double bedrooms, a bathroom with shower and a living room/kitchen area.
Taste the Estate's own Wine & Extra Vigin Olive Oil
The owners live on the property and are available to assist guests make the most of their holiday in Tuscany. La Tinaia is a fully functional farm, and guests are invited to savor their products and visit the small wine cellar. Located on the ground floor is a tasting room, where their flavorful extra virgin olive oil and red, white and rosè wines can be tasted as well as purchased.
Within walking distance to La Tinaia is a small but very popular restaurant. However, save at least one day for Tina and Franco, who during the high season like to cook a real Tuscan meal using veggies from the garden, seasonal fruit and, of course, offer their wines to a community meal. You could taste a plate of homemade pasta with wild boar sauce or a delicious pork filet "in crosta". The idea is to give everyone staying at La Tinaia a chance to become acquainted with each other, make new friends and tell of their adventures exploring Tuscany.
Go Where Your Heart Wanders
There is so much to explore, just starting with Florence! Close to La Tinaia is the Scandicci - Firenze T1 tram, which runs regularly and will take you to the city center. No need to worry about parking in Florence, no navigating traffic, and no getting lost. For the days that you wish to venture into Chianti, visit San Gimignano or walk around the streets and Duomo in Siena, you will find that the agriturismo is conveniently located close to main roads which will easily take you across the region to add to your vacation in Tuscany.
What are you waiting for? Contact Tina and Franco through the form below to get information on availability and the best rates for your stay in Tuscany!
Your hosts at La Tinaia, Tina and Franco
---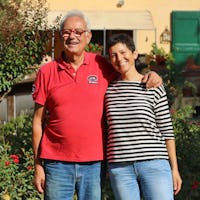 We are Tina & Franco, the owners of agriturismo La Tinaia. In our hearts we dreamed of a place to live in harmony with nature and this is how La Tinaia was born.
In 1997, we left our office jobs and life in the city to begin a new adventure. We took classes on how to make wine and olive oil, and are pleased to announce that we have created a quality product to offers guests from across the world who come to stay with us.
We personally took on the restructuring of the farmhouse and the decoration of the apartments. In many ways, you will be able to appreciate the little details that make this more than a vacation rental, it is a place you can call home away from home.
We look forward to welcoming you and sharing our dream with you!
- Tina and Franco