A lovely, peaceful vacation in the countryside near Siena
---
The farmhouse Il Colombaio di Barbara is a B&B accommodation nestled in the peaceful tranquility of the Tuscan countryside, just 10 km southwest of Siena.
The agriturismo is a hidden in a peaceful corner where you'll be able to enjoy a re-energizing holiday with artistic and holistic activities, as well as spending time in a clean, fresh and natural environment.
There are six double bedrooms, including family size rooms which all have access to a beautiful garden with outdoor pool where you can relax under the Tuscan sun. The on site restaurant where you can enjoy delicious Tuscan meals, is skilled in using fresh, organic ingredients and producing vegetarian meals.
Top 3 reasons you'll love Agriturismo Il Colombaio di Barbara
ACTIVITIES
Not the traditional farmhouse activities! Enjoy classes about Mandala Painting, Raku ceramics, music & horseback riding lessons
INDOOR & OUTDOOR AREAS FOR EVERYONE
A pool immersed in a garden, a common living room, breakfast/dining room, reading room & kitchen
ORGANIC RESTAURANT
Typical Tuscan dinners prepared with fresh & organic ingredients only
The farmhouse at Agriturismo Il Colombario di Barbara has been transformed into a refuge where the spirit and body can delight in the beauty of Tuscany, artistic activities, nature and relax. The rooms, restored in a rustic country decor, are designed to create a quiet and comfortable environment where you can spend time alone, reading, writing and comuning with nature or go out on an adventure to discover Tuscany. Using the natural beauty — the terracotta floors, stone walls and dark rich wooden beams — the agriturismo B&B was restored and features 6 bedrooms perfect for a 1 - 2 -3 and even four persons.
The Collection of Bedrooms
The six rooms at Il Colombaio are for 1 to 4 guests, all with their own private bathroom and minibar. The rooms are furnished simply with local handmade furniture. The Lover's Room, displays a handmade four poster bed and a view over the olive grove. The Sweetheart's Room, has a fun view over the small hamlet and includes a handcarved four poster bed. The room is approximately 25 square meters and perfect for a couple on a romantic interlude. Both of these bedrooms have a private bathroom next door to the bedroom.
The Rose Bedroom, with its handpainted furnishings has a view overlooking the garden and the roses. This room has an en suite bathroom, and like all of the bedrooms has a mini bar and free WiFi. The Walnut Room, with a comfortable double bed and an en suite bathroom overlooks the garden and the majestic walnut tree. The Hearth Room (or Fireplace Room) has a private bathroom next door and a picture perfect view of the garden. This room is exceptionally spacious and silent. The Countryside Room honors the XVIIth estate with its warm floral colors and view of the garden.
The pool among the olive trees and garden
Guests at the farmhouse can relax by the splendid outdoor pool which is surrounded by Tuscan olive trees as well as the other outdoor and indoor areas of the house. Guests share a large living room, breakfast/dining room, reading room and a kitchen upon request to use at their leisure.
The garden offers a beautiful pergola where guests sit and enjoy breakfast, a glass of wine or dinner while enjoying the beauty and tranquility of this corner of the Tuscan countryside.
Activities at the farmhouse and in the area
The farmhouse Il Colombaio is just 10 km southwest of Siena, so its strategic position makes it an ideal starting point to set out to reach the main sights and attractions in Tuscany. Florence, San Gimignano, Chianti and Val d'Orcia and Maremma can all be reached quickly by car for day trips. The farmhouse is between Siena and Maremma which also makes the sea and the beach easily accessible for day trips. Closer to the farmhouse, you can spend a day at the Petriolo hot springs which offers both a paid spa area as well as outdoor waterfall (free).
You don't need to leave the farmhouse to enjoy plenty of other activities that will replenish your spirit. At the farmhouse, you can enjoy classes of Mandala Painting, Raku ceramics, music lessons or go horseback riding in the countryside. Just let Barbara know what you're intersted in. Your hostess and the owner Barbara, will be there to welcome you to Agriturismo Il Colombaio and take care of your needs in an informal setting and friendly manner.
Upon request, you can enjoy Tuscan meals prepared with local and organic ingedients in the indoor dining room or outdoors beneath the pergola during the summer.
Meet Barbara Viale, the Owner of Agriturismo il Colombaio
---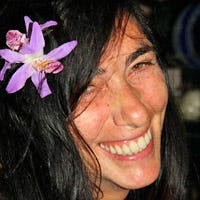 My name is Sumito Barbara Viale, I am 50 years old and I have lived a wonderful life. I have traveled, I have met wonderful people and places, I have meditated, and when I had a son, I decided to stay plant roots here in the Tuscan countryside. Thus began the story of Colombaio. I really enjoy hosting travelers and getting a chance to meet people from all walks of life who in the end have all chosen to enjoy the peace and beauty of Tuscany.
I have many personal passions, from shaping ceramics, love for beautiful music, art in general and photography. I have traveled a lot, always in search of exploring new places and new cultures.
I love socializing, sharing the beauty of this land and making my guests' time in Tuscany a bit magical.
I enjoy offering my guests the chance to stop for a few days or as long as they want, fully surrounded by nature, art, beauty and the peace of the countryside.
I am an Art Counselor and also organize creative workshops directly at the farmhouse to mix both creativity, meditation and the chance to explore the wonders of Tuscany, all while enjoying in great food, wine and company.
Having now lived in Tuscany for almost 20 years, I can recommend the best places for your daily outings. These include places unknown to most people, carefully preserved by those who inhabit them and which bring to light the true essence of this region beyond the beautiful cities of art.
My hope is that you will soon come visit me in this small corner of paradise so that I may share it with you!