Agriturismo Casa dei Girasoli




























Sunflower Covered Hills of San Gimignano
---
Agriturismo Casa dei Girasoli promises amazing views of both San Gimignano, one of the best known medieval-towered towns in Tuscany, and the amazing landscape that surrounds the house, covered in sunflowers, vineyards and olive groves. Step outside your spacious and luminous holiday apartment to inhale the one-of-a-kind beauty that Tuscany offers.
The accommodations are divided into four independent and self catering vacation rental apartments which have all been recently refurbished to include a modern and comfortable decor while maintaining the charm of Tuscany.
Set among the olive trees and vineyards, Agriturismo Casa dei Girasoli is located just a short distance from San Gimignano and many of the most important sites and cities of Tuscany, combining the tranquility of the countryside with the adventure of sightseeing the main monuments and museums in the region.
Top 3 reasons you'll love Agriturismo Casa dei Girasoli
SAN GIMIGNANO AT YOUR DOORSTEP
Arrive in 15 minutes on foot following the famous via Francigena, a pilgrim footpath over a 1000 years old, into San Gimignano, just 1km away
NEWLY REFURBISHED APARTMENTS
Recently redecorated, the spacious & bright apartments boast modern maintaining Tuscan accents such as vaulted ceilings, wooden beams, stone walls
BRAND NEW SWIMMING POOL
Fantastic views from the new swimming pool, capturing the best of the Tuscan sun while showing off the sunflowercovered landscape
The owners of Agriturismo Casa dei Girasoli Tuscan farmhouse, set in the hills of San Gimignano, care for their estate with meticulous detail. Antonella and her family strive to preserve the environment and natural beauty of Tuscany by implementing eco-sustainability measures in each apartment and throughout their farm, which produces organic extra virgin olive oil.
Classic Comfort near San Gimignano
The four holiday apartment rentals range from one to two bedrooms and will accommodate from 2 to 5 persons. Agriturismo Casa dei Girasoli has created an environment which uses ecologically friendly material and always has effortlessly combined innovation with comfort and relaxation. Each apartment features a private and independent entrance as well as a dedicated garden area for outdoor meals.
Named after the colors of the seasons, the vacation rentals provided spacious rooms, screened windows and fully equipped kitchens. Set in a unique and panoramic position, the apartments catch fresh breezes which all the guests to enjoy a tranquil nights rest, even with the windows open.
There are two apartments with two double bedrooms up to 4 persons, plus an extra bed can be added upon request. Azzurro also has a fireplace for a romantic evening at home, as well as an AC unit for those exceptional summer evenings that require it and a dishwasher to make clean-up easy for everyone. Giallo, with both a double bed and two twins, also comes with a fireplace and outdoors you will find a private gazebo and garden.
Both the Arancio and Verde apartments feature one double bedroom, one bathroom and a fully equipped kitchen. Arancio also includes a dishwasher, an AC unit, and an exceptionally large private garden. The apartment Verde, for up to two persons and a small child, has an impressive vaulted ceiling and original stone walls, characteristic of the typical Tuscan farmhouses. All apartments have a safe and free WiFi access.
Guests can ask for tastings of the estate's organic extra virgin olive oil, as well as purchase some to use during their stay and take back home.
While the apartments are rented by the week, during some periods of the year they are available for shorter stays with a minimum of 2 nights required. Contact them to get more information and rates.
Brand New Swimming Pool
The newest addition to Agriturismo Casa dei Girasoli includes the panoramic swimming pool. Catching the best of the Tuscany landscape, the pool is furnished with umbrellas, tables, chairs, and lounge chairs. Sit around the pool and enjoy the warmth of the Tuscan sun or take a dip inside and relax with the amazing panoramic view of vineyards, sunflowers, and surrounding hills.
You can enjoy the local scenery by walking the ancient Via Francigena, a pilgrimage road once used by pilgrims traveling from Canterbury down to Rome. This trail leads directly into San Gimignano, one of the most beloved towns in Tuscany. Whether you are looking to visit the countryside or curious to visit the cities, Antonella and her parents, your hosts are ready to offer helpful suggestions.
Set within this special corner of Tuscany, Agriturismo Casa dei Girasoli also provides easy access to all the major sites including famous cities such as Florence with its numerous museums and monuments. You can also visit Pisa and Lucca, both only a short distance from the coast and sandy beaches. Visit Siena, with its impressive main square and marble cathedral, as part of your daily explorations to the best places in Tuscany.
Hi, I am Antonella and your hostess
---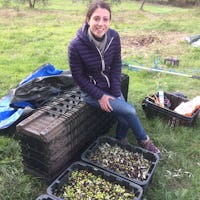 Agriturismo Casa dei Girasoli was started in 2008 by my parents. They love the rural traditions of Tuscany & the country house which has been handed down from generation to generation in our family. Their passion was contagious and, in 2014, I decided to leave my own career to follow my own dream and work alongside them in sharing our small corner of this paradise with visitors from across the world.
Our "Sunflower House" is a haven of peace and we are sure you will enjoy an unforgettable holiday in the fresh country air of San Gimignano, enjoying delicious local food, the outdoors and discovering the most beautiful places in Tuscany.... or just simply relaxing at the house, by the pool or in the garden. Look forward to meeting you soon!