A warm, country setting near Cinque Terre, sandy beaches and the Apuan Alps
---
Situated in an area that boasts of a lush naturalistic setting, rich history and a delicious culinary surprises Agriturismo Ca' Del Bosco is a relaxing and friendly holiday environment for all ages.
There are two traditional stone farmhouses which have been totally restored into 5 holiday apartments with classical architectural accents and comfortable, country styled decor.
Enjoy the refreshing pool area which catches the cool breezes from the ocean, only 30 minutes away or sit and relax on the "Colonnade", a covered terrace with inviting wicker seats placed under a shade, fragrant terrace area.
Top 3 reasons you'll love Agriturismo Ca' del Bosco
TRANQUIL SETTING
The external and internal beauty of this natural setting is accented by the absolute tranquil countryside surroundings
CHILD-FRIENDLY
Lots of open space with games for kids of all ages including table tennis, mini soccer field and a children's area at the pool
GENUINE TUSCAN HOSPITALITY
Enjoy the warm and friendly atmosphere created by by the owners for a truly relaxing holiday
Surrounded by the soft green hills of Tuscany, the famous coastal waters of Tuscany and unobstructed panoramic views, Agriturismo Ca' del Bosco holiday rental apartments are perfect for families and couples. Located in a unique position, immersed in the lush green forest of one of the most northern corner of Tuscany yet only a short drive to the famous Cinque Terre, exciting beaches of Forte dei Marmi and the historic towns of Luni, Lucca and Pisa.
With two fully restored farmhouses, Ca' del Bosco has 5 charmingly furnished apartments for 3 to 6 persons boasting a simple yet comfortable country decor, full kitchens, internet, television and dedicated garden areas.
Inviting Tuscan Countryside Holiday Apartments
Each apartment has a typical Tuscan kitchen with a terracotta floors, double sink, refrigerator and 4 burners for cooking. There is an furnished picnic area with a bar-b-que for some delicious outdoor grililng with fresh meats and veggies. These vacation rentals are equipped with internet access and a TV with satellite programming.
The decor highlights many of the original features such as stone walls, rich wooden rafters with personal touches that make it homey and relaxing. The largest of the five vacation apartments is GLICINE, with three bedrooms and one bathroom overlooking the green gardens.
Both CIPRESSO and LILLA', named after fragant local flowers, have two bedrooms and one bath and a lovel, cozy fireplace. The remaining two apartments are for a couple or a small family with one bedroom and a bath: ULIVO with a Tuscan fireplace and GELSOMINO with a delightful view.
Cinque Terre, Sandy Beaches and More
This fully restored farmhouse allows you to visit the extraordinary coast of Tuscany while basking in the fresh breezes of the hills at the foot of the Appenine mountains. Agriturismo Ca' del Bosco vants a truly unique position in the northern most corner of Tuscany, where the towns of Cinque Terre and Portovenere are an hour drive away.
It is also an easy day trip to several of the more artistic cities such as Florence, Pisa and Lucca. If you want to cross the regional border you can tour the lovely town of Parma famous for the sweet prosciutto and outstanding archicture.
Local Treasures for the Perfect Holiday in Lunigiana
Take time to visit the farm where the owners have dedicated themselves to raising sheep and producing wine. The extensive grounds lend themselves to trekking, mountain bike riding and even horseback riding. The agriturismo has bikes and a special arrangement with the stables next door to their property for those out door adventures. The river Magra is also the ideal setting for those who enjoy the water sports such as fishing and canoeing.
Meet Mirta & Antonio, the Owners of Agriturismo Ca' Del Bosco
---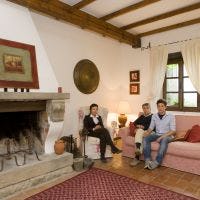 Mirta and Antonio, nature lovers at heart, have transformed their agriturismo over the course of the last few years to a reference point in the Lunigiana area for those who are passionate about being close to nature, tranquility, comfort and relax.