A hidden paradise just a few km from Florence
---
Le Due Volpi is a small Tuscan bed and breakfast located in the Mugello countryside, just 35 km to the north of Florence where your neighbors are a field of sunflowers, the occasional grazing cow and the owners Cinzia & Aldo.
Completely surrounded by nature, this 4 room B&B in Mugello offers you a corner of paradise tucked away in an area of Tuscany that has remained largely untouched by the busy, loud sounds of a city.
It is a special treat for anyone seeking to spend a vacation focusing on hiking, biking and exploring. The romantic country decor is perfect for a special get-a-way for couples and a refreshing home away from home for families.
Cinzia and Aldo are your hosts, who are artists at creating an atmosphere of comfort and conviviality designed to make your stay in Tuscany unforgettable.
Top 3 reasons you'll love B&B Le Due Volpi
LIKE A KING IN HIS CASTLE
The panoramic view from the B&B pool, terrace and bedroom windows will have you surveying the best of Mugello
THE COLORS, PERFUMES & WARMTH
The bed and breakfast is decorated with class and criteria, Cinzia creates a special vacation home for you
HOMEMADE MEALS MAKE THE DIFFERENCE
Generous breakfasts baked by Cinzia, homegrown fruits, vegetables wine and excellent dinners provided by Aldo
A B&B with Color
Le Due Volpi used to be an old farm house which has been completely restructured and transformed into a welcoming bed and breakfast. Each of the three floors has been carefully restored to provide 4 B&B rooms which are exceptionally spacious and luminous. There are two rooms on the ground floor, one is designed for a short stay or children who require a little less room. It has two single beds and a view over the front of the house. There is an en suite bathroom and it is in soft shades of blue. The second bed and breakfast suite on this floor includes a kitchenette, dining table and a private entrance to a small sunny terrace. This room has windows on both sides of the room and promises a cool evening breeze.
Up the stairs opens to a small kitchenette that the other rooms share for a quick snack, afternoon tea or a light meal. There is a family styled room with a large double bedroom on this floor with two single beds which will easily accommodate 4 persons or a group of friends travelling in Tuscany. The bathroom is large and tiled in a special speckled ceramic that is created locally with a secret recipe. The effect is luminous and clean, with a lovely window letting fresh air and green vistas.
4 Rooms with Privacy
The last of the four rooms is on the very top floor and it has an east and west exposure, perfect for light of a sunrise or sunset. This double bedroom with extra single bed is decorated in soft sandy tones and has a mural with little birds floating from place to place. There is a ceiling fan in the room, and when that isn't enough on those true warm nights, you can make use of the AC unit.
In the summer months, when families and groups travel together, Cinzia and Aldo open up the entire B&B and rent it as if it were your own personal villa. The bedrooms and living areas all flow together nicely, guaranteeing privacy yet creating an environment where it is easy to share moments together.
Tuscan Hospitaliy includes Good Food
Breakfast is served in the outdoor kitchen area, a sweet little structure just outside the front door, with windows everywhere...you will never miss a good view from Le Due Volpi. There home baked goodness from Cinzia's oven will draw you in and the selection of savoury dishes from local suppliers, fresh fruit, jams and of course some real Italian coffee will make you smile all day long. If the idea of leaving this haven of and venturing out to find a restaurant at night, is not for you, then just let Cinzia know and she will make arrangements to either have you share a meal with her and Aldo or give you full reign to experiment your culinary talents in the kitchen.
The exterior of the bed and breakfast has a well maintained garden in which one can enjoy relaxing over a good novel, chatting with the hosts or other guests or simply just admiring the view of the countryside. The beautiful outdoor pool is perfect for cooling off in the summer among the colors and scents of the Tuscan countryside. And there is a delightful terrace with tables, chairs, a dart board and games.
Mugello Promises Lots to Explore
The bed and breakfast is very close to Vicchio in the Mugello valley to the north of Florence. The valley offers many opportunities for guests: there is sometime for those who love spending time outdoors, those who enjoy history, art and good food, of course. Just a short distance from the b&b, guests can go hiking along CAI marked trails, horseback riding, golfing and water sports on the Bilancio lake.
The main destinations in Tuscany, including Florence, Siena, Lucca and Pisa to name just a few, are easily reached for day trips from the B&B. Just let Cinzia know what interests you most and she is sure to have a selection of possibilities. Le Due Volpi is a small, relaxing oasis that will find a place in your heart so don't delay and contact Cinzia and Aldo to start planning your vacation in Tuscany.
Cinzia & Aldo, the Owners of Le Due Volpi
---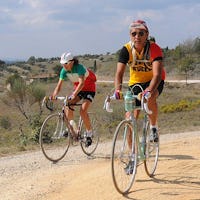 Hello!
we live in the splendid hills of Mugello, a special place we found after searching for a quiet little corner of paradise.
We fell in love with the natural setting, the art & history, and the possibility to explore it all on bike. The rooms at the B&B are perfect for enjoying the beauty which surrounds us here ar Le Due Volpi.
They share the same passion for nature, art and cycling, especially for the great Italian champions of the past (Coppi & Bartali, at first) as well as the many delicious Tuscan flavors and recipes.