Modern & Central Vacation Rental Apartments in Florence
---
Positioned only a short distance from Palazzo Vecchio, Santa Croce and the Arno River, these 5 self catering apartments at Borgo de Greci combine the charm of an antique palazzo and the convenience of modern accessories.
Each apartment has a private entrance, brand new bathroom and kitchen plus all the comforts of home. The owner, who has a vineyard in the countryside near Florence, has selected a modern decor which complements the historical elements within.
Centrally located, the apartments lend themselves to a short term or long term stay, with plenty of access to quality restaurants, shops, museums and monuments and the national trains and buses which will take you all over Tuscany & Italy.
Top 3 reasons you'll love Borgo de Greci
BRAND NEW REMODELLING
This historic building in the center of Florence has been refurbished with AC, heating, WiFi & uptodate appliances and bathrooms
FAMILY FRIENDLY ACCOMMODATIONS
Large rooms with luminous interiors provide space for families to spend time inside between museum visits & designer shopping
IDEAL FOR A LONG STAY
The new interior design, with full kitchens, extra closet & storage and spacious floorplans is perfect for contemplating a full immersion visit
The newly renovated Borgo de Greci vacation rental apartments are located on one of the most ancient streets in the historical center, in fact, according to historical archives this road dates back to the 13th century and it is most likely that it originated long before that. Today, the building has been renovated and the owners have not only added an elevator but have also recaptured the classical beauty of the interiors.
Five Apartments in the City Center
The first apartment is for up to four persons and features one double bedroom with a cozy sitting area and lots of natural light. Located on the 2nd floor, it is elevated from the streets and will enclose you in a tranquil environment. There is a living room with a sofa bed, a dining room, a full kitchen with dishwasher, clothes washer, large refrigerator and stove with oven. It is artfully decorated in soft grays which accentuate the naturally luminous spaces.
Next door are two apartments which can be rented together and host up to 6 persons total; they include a spacious living room and three double bedrooms each with its own en-suite bathroom. Since they each have independent entrances, they can also be divided into a one bedroom with bathroom and full kitchen, perfect for a couple, and a two bedroom, two bathroom, including a dedicated living room area and separate kitchen. So it would be perfect for 2 family units traveling together: have the same space to share but with separate areas. All apartments feature A/C, WiFi, modern kitchens and bathrooms and their own private entrance.
The last apartment in this building is up one flight of stairs and features a special terrace that looks towards the Tower of the Palazzo Vecchio. With a table and two chairs outside, this apartment promises a special view of Florence, in a silent and secluded corner. There is a full kitchen, including dishwasher and clothes washer. The large double bedroom features a sunny spot to read a book or check emails.
Just a short distance away in a quiet street near Borgo de Greci is the last apartment for holiday rentals. It is a two bedroom apartment with a double and a single bedroom, internal courtyard, full kitchen and brand new bathroom. This apartment is located up a flight of stairs and has an independent entrance. It is peaceful and promises to be your refuge for a bit of relaxation during your busy vacation.
Living Florence Like a Local
Though set in the center of the historic part of Florence, these apartments are elevated from the busy activity that surround them, offering guests the ideal place to call "home" away from the crowds and bustle of the city below. Located nearby are stores, a local food market and restaurants. You can ask the owner about participating in a cooking class. Your host can also assist you in making plans to visit the city, reserve tickets or wander outside the city confines to visit their ancient wine cellar for a very special wine tasting.
Use this as your base to explore the wonders of Florence, its museums, monuments, amazing architecture and timeless elegance. In this apartment, you will immediately feel at home in Florence, but you will never get use to the beauty that surrounds you, from the marble facade of Santa Croce to the red tiled cupola of the Duomo, from the work of Botticelli in the Uffizi Gallery to the smooth lines of David in the Accademia.
Located between the two main train stations in Florence, there is ample possiblity to travel and explore the many cities of art throughout Tuscany as day trips out of Florence. Arezzo, Siena and Pisa are well connected with frequent and fast public transport options. Or you could opt for a private tour which will pick you up in the city center for a day of wine tasting, photo opportunities and more.
Niccolò talks about his love for his family home
---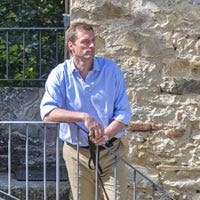 Torre a Cona and the palazzo at Borgo de Greci have been in our family for many generations. In the last several years, our family restructured the various spaces in both places into apartments in order to be able to share our love of this place and of the area with our guests.
We are deeply committed to caring for our guests satisfaction and invite them to join us to see the production of our estate's wines and of our extra-virgin olive oil just outside of Florence: we are happy to offer tastings of all our products to our guests as well as the general public.
Year after year, I enjoy hearing the satisfaction, enjoyment and love that our guests end up feeling for the estate and their holidays spent with us. This, in turn, makes us happy, especially as many of our guests end up returning year after year and end up becoming friends.
~ Niccolò Rossi di Montelera