---
Beautiful 18th Century Villa with Deluxe B&B in Certaldo
Map & Address
Villa Humbourg
Via Bagnano 205
50052 Certaldo (Florence)
coordinates:
43.546962 latitude
11.051559 longitude
This magnificent villa from the 18th century will charm and enchant. Both of the two B&B suites include two full size bedrooms with a romantic bath and a spacious living room area. The owner's, who live on site, provide a filling and delicious breakfast in an environment which will remind you of the splendour and elegance of yesteryear.
The grounds are well maintained and provide a tranquil and relaxing setting for those looking to enjoy the beauty of Tuscany. It is not just the olive groves, the wondrous landscape and the delicious culinary treats, such as their home grown extra virgin olive oil but also the nearby small towns and retaurants that make this a special holiday base.
Top 3 reasons you'll love Villa Humbourg
CLASSICAL TUSCAN ARCHITECTURE: breath taking splendor from the 18th century are reflected in this magnificent villa
ABSOLUTE TRANQUILITY: nestled in over 100 acres of olive groves, the villa will delight all of your senses
SPACIOUS & LUMINOUS ROOMS: a deluxe holiday accommodation with soft colors and a simple elegant decor
Villa Humbourg will Transport you
Imagine the beauty and the charm of yesteryear with its luxurious pageantry. Villa Humbourg, a historical structure and the home of Sir Alessandro Humbourg, a government official and minister for the Grand Duchy of Tuscany in the mid 1700's captures the essence of Tuscany mixing an elegant decor with a dense green surrounding. The owners, who live on the ground floor, have carefully restored two spacious apartments of almost 100 square meters each which both boast an incantevole view of the gardens and the surrounding olive grove.
Each apartment has two bedrooms and a large living room area with sofa, TV and a dining area. Though the apartments do not have a kitchen, there is a shared room where one has full access to a refrigerator, washing machine, microwave oven, coffee and espresso maker as well as an electric kettle for tea. The pièce de résistance is surely the whirlpool bathtub...a romantic adventure waiting to happen. Decorated in soft colors, the decor is warm and welcoming accenting the natural architectural highlights such as the wood beam ceilings and tiled floors.
And though the history of the original villa shows that it has been inhabited since the medieval times the owners offer all of the modern comforts of today including free Wi-Fi, Sat TV, heating and air conditioning. The delightful gardens which are open to the guests are more than enough reason to enjoy the free air and garden furniture around the villa. The owners also provide a rich continental breakfast highlighting local specialties and who knows, maybe even some of their very own olive oil.
Surrounded by Tradition
In an area which is known for its excellent olive oil, Villa Humbourg has proven to have an outstanding product; extra virgin olive oil IGP Toscano, whose production process is controlled by the Consortium for the protection of Tuscan extra virgin olive oil. Listed as one of th top 50 from Tuscany it makes the perfect gift to take home with you. There are several close by towns that will delight with their typical restaurants, markets and local activities. Certaldo, about 7 km away is famous for a week long event including music, dancing and street performers. Montaione offers stunning views and a unique small town atmosphere which invites you to explore. A visit to Montespertoli will delve you into the local history which goes as far back as the Etruscans.
Close to Everything
The ideal position of Villa Humbourg makes visiting Tuscany easy and effortless, within just a short distance one can explore Volterra where you can shop for hand carved items in the local alabaster. In less than an hour and with a beautiful ride through the soft hills of Tuscany will bring you to Siena and its one of a kind town square. Make sure to reserve your ticket to climb to the top of the tower in Pisa, only km from the deluxe B&B.
---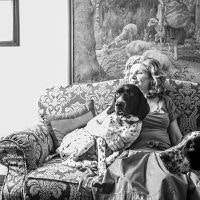 Meet Ludovica, the Owner of Villa Humbourg
My name is Ludovica and I live on the ground floor of the villa below the apartments. We speak 4 languages, so we are sure to be able communicate. I thoroughly enjoy history and art and I have worked for several years abroad promoting cultural events. We proudly open our home, which has been in the family for centuries with the hopes to share the many facets of the rich Tuscan culture.
---
Secure online booking on Booking.com at lowest rate guaranteed!
---
Nearby, we also suggest
---