Luxury farmhouse with pool in historical villa near Florence
---
Torre a Cona farmhouse and wine resort offers a luxurious vacation in the heart of Chianti area near Florence, where some of the most internationally renowned DOCG wines are produced.
The estate, settled in Rignano sull'Arno, is surrounded by hectars of vineyards and olive trees and produces extra virgin olive oil and wine (besides accommodating tourists coming from all over the world!).
The 18th century main villa, as well as all the surrounding apartments, has been recently restored and finely furnished for offering its guests a relaxing and pleasant stay with all modern comforts.
Top 3 reasons you'll love Torre a Cona
LOCATION
Just a few km from Florence, the estate offers enchanting panoramic views of Chianti, making it a great base to explore all of Tuscany
HISTORIC, ENCHANTING SETTING
The apartments are set on a 400acre wine estate dominated by the monumental eighteenthcentury villa
FARM ACTIVITIES
It offers guided visits to its cellars & gardens with tastings, cooking classes for small groups & help in booking tours
Torre a Cona, farmhouse, wine resort and historical vacation home, is the ideal place for spending relaxing holidays in the midst of the Tuscan countryside. Guests may choose between rooms or completely furnished independent apartments. A wide park with bbq area and gazebo, and a huge swimming pool complete this fascinating holiday accommodation.
Rooms or apartments? Different accommodation for different needs!
All the different kind of accommodation that villa Torre a Cona proposes are supposed to satisfy everyone's expectations.
The rooms, all finely furnished according to the typical Tuscan style, with attention to the smallest detail (and breakfast on request) are intended for all those people who prefer a B&B lodging solution for their holiday.
The wonderful 18th century villa settled on the hill top is surrounded by smaller apartments, villas and rural houses provided with tables, chairs and sun umbrellas: all recently restored, they are supposed to welcome and satisfy every guest's smallest desire.
This rural holiday estate, moreover, has a huge and big park, an outdoor swimming pool with solarium, a bbq area for cooking al fresco delicious Tuscan meals, a play area for children with all services they may need, a free parking, the wi-fi connection, free rental bike service and the wine shop, where guests may buy all the farm estate products.
What to do
Almost all guests who decide to spend their vacation in a place like Torre a Cona maybe look for a relaxing and peaceful stay, anyway the activities proposed are actually varied: natural itineraries for exploring the surrounding park and all the places around the villa. Guided food-and-wine visits for discovering the historical wine cellar of the resort and the local food culture and traditions; it's also possible to require a personal chef to cook real, authentic Tuscan meals, as well as take part to the cooking lessons usually organized by the resort.
To all sport lovers, instead, we suggest the Golf Clubs, tennis courts and horse ring located near the villa.
Torre a Cona: not only a holiday villa, but also a wine resort
The wine holiday resort Torre a Cona is surrounded by hectars of vineyards, where the Chianti DOCG grapes are produced. Guests may taste and buy two of the most important and renowned Tuscan specialities produced in the wine estate and realized with olives and grapes cultivated there: the extra virgin olive oil (made by the Tuscan traditional mechanical processes and cold pressed) and wine.
All tastings are organized in the tasting room/wine shop, a fascinating and exclusive room which originally was the old barn of the villa.
The location
Situated a few steps from Rignano sull'Arno, a little village where guests will find all kind of services, the farmhouse villa Torre a Cona is located in a strategic position for visiting all the main tourist destinations of Tuscany.
In addition to all those natural activities that only a farmhouse settled in the midst of Chianti green rolling hills may offer, and Florence being only 30 minutes away, a little more than one hour drive leads to Siena and San Gimignano, the wonderful art cities of our region you should not miss to! A natural oasis, then, within a stone's throw (for quoting a Tuscan saying!) from all city comforts!
Meet Niccolò Rossi di Montelera, the Owner of Torre a Cona
---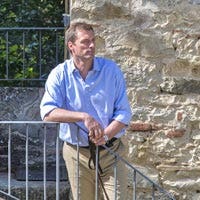 Torre a Cona has been in our family for many generations and, since childhood, I felt a special connection with the estate. In the last several years, our family restructured the various farmhouses and barns into apartments in order to be able to share our love of this place and of the area with our guests.
Our love for Torre a Cona, as well as the satisfaction our guests have expressed, has led to restructuring the main villa as well, which will hopefully be open in a few years.
We are deeply committed to the production of the estate's wines and of our estate extra-virgin olive oil: we are happy to offer tastings of all to both our guests as well as the general public.
Year after year, I enjoy hearing the satisfaction, enjoyment and love that our guests end up feeling for the estate and their holidays spent at Torre a Cona. This, in turn, makes us happy, especially as many of our guests end up returning year after year many and become friends.
~ Niccolò Rossi di Montelera