Farmhouse with Apartments in the Heart of Tuscany
---
Residence Santa Maria promises the perfect blend between families with children, romantic escapes and typical Tuscan vacations for the exploration of this beautiful land, culture and its food. A modern construction built to embrace the best of the Tuscan architecture, Santa Maria comes with many modern amenities including WI FI and ceiling fans in the upstairs bedrooms.
The apartments are spacious and each one has its own dedicated balcony space - some even have more than one - where you can set up breakfast or lunch and take in the fresh sunshine and sweet country air.
The beautiful colors in the well tended garden will set a relaxing atmosphere for a vacation of relax and tranquility. However for those who have a bit of wonderlust and want to explore the local history, cultrue and art all you need to do is ask Stefania and Luara to help you find the best itinerary highlight your interests.
Top 3 reasons you'll love Residence Santa Maria
ENJOY A FAMILY ATMOSPHERE
Passed down from father to daughters, Residence Santa Maria is a true family run business which ensures that personal touch
LOUNGE IN THE COLORFUL GARDENS
Brilliant colored roses, lavender & seasonal flowers mix with fruit tress offering plums, apples & pears in season
CLOSE TO GOOD RESTAURANTS
You can stroll down to one of the local restaurants & enjoy a pizza, fresh cooked pasta & of course a delicious cup of tiramisu
Built for your Holiday Pleasure
The owner carefully reconstructed a Tuscan villa, selecting only the prettiest elements from the villas of the 17th century. Spacious rooms, large windows, dedicated balcony areas and all of this set in a delicious garden with a colorful mix of flowers, aromatic plants and fruit trees. Each apartment has its own out door living space, however there is also an open or enclosed gazebo (depending on the season) which is large enough to house everyone for a meal together at the BBQ. The extensive gardens at Residence Santa Maria can assure you of some sweet little corner where you can curl up with your latest page turner of a book, a glass of wine or a cup of tea and cull you into relax. Or save yourself a spot at the crystal clear pool with matching umbrellas, lounge chairs, tables and shade areas. In either case, it will be hard to pull yourself away to visit beyond the borders of Residence Santa Maria and the small little town where it is located.
There are 10 self catering vacation apartments suitable for 2 to 6 persons. Each apartment has a fully equipped kitchen with stove, sink and refrigerator as well as all the necessary bed, bath and kitchen linens. The soft country colors are the perfect complement to the typical Tuscan décor, creating a setting which reminds you of a traditional farmhouse with the wrought iron bed stands and the rich walnut colored furnishings – yet you are always surround by the ease and comfort of modern day comforts like a large bathroom, ceiling fans on the top floors, laundry services and the use of free WiFi throughout the grounds. There is a romantic two bedroom apartment on the first and second floor that boasts three panoramic terraces.
The family atmosphere invites you to mix and mingle with fellow vacationers, enjoy a happy hour by the pool before dinner and maybe a bit of entertainment by the owner Giuseppe, who even after all these years as a musician still likes to exhibit playing the guitar.
In the heart of Tuscany close to all the top attractions
The Santa Maria farmhouse, thanks to its central location, is an excellent starting point for visiting the most interesting tourist sights across all of Tuscany. Go no further than the little town where it is set to enjoy authentic Italian food or stroll around the nearby lake after a home cooked meal in your self catering apartment. In either case, it is easy to become spoiled with all the many options.
Within a 10 km radius there are several small towns which will enchant you with their cobbled stone streets, handcraft stores and supermarkets. Montaione is the perfect example of a hilltop town with an extraordinary panorma of the marvelous Tuscan landscape. Close by you can also explore the Via Francigena which has been recently restored through out Tuscany.
San Gimignano, with its famous skyline outlined by medieval towers, is located less than 20 km from the residence. In about an hour drive, guests can also reach Florence, Siena, Pisa, Lucca and Livorno, each of which is all ideal as day-trip destinations for a day spent discovering Tuscany and its art, history, traditions and features.
Meet the Owners of Residence Santa Maria
---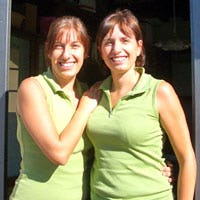 Welcome to Residence Santa Maria!
Our vacation home is named after our grandmother, Maria, who we remember as a happy person, always smiling and as a great cook. We don't know if she was a "saint" but certainly like to remember her as such!
By us, we mean our "babbo" Giuseppe (babbo is a Tuscan term for dad), the front man, gardener and all-around handyman at Santa Maria but above all, musician who loves to entertain our guests with his guitar on summer evenings by the pool.
Then there is me, Laura, and my sister, Stefania, who take care of our guests, making them feel welcome and taken care of by replying to all of their questions on what to see and visit, on the lesser known places in the area, and offering recommendations on restaurants, museums and markets. I'm also in charge of the cooking classes we offer our guests... who often arrive as clients but leave as friends!
We hope to welcome you to our residence soon,
~ Laura, Stefania and dad Giuseppe