Discover the secrets of Chianti in a truly genuine atmosphere
---
Hospitality in Tuscany for Elena means beautiful views, homemade food, delicious wine, good friends and a warm & welcoming atmosphere. This is what she has created with the B&B rooms and vacation rental villas at Borgo Argenina. Indulge in a romantic Tuscan adventure while staying at Borgo Argenina and make yourself at home in one of the three private villas.
Settle in and enjoy this restored hamlet set in the Chianti hills between Florence, Arezzo and Siena. Full of history and surrounded by the enchanting landscape of Tuscany, it is easy to relax and enjoy the friendly atmosphere of food, friends and wine that your hostess Elena creates.
Top 3 reasons you'll love Borgo Argenina
COOKING CLASSES
Learn the family recipes for Tiramisu and Chicken Cacciatore using traditional methods and the freshest of ingredients
LUXURY VILLAS & B&B
An environment decorated with the utmost attention to even the smallest of details, mixing color, styles and warmth
ATTENTIVE & INFORMATIVE HOSTESS
Elena takes great pleasure in introducing you to the secrets of Tuscany by sharing her favorites
Charming Bedrooms & a Hearty Breakfast
Promising a delicious and hearty breakfast, filled with homemade yogurt, jams and toasty warm cakes, Borgo Argenina embraces the true essence of a bed and breakfast. There are 5 private rooms with en-suite bathrooms, available in two sizes ranging from 190-320 square feet. Each bedroom is equipped with a mini bar, coffee maker and Wi-Fi access. The unpretentious interior design will make you feel right at home, offering a peaceful and soothing atmosphere; it just feels right to sip a glass of Chianti among the blooming roses on the terrace together with your friendly hostess discussing possible itineraries for your travels as well as some insider secrets for enjoying Tuscany to the max.
The special little extras come naturally at Borgo Argenina, including a welcome buffet with Argenina's own special olive oil and traditional local pecorino cheese, the personalized map of local treasures, a family recipe book or the complimentary wine tasting at a nearby winery.
The Exclusive Villas
There are three fully restored villas at Borgo Argenina which are the perfect setting for privacy in the rich and diverse Tuscan countryside. Take advantage of Elena's warm hospitality and wealth of information while staying in one of the three independent self catering villas which offer full kitchens and private terraces. Villa Oliviera is for 4 to 5 persons and offers an intriguing mix of classic decor with a modern design. It was recently featured in the magazine Architecture Digest. This villa has two double bedrooms and two full bathrooms. An ideal combination for friends and family traveling together. The villa features a floor plan with an open living room, kitchen and dining area on the ground floor and two bedrooms on the floor above. Perfect all season long with the cozy, easy to use fireplace.
The two smaller vacation rentals Piccola Villa and Villa Martina (3 to 4 persons each) are perfect for those looking for a full immersion in the Tuscan experience, with a fully-equipped kitchen to try your hand at recreating local dishes, a double bedroom with full bathroom and a living room area. Decorated in soft pastels which highlight the wood beam ceilings and terracotta floors. They are ideal for honeymooners or a romantic getaway.
Each villa has a private terrace with garden furniture to enjoy the timeless vistas including the Chianti hillside and vineyards. Despite the added privacy, keep in mind there is a standing invitation to join Elena at the main villa for a glass of wine, chatting with the other guests and to enjoy breakfast with them whenever you want.
Join in the Fun in the Kitchen and Beyond
Don't miss the opportunity to enjoy Elena's cooking class, which is held in a very informal atmosphere full of laughter, with unlimited wine and family recipes. Pick and choose the dishes you wish to experiment and Elena will help you learn the secrets of preparing an authentic Tuscan meal. The cost is only 75€ per person. Read more about her cooking class here.
Beyond the kitchen, make sure to consult with Elena to find the hidden secrets of Chianti, the best restaurants, cafes and the nearby vineyards to visit. The area is rich in history, wonderful food and even better wine! There are several local castles, small towns and archeological sites nearby which will beckon you to stop and visit. The Brolio Castle, which is within walking distance, is practically a cornerstone to Chianti Classico where you can enjoy a tour of the garden and vineyards. Or discover some of the Etruscan tombs which are open to the public near Castellina in Chianti. There are several small towns which still engage in traditional farmer's market with local seasonal fruits, vegetables, cheeses and more. Ask Elena which markets and where run every day.
Staying near Giaole in Chianti
Explore the many corners of Tuscany including the city of Florence with its wealth of art museums and stunning churches. Not far off is Siena, a magical town with a busy small town feel, tempting gelaterias and cafes bursting with the traditional panforte dessert cake... and, of course, a cappuccino.
Don't forget to leave an afternoon to dedicate to the incredible treasure trove found within the walls of Arezzo, often referred to as an open air museum spanning the time from the Etruscans to the Neo Classical. Pack a picnic and enjoy the lovely green garden area at the Medici Fortress at the top of the town.
Meet Elena, your host at Borgo Argenina
---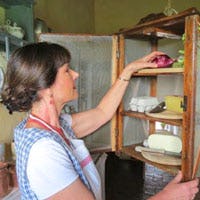 It was November 1991 and I was living in Milan, working as a fashion designer, when I first spotted the five fairytale stone houses nestled on the rolling hillside in Chianti, dating back to 998 A.D. Despite their disrepair and abandonment of over fifty years, for me, it was "love at first sight"! I knew at that moment that the dream I had carried since I was a child was finally going to come true.
In March 1992, I moved to Gaiole in Chianti with my 10-year-old daughter, Fiorenza, and began the overwhelming restoration of my precious rundown village. There was no electricity, no heat, no running water and, due to the overgrowth of weeds, you could barely see what was left of the ancient buildings.
During the following five years, we scraped, hammered, plastered, and painted—sometimes through the coldest of winters—to turn the neglected ruins into the most authentic and beautiful place to stay in Tuscany. Working side-by-side with Almo, and his sons (our craftsmen) has been the most exciting experience for me. They have become my precious Tuscan family through the beautiful restoration of these ancient buildings.
One day, when we were still working on the last details, an American writer showed up at the village to see our new B&B. He was a celebrity for all the travellers: Rick Steves. Since then, he continues to recommend Borgo Argenina in his travel guide books. A few months later, many other travel writers came to visit us and wrote about our charming and special place.
My dream finally came true when we opened the B&B in 1998: Borgo Argenina had returned back to life. I have been hosting ever since then - and look forward to welcoming you to my home!