Villa Alba
type:

Bed & Breakfast

Location:

San Gimignano (City)

sleeps:

12

n. of rooms:

6

daily price:

from € 85 to € 95

type of board:

Room with Breakfast

languages spoken:

English, French

official website:

www.villaalbasangimignano.it

phone number:

Click here to view
---
Romantic rooms in the city center for holidays
Map & Address
Villa Alba
Via Dante,15
53037 San Gimignano (Siena)
coordinates:
43.47118 latitude
11.03588 longitude
A charming combination of color and light give the B&B rooms at Villa Alba their distinct whimsical appearance. This villa from the 1800's in a typical Liberty style is within walking distance of San Gimignano, perhaps one of the more famous towns in Tuscany. It's not just the luminous and clean rooms or the crystal clear swimming pool which make this an ideal vacation stop; their are many special extras that make your holidays just perfect. The owner is especially well known for their rich breakfast, served in a comfortable and inviting environment. Villa Alba is particularly romantic with floral decor and the proximity to cobblestone alleys for midnight strolls.
Top 3 reasons you'll love Villa Alba
WALKING DISTANCE: restaurants, coffee bars, happy hour and of course the beautiful city center is easily accessible by foot
SWIMMING POOL: crystal clear, cool & inviting, this is definitely a surprising plus in the historic center of San Gimignano
FREE PARKING: once the luggage is unloaded, it is possible to forget you even have a car since everything is easily reach by foot or public transport
Romantic Details will Delight the Senses
The B&B Villa Alba is a beautiful example of the Liberty style architecture which flourished in the 1880's. Set on two floors, there are 6 spacious double bedrooms in colorful floral colors for up to 12 holiday guests. The owner of Villa Alba has taken advantage of the excellent position and added special extras that will make this a memorable holiday retreat. The refreshing pool is the perfect place to relax after walking into town and exploring the nooks and crannies of San Gimignano or even when you finally come back after a day travelling the curvy Tuscan roads to taste wine and admire the one of a kind scenery. The private parking is not only a great savings, but a comfort knowing exactly where you car is and not having to search out parking in a busy little town like San Gimignano.
Set on two floors, the bedrooms are divided into 3 on the ground floor and 3 on the first floor. Each one is named after a different flower and have a colorful theme throughout the decor. Besides the free WI-FI in all the rooms there is also a TV, air conditioning and an individual heating system which you can controll. All rooms have their own private en suite bathroom with shower and lush towels. The rooms are naturally cool and refreshing in the warmer months with the gentle breezes that flow through both windows also making the rooms naturally luminous and panoramic.
Good Tuscan Food makes the Holiday Special
A wonderful breakfast is prepared by the owner's mother, who takes special care to make homemade goodies. You will just need to follow your nose to find home baked cakes, fresh jams and fruit and yogurts. They like to spread a rich start to the day and include many of the local products like prosciutto and cheese and during the holidays that will lay out specialty sweets. Good food runs in the family, and you can ask Piero to reserve you a table at the restaurant "La Stella" which is located in the historic center of San Gimignano and is run by his son Paolo. Here you will find a wide selection of typical dishes from Tuscany, for example Trippa alla Fiorentina, or the famous Fiorentina Steak, pappardelle with wild boar or Ribollita. Not to mention a delicious selection of wines like Vernaccia di San Gimignano, Chianti Classico and the dessert wine Vin Santo with the Cantuccini biscotti.
The Tuscany Landscape will Enchant You
Obviously the one of a kind setting for the B&B Villa Alba makes it very special however, Tuscany has so much to offer beyond this historic tower town. Close to the B&B rooms is the Natural Reserve Castelvecchio where it is possible to hike bird watch for rare treats like the short toed eagle, the african stonechat and the redstart. There is an almost endless selection of vineyards and towns to visit nearby. Certaldo, is the perfect hidden gem for walking around, where you can admire the Palazzo Pretorio, the old residence of the Florentine governors.
Day trips are especially entertaining, not just the final destination but the panoramic drive on the country roads of Tuscany where each and every curve brings a new discovery. The city of Lucca is just beyond the gates of Pisa and promises lots of little stores, gelato and an enchanting town square. But if you are looking to really live the Tuscany culture in the piazza, then Siena which is only 35 km to the south, will take your breath away.
---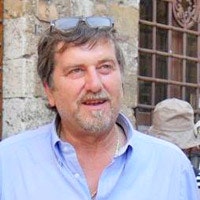 Meet Piero Arzilli, the owner of Villa Alba
My name is Piero, I am 60 years old and I am the owner of Villa Alba. I have been doing this work since I was young. In fact San Gimignano is is the perfect setting introducing Tuscany to tourist, but I believe that even if I came from some other corner of Italy I would naturally find myself working with tourists because I love to see their smile of joy - one of the great aspects of my activity.
I run Villa Alba together with my family, especially with the help of my Mamma. In fact she is responsible for the delicious breakfast we serve every morning, making sure is it always served in a timely manner. I am sure that you will have a happy and tranquil vacation at Villa Alba. Don't hesitate to contact me for more information, questions or help in arranging your holiday! Hope to see you soon Piero
---
Availability request
Write directly to the owner to receive the best offer for your stay, personalized for you based on your needs.