Romitorio di Serelle
type:

Farmhouse De Charme, Vacation Home

Location:

Barberino Val d'Elsa (Countryside)

sleeps:

68

n. of apartments:

15

weekly price:

from € 700 to € 2050

type of board:

Accommodation Only, Half Board

languages spoken:

English

official website:

www.romitoriodiserelle.it

phone number:

Click here to view
---
Rustic Apartments with pool and restaurant in Chianti
Map & Address
Romitorio di Serelle
Località Serelle 1
50021 Barberino Val d'Elsa (Florence)
coordinates:
43.494075 latitude
11.229637 longitude
The Romitorio di Serelle is a characteristic farmhouse located at Barberino Val d'Elsa, in the Chianti region. It offers various apartments of different sizes, all with their own independent entrance, furnished in rustic Tuscan style with oak chestnut ceiling beams and terracotta floors.
The property has a large swimming pool where guests can relax and cool down during the warm weather months, a play area for children and a restaurant offering traditional dishes with an exclusive selection of local wines.
Top 3 reasons you'll love Romitorio di Serelle
LOCATION: Panoramic views on the hills of Chianti wine country with its vineyards as well as the proximity to the main tourist destinations in Tuscany
FRIENDLY WELCOME: the cozy ambiance and comfortable atmosphere will make guests feel at home
CUISINE: The restaurant serves local dishes prepared according to traditional local recipes: authentic Tuscan cuisine at its best!
Romitorio di Serelle is an ancient compound dating back to Medieval times. The whole property was accurately restored with traditional rural building materials for maintaining the structure's principal characteristics.
Services
All apartments have their own heating units, kitchenette, satellite TV and in-room telephone. Many of them have their own garden or arcade and fireplace.
Guests have at their disposal a common living room with free internet connection and a childrens' playground, a bowling green and large grassy areas.
The Taverna del Romitorio restaurant
Reserved for the farmhouse guests only, the restaurant Taverna del Romitorio offers delicious dishes prepared following the traditional recipes of the Chianti area and using local products exclusively, served with an accurate selection of local wines of the nearby farms.
Once a week, guests may also enjoy wine and balsamic vinegar tasting on the large panoramic terrace of the farmhouse.
The Chianti area
The farmhouse Romitorio di Serelle is located in the heart of Chianti, close to Castellina in Chianti and Poggibonsi. a strategic position for anyone wishing to visit Florence, Siena and the small villages in the area, such as San Gimignano and Monteriggioni, the ancient romanic churches and the renowned local wine roads. The owners, however, will be at guests' disposal for any itinerary suggestions, tips and destinations not to miss.
General conditions
The check-in is between 4:00 and 8:00 p.m.
Check-out has to be take place by 10:00 a.m.
Prices include water, eletricity, gas, linen and final cleaning charges.
---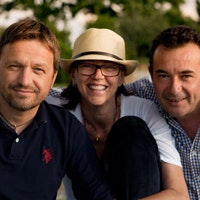 To welcome you to Romitorio di Serelle
In their reviews, our guests talk about the "passion" we put in our job, in every language and with different words. We are very happy because we think that words such as "welcome", "care", and "attention" are not just an advertisement.
We very much like to hear our guest's requests and try to transform them into experiences to remember. We also respect the privacy of people who are simply looking for a place to relax.
So here we are, waiting to welcome you to "your Tuscan home".
~ Marco, Lorella and Roberto
---
Availability request
Write directly to the owner to receive the best offer for your stay, personalized for you based on your needs.