Lovely B&B in the Chianti area near Florence
---
If you're looking for a romantic, exclusive stay in the heart of Chianti, B&B Del Giglio is the perfect place to holiday. Located in the San Donato in Poggio, an old medieval village near Florence, offers two bedrooms with ensuite bathrooms looking on to the panoramic garden, with sunchairs for enjoying the breathtaking view on the surrounding hills.
The enchanting location is maybe surpassed only by the kindness of the owners that always greet their guests with a warm welcome and help them with every kind of useful information for planning a great vacation in Tuscany.
Top 3 reasons you'll love B&B del Giglio
PICTURESQUE & ROMANTIC
The B&B is within the medieval walls of a hilltop village in Chianti and has been carefully restored to keep its original look
POSITION
Located within the medival village of San Donato in Poggio in Chianti, it is just a few km from all of the main destinations in Tuscany
PEACEFUL
With only two double rooms, the B&B offers an environment where one can enjoy complete rest, privacy and dedicated, attentive service
A stay at B&B del Giglio translates into enjoying the authentic and genuine flavour of Tuscany. The two double bedroom suites are located inside the ancient walls that surround and protected the quaint medieval village of San Donato in Poggio, set amidst the enchanting hills of Chianti Classico. The view from your window and the private garden open to the vineyards, olive groves and castles in the distance.
A Boutique B&B for a romantic holiday
No matter how long you're planning to make B&B Del Giglio your base, you will find the moments spent here will be unforgettable. The apartment is elegantly furnished in a typical Tuscan country style, perfectly combining the authentic simple and functional design with a touch of classic Florentine antique elegance. It's composed of two bedrooms, both with private bathrooms, fully furnished with every kind of modern facility: free wi-fi connection, TV-SAT and air conditioning. The rooms look onto the panoramic garden, offering breathtaking views on the surrounding landscape.
Both rooms feature terracotta floors and wood beam ceilings, while the bathrooms are very spacious, modernly decorated and comfortable. The rooms can be rented separately or together with a small kitchen as a vacation villa for an exclusive romantic stay in the heart of Chianti. The double bedrooms both are designed to offer an unforgettable experience in Tuscany and are ideal for a honeymoon or anniversary celebration.
Enjoy a Historic Home
The apartment also offers a large living room featuring a classic Tuscan fireplace and a table for up to six people, where guests may enjoy the warm atmosphere of the house. During the cooler months breakfast is served indoors, where one can admire the authentic stone architecture and the delicious home made menu.
There is a fully equipped kitchenette for preparing typical Tuscan dinners, a wine cellars with an extensive collection Chianti Classico wine bottles and a wonderful garden that is equipped with sun chairs for enjoying the Tuscan sun. Breakfast is simply delicious and prepared with fresh homemade ingredients and during summer, served in the panoramic court yard.
Everything is close at hand
Stepping out the front door into the medieval village of San Donato and walking up to the old center is something that can't be exhaustively explained: the village offers every kind of service you may need: markets, bars, restaurants, pharmacies, shops, cinema, theatre.
If you don't feel like cooking your dinner in the apartment, you may simply step out the room and walk a few meters for trying out some typical delicious Tuscan dishes. At the same time, you are fully immersed in the Chianti landscape, with vineyards and olive groves arising everywhere. The views that this place offers can't just be explained in a few words.
Moreover, San Donato in Poggio is located a short driving distance from Florence (28 km), the Cradle of Renaissance, where you may stroll along its unique streets admiring its masterpieces. Siena is also situated at about 30 minutes driving distance and if you don't feel like driving there are bus connections to both Siena and Florence. Other important tourist destinations are easily reachable in about an hour driving distance, like Lucca, Arezzo and Pisa, the city of the Leaning Tower.
Meet the Cresti Family, the Owners of B&B del Giglio
---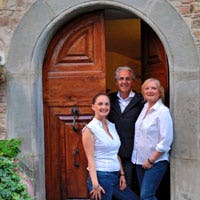 Let's introduce ourselves: we are Roberto, Laura and Beatrice, the owners of this charming little B&B in the heart of Chianti. We will be glad to welcome you to what has been for more than 30 years our family home.
My wife and I, before getting married, literally fell in love with this place full of picturesque views. We worked with extraordinary care in order to preserve its authenticity and valorize the original structure of the house.
Our guests are always surprised when we talk about our restoration works, as our story is full of anecdotes, such as the discovery of a late-Renaissance washbasin hidden by a wall. They are surprised as well when they realize that we have had the luck of living most of our lives in a place so rich in history and tranquility, and that we openly share it with those who come to stay with us.
This is truly a paradise for us, a refuge of peace and harmony: we look forward to sharing it with you too!